20 Mule Team (1940)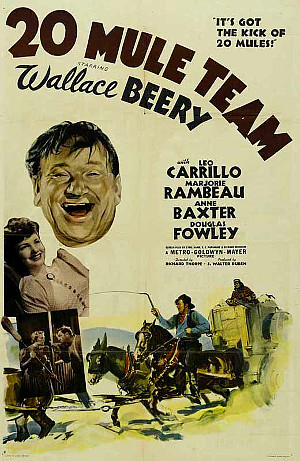 Wallace Beery plays Bill Bragg, who's looking forward to a tall cold beer after leading a 20-mule team hauling a load of borax through Death Valley to the town of Furnace Flats.
But he arrives in town to learn the payroll has been held up, that his days as a mule driver might be coming to a close, and that Furnace Flats itself might be in jeopardy. That's because the borax deposits coming out of Death Valley are getting poorer and poorer.
A prospector named Chuckawalla suspects there are richer borax deposits to be found in the hills of death valley. A slick-talking stockholder named Stag Roper (Douglas Fowley) figures the same.
Pretty soon, everyone is searching for those deposits. Chuckawalla finds an ally in young Mitch (Noah Beery Jr.), who wants to proves to pretty Joan Johnson that he has more potential than she seems to think. Bragg aligns himself with Roper.
But that's where things get even more complicated. Bar owner Josie Johnson (Marjorie Rambeau) knows Roper's kind. He's wooing her daughter Joan with stories of big-city life and trying to entice her to run off to Chicago with him. So Josie convinces Bragg to help him run her off, not knowing they're already working together.

Review:
Decent Beery film that delivers a few charming moments, though it's not particularly memorable and doesn't take advantage of a chance to tell the story of borax mining in Death Valley.
As usual, Leo Carrillo is around to play Beery's sidekick, this time a mule skinner named Piute Pete. Noah Beery Jr. was the nephew of the film's star.
This marked the film debut for Anne Baxter, who was 17 at the time and plays the bar owner's daughter. She decorates her room by looking at pictures in magazines and dreams of a fancier life than Furnace Flats and boyfriend Mitch can offer.
Cast:
Wallace Beery … Bill Bragg
Leo Carrillo … Piute Pete
Marjorie Rambeau … Josie Johnson
Anne Baxter … Joan Johnson
Douglas Fowley … Stag Roper
Noah Beery Jr. … Mitch
Berton Churchill … Jackass Brown
Arthur Hohl … Salters
Clem Bevans … Chuckawalla
Charles Halton … Henry Adams
Minor Watson … Marshal
Oscar O'Shea … Train conductor
Lloyd Ingraham … Stockholder
Runtime: 84 min.
Memorable lines:
Bill Bragg, leading the 20-mile team through the desert: "We'll be in Josie Johnson's bar in Furnace Flats before long. I'm goin' to un-dehydrate myself until the suds come runnin' out of both of my ears."
Chuckawalla, trying to convince Mitch to go prospecting for new borax deposits: "What you gonna get? Lolly-gagging around with that gal til this town grows clean out from under you. Never did hear of a woman marryin' a fella just for the fun of starvin' with him."
Mitch, in a parting insult to Joan Johnson after a lovers' spat: "You hip-switchin' little vinegar ball."
Bill Bragg, upon finding a dead prospector: "Let's scratch some sand over him and keep the buzzards from picking him to pieces."
Piute Pete: "Pretty soon, winds comes some more, blow sand off and coyotes dig him up just the same."
Bragg: "Ain't you got no respect? It's the idea of the thing. Now get to scratching."
Marshal, to Bill Bragg, formerly a wanted outlaw: "I'm here to tell you you're getting amnesty."
Bragg, clearly not understanding: "Amnesty? I stand on my constitutional rights for straight hanging."
Tagged with:
20 Mule Team (1940)
•
Anne Baxter
•
Arthur Hohl
•
Berton Churchill
•
Charles Halton
•
Clem Bevans
•
Douglas Fowley
•
Leo Carrillo
•
Lloyd Ingraham
•
Marjorie Rambeau
•
Minor Watson
•
Noah Beery Jr.
•
Oscar O'Shea
•
Richard Thorpe
•
Wallace Beery