A Southern Yankee (1948)
Red Skelton plays Aubrey Filmore, a bellhop at a St. Louis hotel who daydreams about helping catch Rebel spies. He'd like nothing better than to be a member of the Union secret service.
Well, it just so happens that the Union Army is looking for a Confederate spy known as the Grey Spider, a master saboteur. And, in a stroke of dumb luck, Aubrey captures the Grey Spider and befriends his very pretty co-conspirator Sallyann Weatharby.
Whereupon Union Colonel Baker hatches a grand plan. Since Sallyann and her friends think Aubrey is the Grey Spider, they'll send him South with incorrect Union battle plans for the upcoming engagement at Sandy Hill. After all, if the scheme fails, all they've got to lose is a simple-minded bellhop.
Aubrey somehow makes it through the front line. He even tracks down Sallyann for their scheduled reunion. By this time, he's madly in love with her.
But the real Grey Spider has escaped from the Union prison and is racing s-outh to warn of a phony Grey Spider. Meanwhile, Kurt Devlynn (Brian Donlevy) and Capt. Jed Calbern (John Ireland) — two Southerners more interested in cashing in on the war than helping the Confederate cause — have also figured out that Aubrey's a fake.
Devlynn's especially interested in seeing Aubrey caught. He has his own eyes on Sallyann.

Review:
Genuinely funny Skelton film that picks up steam once he's reunited with Sallyann at her father's Twelve Oaks mansion.
Among the funniest gags — Aubrey hiding out behind a clothesline and in a doghouse; Aubrey spending much of his time at a dance whispering about magnolias in hopes of finding another Union spy; and a grand mix-up between the phony battle plans he's supposed to slip to the Southern officers and separate instructions for his next mission.
If the wrong plans fall into Southern hands, poor Aubrey is bound to land in front of a firing squad.
Another classic scene comes earlier in the film. Caught between the Union and Southern lines, Aubrey marches between the armies and is hailed as a hero. That's because he's wearing a gray officers jacket over his blue officers jacket in such a way that each side sees what it wants. He's carrying a Union/Confederate flag too. Until the wind blows in the wrong direction.
This marked just the third credited role for Arlene Dahl. Western fans might also remember her from "Ambush" (1950) with Robert Taylor; "The Outriders" (also 1950) with Joel McCrea of from the 1969 Spaghetti Western "Land Raiders" in which she plays the wife of Telly Savalas.
Cast:
Red Skelton … Aubrey Filmore
Brian Donlevy … Kurt Devlynn
Arlene Dahl … Sallyann Weatharby
George Coulouris … Maj. Jack Drumman
aka The Grey Spider
Lloyd Gough … Capt. Steve Lorford
John Ireland … Capt. Jed Calbern
Minor Watson … Gen. Watkins
Charles Dingle … Col. Weatharby
Art Baker … Col. Clifford M. Baker
Reed Hadley … Fred Munsey
Arthur Space … Mark Haskins
Joyce Compton … Hortense Dobson
Runtime: 90 min.
Memorable lines:
Union Col. Baker: "The paper's in the pocket of the boot with the buckle. The map's in the packet in the pocket of the jacket. Understand?"
Aubrey Filmore: "Hmm?"
Col. Clifford M. Baker: "And if you get them mixed up, you're a dead goose."
Aubrey Filmore, having just been given the Union battle plans to smuggle through to the Rebel Army: "Are you taking back a copy of this map too?"
Sallyann Weatharby, a pretty blonde spy posing as a nurse: "Why no. They search me so thoroughly I can't even smuggle a needle through."
Union Col. Baker, about a plan to have Aubrey smuggle the incorrect battle plans to the Southern Army: "If it works, we'll have a tremendous advantage in the coming battle of Sandy Hill. If it doesn't, what do we lose — only him?"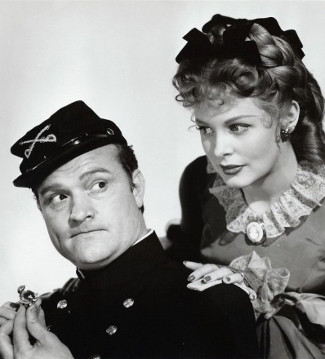 Sallyann: "What are you going to do after you turn those plans over to Gen. Watkins?"
Aubrey Filmore, who has her convinced of his bravery: "Oh, I'm going to take a little vacation for myself. I might even do a little fighting in the front lines with the boys — just for a lark."
Sallyann, to her father, a Confederate officer: "Don't take him seriously, daddy. He's always clowning. He's so unpredictable. Sometimes, believe it or not, he acts positively stupid."
Col. Weathary: "That's a wonderful disguise, my boy. I wish all my officers were as stupid as you."
Sallyanna: "Where have you been hiding all evening? I should be very angry with you."
Aubrey, suspecting he's about to be revealed as a Northerner: "You will be."
Gen. Watkins, inspecting the map Aubrey smuggled through the lines: "Major, after this, they'll probably make you a colonel."
Aubrey: "I'd rather they made me a civilian."
Tagged with:
A Southern Yankee (1948)
•
Arlene Dahl
•
Art Baker
•
Arthur Space
•
Brian Donlevy
•
Charles Dingle
•
Edward Sedgwick
•
George Coulouris
•
John Ireland
•
Joyce Compton
•
Lloyd Grough
•
Minor Watson
•
Red Skelton
•
Reed Hadley