All Out (1968)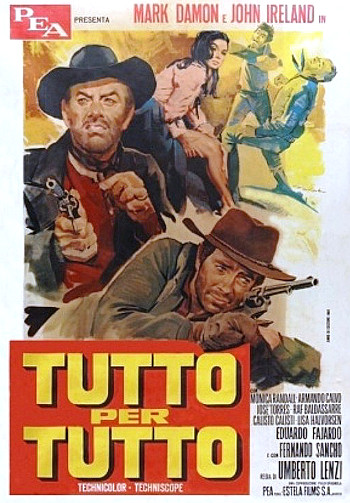 Left afoot, outlaw and card sharp Johnny Sweet (Mark Damon) swipes a horse from a bounty hunter known as The Owl (John Ireland).
Naturally, The Owl wants his horse back and tracks Johnny down in El Paso, where he's just been taken for a sucker in a card game thanks to a pretty blonde named Belle and a powerful rancher named Morton.
Soon, Johnny and The Owl find themselves partners and protectors of sorts in an alliance forged by the search for four stolen boxes filled with bars of solid gold.
Only an Indian named Copper Face knows where the gold is hidden, but lots of people are searching for the loot.
They include Mexican bandits Jose Gomez and Paco Nunez. Plus Carranza (Fernando Sancho) and his army of pistoleros. Plus a pretty woman named Maria (Monica Randall), who was once married to Copper Face, but abandoned him for a more comfortable life with Carranza.
The Owl, Johnny, Maria, Copper Face and the bandits wind up with the bounty, but soon discover that — with that much loot at stake — they can't possibly trust one another. And they still have Carranza and his men on their trail.

Review:
Some clever touches and the presence of Mark Damon and John Ireland as co-stars make for a decent Spaghetti Western.
Having Monica Randall around as a gold-hungry beauty ready to double-cross anyone is an added touch of spice.
There's even a mysterious gold watch that has something to do with The Owl's interest in recovering the gold.
But director Umberto Lenzi seemed to be grappling with whether he was making a hunt-for-the-gold Spaghetti or a comedy, and the result is an uneven film.
It doesn't help that Fernando Sancho plays his part like an overweight buffoon rather than the fear-inspiring bandit leader he's supposed to be portraying.
Directed by:
Umberto Lenzi
Cast:
Mark Damon … Johnny Sweet
John Ireland … The Owl
Fernando Sancho … Carranza
Monica Randall … Maria
Armando Calvo … Jose Gomez
Eduardo Fajardo … Paco Nunez
Jose Torres … Cooper Face
Ral Baldassare …. Miguel Comaco
Calisto Callisti … El Paso Sheriff
Luis Induni …. Morton
Lisa Halvorsen … Belle Smith
Rafael Albalcin … Ignacio
Franco Gula … Priest
Claudio Scarchilli … Diego
Runtime: 84 min.
aka:
Go for Broke
Copperface
Tutto per tutto
Memorable lines:
The Owl: "My enemies call me Owl."
Johnny Sweet: "What do your friends call you?"
The Owl: "What friends?"
The Owl: "You're 25 years old. You're a gunman, card sharp."
Johnny Sweet: "Yeh, but last night I played honest and look what happened?"
The Owl: "He beat you to the cheat."
The Owl, upon reaching Santa Clara: "This place looks abandoned. What happened to the people around here?"
Copper Face: "They're in the graveyard. They tried to argue with Carranza."
Johnny Sweet to The Owl, after gunning down a would-be ambusher: "A wise man doesn't holster his gun, until he's taken a look around."
Sheriff: "I hear you two (Johnny and Owl) have an account to settle. What'll it take to satisfy you?"
Johnny Sweet: "Only a funeral."
Trivia:
Umberto Lenzi directed more than 60 films from 1958 through the early 1990s. Only two were Spaghetti Westerns – this movie and "Pistol for a Hundred Coffins," starring John Ireland and Peter Lee Lawrence. He directed three cannibal films, "Sacrifice" (1972), "Eaten Alive" (1980) and "Cannibal Ferox" (1981), the latter which had the distinction of being banned in 31 countries.
This is one of seven Spaghetti Westerns released in 1968 in which Ireland starred, but his only appearance alongside Mark Damon. The same year, he appeared in "Trusting is Good … Shooting is Better" with George Hilton and "Pistol for a Hundred Coffins" also directed by Umberto Lenzi and co-starring Peter Lee Lawrence.
Tagged with:
All Out (1968)
•
Armando Calvo
•
Calisto Callisti
•
Claudio Scarchilli
•
Eduardo Fajardo
•
Emilio Rodriguez
•
Fernando Sancho
•
Franco Gula
•
Go for Broke (1968)
•
John Ireland
•
Jose Torres
•
Lisa Halvorsen
•
Luis Induni
•
Mark Damon
•
Monica Randall
•
Raf Baldassare
•
Rafael Albalcin
•
Tutto per tutto (1968)
•
Umberto Lenzi