Any Gun Can Play (1967)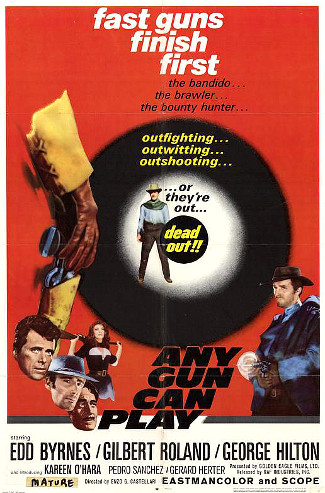 A train carrying $300,000 in gold belonging to a bank is robbed by a bandit named Monetero (Gilbert Roland) and his men. But instead of a fortune in loot, Monetero winds up with a medallion indicating where it is hidden. That's because one of his men tried to double cross him and make off with the gold, only to be killed by a soldier.
That launches a three-way hunt for the gold between Monetero, a bounty hunter known as The Stranger and a railroad man named Clayton. Well, make
that a four-way hunt, because Lawrence Blackman, an agent for the company that insured the gold, also turns up.
And allegiances shift as quickly as the two halfs of that medallion change hands, which is quite frequently.
Meanwhile, The Stranger figures he can't lose. If he doesn't recover the gold, he can still cash in by capturing Monetero, because the price on his head rises with every little bit of mischief in which he's involved.
Review:
Better than average Spaghetti, with a clever opening and ending (see below), a rousing score, three likable lead characters and a plot that keeps you guessing.
The film's only problem is the way it lags in the middle, partly because of so many prolonged fight scenes.
Wondering about the lovely lady who plays one of Montero's lieutenants as well as his lover? She goes by Kareen O'Hara here, but her name was Stefanie Careddu and she appeared in just one other Spaghetti — Johnny Hamlet (1968), starring Andrea Giordana (Chip Corman).
Directed by:
Enzio Castellari
Cast:
Ed Brynes … Clayton
George Hilton … The Stranger
Gilbert Roland … Monetero
Stefania Careddu … Guapa
as Kareen O'Hara
Ignazio Spalla … Pajondo
as Pedro Sanchez
Ivano Staccioli … Captain
Gerard Herter … Lawrence Blackman
Riccardo Pizzuti … Paco
Rodolfo Valadier … Pablo
Valentino Macchi … Charro Ruiz
Adriana Giuffre … Conchetta
Jose Torres … The Colonel
Runtime: 105 min.
aka:
Vado … l'ammazzo e torno
Blood River
For a Few Bullets More
Gllory, Glory Halleluja
Go Kill and Come Back
Score: Alessandro Alessandroni, Francesco De Masi
Memorable lines:
Monetero: "There's just one thing I can tell you, general."
Captain: "What's that?"
Monetero: "This place is full of bugs. And they've got more brains than your sergeant. He killed the only man who knew where the gold is buried."
Monetero to Guapa: "You know how much two half coins make?"
Guapa: "No, I don't."
Monetero: "Two dead men, and $300,000."
Guapa: "It's true. I'm leaving too, Monetero. If I didn't, I'd miss a fabulous chance. Understand? There's nothing for me here any longer."
Monetero: "It's alright, Wapa. What the hell's the difference? Everybody around here is unfaithful anyway."
Monetero: "After this, I go away. I take the gold, go to Mexico City and have one hell of a time. And when I die, somebody will bury me. And if they don't, what's the difference? Who gives a damn anyway?"
Other tidbits:
The opening and ending are spoofs on previous Spaghetti classics. In the former, three gunmen ride into town looking for all the world like Clint Eastwood, Lee Van Cleef and Franco Nero's character from Django. They come upon a cart with three coffins. Turns out The Stranger intends the coffins for them. As for the ending … well, there are three men and a pile of gold, and the closeups begin.
Edd Byrnes trained as a gymnast before launching a career as an actor. That training pays off handsomely in the fight scenes that dominate the middle of this film, especially one in which he's trapped in the market by Monetero's men.
Tagged with:
Adriana Giuffre
•
Any Gun Can Play (1967)
•
Blood River (1967)
•
Ed Brynes
•
Enzio Castellari
•
For a Few Dollars More (1967)
•
George HIlton
•
Gerard Herter
•
Gilbert Roland
•
Glory Glory Halleluja (1967)
•
Go Kill and Come Back (1967)
•
Ignazio Spalla
•
Ivano Staccioli
•
Jose Torres
•
Riccardo Pizzuti
•
Rodolfo Valadier
•
Stefania Careddu
•
Vado ... l'ammazzo e torno (1967)
•
Valentino Maccin