Apache (1954)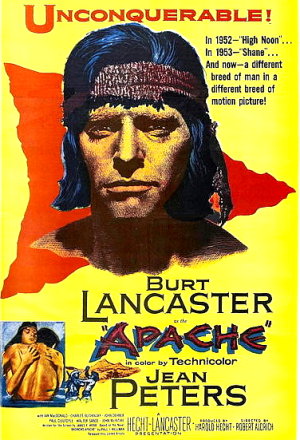 Burt Lancaster plays Massai, an Apache brave who's determined to carry on the warrior lifestyle even after Geronimo surrenders. So when he's put on a train bound for Florida with the rest of the Apache braves, he escapes and treks all the way back home.
Along the way, he meets a Cheyenne farmer who's learned to live with the whites. Massai decides it might be worth a try, especially since he's fallen for a pretty Indian maiden named Nalinle (Jean Peters).
But when her dad reports his return to the authorities, Massai escapes again. And this time he launches a one-man war against the whites, even kidnapping Nalinle under the mistaken impression that she was part of the plot to turn him in.
John McIntire plays Al Sieber, the man charged with the task of bringing Massai to justice; Charles Bronson has a minor role as an Apache turned Army guard, who also courts Nalinle.

Review:
Produced by Lancaster's own production company, this marked Aldrich's first Western. It's neither his nor Lancaster's best.
The blue-eyed hero's trek back to his homeland is one thing — there apparently really was an Apache who made such a journey — but once he gets there, he becomes as invincible as any Spaghetti Western star.
Particularly silly is the scene where he just happens to be hiding in the fort as a crooked Indian agent named Weddle stumbles in to announce that Massai is on the loose again. As soon as he delivers the news, Massai kills him; then escapes the fort, unharmed of course.
The ending is pretty silly, too. Apparently United Artists is to blame. It's the more optimistic ending the studio wanted; not the one Aldrich preferred.
Cast:
Burt Lancaster … Massai
Jean Peters … Nalinle
John McIntire … Al Sieber
Charles Bronson … Hondo
John Dehner … Weddle
Paul Guilfoyle … Santos
Ian McDonald … Clagg
Walter Sande … Lt. Col. Beck
Morris Ankrum … Dawson
Monte Blue … Geronimo
Runtime: 91 min.
Memorable lines:
Al Seiber to Massai: "You're not a warrior anymore. You're just a whipped Indian. And nobody sings about handcuffs."
Santos to daughter Nalinle: "There are few young men left. Even a hawk is an eagle among crows."
Nalinle: "Will they (the Apache men) not say that growing corn is woman's work?"
Massai: "I am a warrior. What I do can never be woman's work. And what Cherokees do, the Apache can do better. The young men will follow me."
Al Sieber: "He's the last buck on earth to make a successful farmer. Right now, he hates everything. And when an Apache hates, he hates high, wide and handsome."
Tagged with:
Apache
•
Burt Lancaster
•
Charles Bronson
•
Ian McDonald
•
Jean Peters
•
John Dehner
•
John McIntire
•
Monte Blue
•
Morris Ankrum
•
Paul Guilfoyle
•
Robert Aldrich
•
Walter Sande