Captain Apache (1971)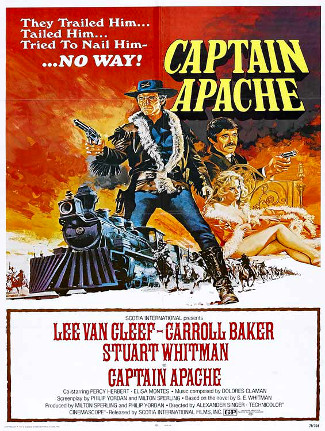 Lee Van Cleef plays Captain Apache, a half-breed officer in the cavalry who's referred to as "red ass" by whites not particularly fond of that notion.
Right now, he's trying to solve two mysteries — who killed an Indian commissioner named Collier and what the man meant when he whispered "April morning" as his dying words.
The captain isn't sure, but he thinks a businessman/gun runner named Griffin (Stuart Whitman) might be involved. And, somehow, a pretty blonde named Maude (Carroll Baker) keeps turning up in the middle of things, or turning up in bed with the wrong men.
One thing is clear, lots of other people are interested in April Morning, too. And the people who might be able to explain the meaning behind the words keep turning up dead.
As April approaches and the death toll mounts, Captain Apaches learns who killed Collier, but still isn't sure what April morning refers to.
But everyone winds up on the same train, including Griffin, a cavalry officer named Ryland, a Mexican officer named Sanchez and a trio of lovely ladies.

Review:
The film starts promisingly enough, raising hopes that this might be one of the hits among Lee Van Cleef's hit-and-miss Spaghetti Western adventures sans Clint Eastwood and Sergio Leone.
But as characters come and go, as the body count grows and as Captain Apaches takes a hallucinogenic journey in his search for answers, the movie devolves into a confused mess. Worse: a boring confused mess.
It winds up being notable for two reasons. First, there's the presence of Carroll Baker — 13 years removed from her starring role in The Big Country (1958) — as a bed hopper who tries oh, so hard to come off as a lady. Second, there's the two songs sung by star Lee Van Cleef.
Let's just say the spoken word title track comes off much better than the off-key, movie-closing "April Morning." Though the off-key performance is more fitting considering the film it caps.
Directed by:
Alexander Singer
Cast:
Lee Van Cleef … Capt. Apache
Carroll Baker … Maude
Stuart Whitman … Griffin
Percy Herbert … Moon
Tony Vogel … Snake
Elisa Montes … Rosita
Charles Stalmaker … O'Rourke
Charly Bravo … Sanchez
Faith Clift … Abigail
Dee Pollock … Ben
Dan Van Husen … Al
Hugh McDermott … Gen. Ryland
George Margo … Sheriff
Jose Bodalo … Mexican general
Elsa Zabala … Witch
Jess Hahn … Father Rodriguez
Luis Induni … Commissioner Collier
Runtime: 95 min.
aka:
Deathwork
The Guns of April Morning
Memorable lines:
Doorman at hotel, in film's opening line: "Ain't you off the reservation, Red Ass?"
Maude: "Savages fascinate me."
Captain Apache: "How."
Maude, to Captain Apache, after they wind up in bed: "Okay, Red Ass, what's so important about April Morning?"
Captain Apache: "That's what I'm trying to find out."
Maude, upon seeing a man hanging dead from the ceiling: "Suicide."
Captain Apache, glancing around a ransacked room: "He must have had a hell of a time making up his mind."
Griffin: "Why do always insult people who might kill you?"
Captain Apache: "I like to see a man enjoy his work."
Captain Apache to the Freaks, about taking another drink: "I'd better not. I'm an Indian. One more and I go crazy."
New Indian agent: "The reservation land has become too valuable. It would only make trouble for your people. We're gonna move them. To Yellow Snake Canyon."
Captain Apache: "Yellow Snake Canyon? It's full of snakes!"
Trivia:
This marked the only clean shaven appearance for Lee Van Cleef in a Spaghetti Western. There's also a silly scene in which he's forced to strip down to a loincloth and show off his buff physique to his fellow Indians to prove he's still "a red ass."
In addition to her memorable performance as Patricia Terrell in "The Big Country," Carroll Baker had appeared in two other Westerns before this — "How the West was Won" and as Richard Widmark's love interest in "Cheyenne Autumn." She later moved to TV work. Her last credited role was in 2003, as Rob Lowe's mother in an episode of the short-lived TV series "Lyon's Den."
One of just four feature films directed by Alexander Singer, who has a long list of TV directing credits including several episodes of "The Monkees," "The Lou Grant" show and with the various Star Trek TV series.
Alexander Singer
•
Captain Apache (1971)
•
Carroll Baker
•
Charles Stalmaker
•
Charly Bravo
•
Dan van Husen
•
Deathwork (1971)
•
Dee Pollock
•
Elisa Montes
•
Elsz Sabala
•
Faith Clift
•
George Margo
•
Hugh McDermott
•
Jess Hahn
•
Jose Bodalo
•
Lee Van Cleef
•
Luis Induni
•
Percy Herbert
•
Stuart Whitman
•
The Guns of April Morning (1971)
•
Tony Vogel