Column South (1953)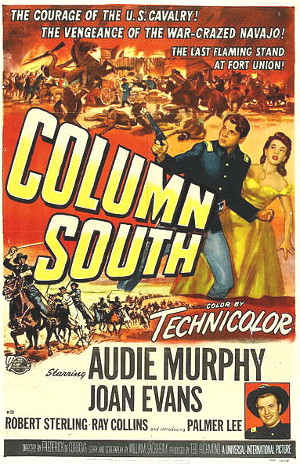 Audie Murphy is Lt. Jed Sayre, a cavalry officer doing his best to keep the peace between the whites and the Navaho. Years earlier, his father led a massacre of a peaceful Indian village and forced his 9-year-old son to watch the carnage. Sayre has been sympathetic to the Indians ever since.
This attitude doesn't sit well with Capt. Whitlock, who arrives as the fort's new commanding officer. He's hungry for action, and skeptical of Sayre's claims that the Navaho want peace.
For a while, it looks like he might be right. When a shipment of weapons turns up missing, Lt. Sayre is dispatched to the Indian village to find out whether they were the culprits. He discovers the weapons, stashed in a nearby cave.
What he doesn't know is that it's all a ploy, masterminded by a cavalry general who is also a Southern sympathizer. His plan is to whip the Indians into a frenzy, helping the Confederates take over the entire southwest.
A Mississippi native, Capt. Whitlock reluctantly goes along with those plans. As a result, the fort is nearly abandoned; the Navaho take it over. Sayre rides back to the fort with the men of the North, setting the stage for a strange finale in which the soldiers are attacking their own fort.
Whitlock has a change of heart and returns just in time to help out.

Review:
Take an unusual plot twist involving conniving by Southern sympathizers among the cavalry out West and a final battle between the cavalry and the Indians in which the Indians control the fort, and you have a pretty interesting little Murphy Western.
Joan Evans plays Marcy Whitlock, the sister of the captain, who conveniently follows him West so Murphy will have someone to fall in love with. The early bickering between the two help enliven things.
Six years later, Murphy and Evans would be paired again for "No Name on the Bullet" (1959). And, yep, that's Dennis Weaver in the role of the Indian chief.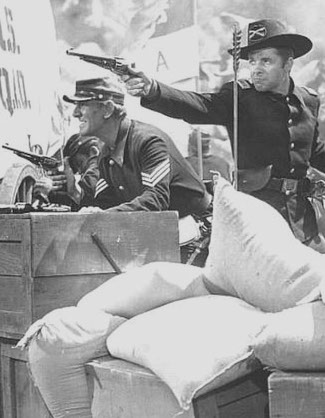 Directed by:
Frederick De Cordova
Cast:
Audie Murphy … Lt. Jed Sayre
Joan Evans … Marcy Whitlock
Robert Sterling … Capt. Whitlock
Ray Collins … Brig. Gen. Stone
Dennis Weaver … Menguito
Gregg Palmer … Lt. Chalmers
Russell Johnson … Corp. Biddle
Jack Kelly … Trooper Vaness
Johnny Downs … Lt. Posick
Bob Steele … Sgt. McAfee
James Best … Primrose
Ralph Moody … Joe Copper Face
Rico Alaniz … Trooper Chavez
Runtime: 82 min.
Memorable lines:
Capt. Whitlock: "Don't worry about your Indians. If their hands are clean, no one will try to wash them."
Lt. Sayre: "Yeah, but a little ambition makes people see dirt where there isn't any."
Marcy Whitlock, of Lt. Sayre: "He's like a nasty little boy chasing after girls with a dead mouse. Why he dragged that awful Indian in here as if he enjoyed tormenting me."
Lt. Sayre: "I didn't hear you knock, miss."
Marcy Whitlock: "You couldn't hear anything. You were too busy wagging your tongue."
Lt. Sayre: "It's partly what the good Lord put it in my head for."
Marcy Whitock: "Listen carefully. I don't care if your friend is the most important chief in the entire West. To me, he's just a red-skinned savage and I can't stand the stench long enough to stay in the same room with him."
Lt. Sayre: "That wasn't him. You just got a whiff of your own soul. And, lady, all the perfume in the world wouldn't cover that up."
Tagged with:
Audie Murphy
•
Bob Steele
•
Column South (1953)
•
Dennis Weaver
•
Frederick De Cordova
•
Gregg Palmer
•
Jack Kelly
•
James Best
•
Joan Evans
•
Johnny Downs
•
Ralph Moody
•
Ray Collins
•
Rico Alaniz
•
Robert Sterling
•
Russell Johnson