Dark Command (1940)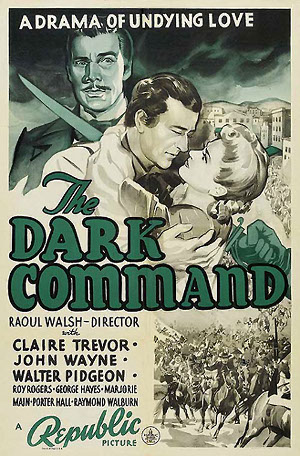 John Wayne is Bob Seton, a drifter who punches men in the mouth so partner Doc Grunch (Gabby Hayes) can do a booming business as a dentist, pulling their teeth.
But he's tired of all the bickering in pre-Civil War Kansas and dreams of seeing the mountains of California. But traveling there will take money, so the two stop in Lawrence, Kansas, planning to set up a dentistry business for a month or so.
Then Seton meets pretty banker's daughter Mary McCloud (Claire Trevor) and his rush to leave Kansas disappears, even though she laughs off his first proposal of marriage.
After all, the two just met. And she already has a proposal from school teacher Will Cantrell, an ambitious type her father predicts will be a big man in Kansas one day.
When a marshal's job comes open, Cantrell and Seton both run for the post. Seton wins. Crushed by a defeat at the hands of a man who can't even read, Cantrell vows to blaze a trail of glory through the state, even if it's a trail that includes slave trading, gun running and Civil War raids under the guise of the Confederacy.
Seton's badge earns him a second chance with Mary, until he's forced to jail her younger brother Fletch (Roy Rogers) for gunning a man down during an argument. She vows to do anything Seton wants if he'll set her brother free. He refuses, pushing her back into the arms of Cantrell in the process.

Review:
One of the best John Wayne Westerns from the 1940s not directed by John Ford, this marked another swift repairing of Wayne and Claire Trevor after their success with "Stagecoach" in 1939. They also were co-stars in 1939's "Allegheny Uprising."
This time, she's the sophisticated daughter of a banker who's unimpressed with the jobless cowpoke and laughs off his love-at-first-sight marriage proposal.
Their on-again, off-again romance — at one point she marries Cantrell — does as much to keep the viewer interested as the action, which includes one scene in which Wayne and his allies escape Cantrell's raiders by riding off a ledge on a buckboard.
A strong supporting cast helps too. It includes Gabby Hayes as Wayne's comic sidekick, Roy Rogers in one of his few none-Roy Rogers appearances as Trevor's younger brother, and Majorie Main as Cantrell's mother, a woman who's already seen three sons go bad and doesn't want to see it happen to a fourth.
The comic bits early in the film — featuring both Wayne and Hayes and Wayne and Trevor — are especially well done.
Cast:
John Wayne … Bob Seton
Walter Pigeon … Will Cantrell
Claire Trevor … Mary McCloud
Roy Rogers … Fletch McCloud
Gabby Hayes … Doc Grunch
Porter Hall … Angus McCloud
Marjorie Main … Mrs. Cantrell
Raymond Walburn … Judge Buckner
Joe Sawyer … Bushropp
J. Farrell MacDonald … Dave
Trevor Bardette … Mr. Hale
Helen MacKellar … Mrs. Hale
Runtime: 94 min.
Memorable lines:
Doc Grunch, about their dentistry scam: "You knock 'em loose; I pull 'em out. I'm just sayin' maybe, you know, if you was more promiscuous with your punchin', we might make a little more money."
Bob Seton: "What do you mean about promis-cus?"
Doc: "Well, you got strange ideas about justice. You don't to hit nobody less they deserve it. Now that's alright, but we're in business. And business is different."
Doc Grunch: "I'm goin' in town to rent an office. Take about a month, the way I figure it, to fix all the teeth in this town. Course that's not countin' the ones you'll send in."
Bob Seton, who's suddenly not so eager to reach California after meeting Mary McCloud: "No hurry, Doc. Take your time." He watches Mary ride by. "I want to look this country over good."
Doc: "Why if you ain't the contrariest critter I've ever seen."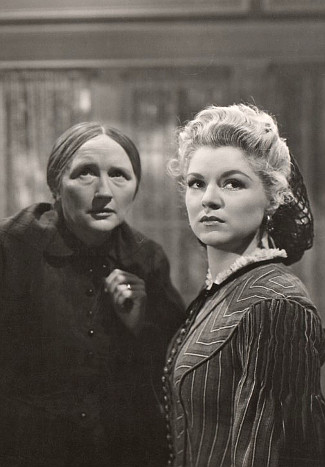 Angus McCloud, thrilled to hear Cantrell has asked his daughter Mary to marry him: "Oh, he's a smart man, Mary. Ambitious. Hard worker. Be a big man someday."
Mary McCloud: "I'd like a little one I can boss around."
Bob Seton: "Folks, it's true I don't know much about the law. Ain't had much book learning. But the good Lord gave me a nose for smelling a horse thief a mile off. And what you need in these parts is a marshal that's better at smellin' than spellin'."
Mrs. Cantrell, to her son, who vows to make a name for himself, one way or another: "Will, there's good in you. And it's stronger than the bad that's in your blood. Will, I've already seen three of my sons turn bad. Rather than see you follow 'em, I'll kill ya. Me that give you life."
Mary McCloud, when Marshal Bob Seton won't set her brother free from jail: "I thought they bred men of flesh and blood in Texas. I was wrong. You're made of granite."
Bob Seton: "No, Mary — just common clay. Bakes kind of hard in Texas."
Cantrell: "Ah, Seton, you're prettied up fit to kill. Have a drink."
Seton: "No, thanks."
Cantrell: "Had I known you were prowling around this neck of the woods, I would have posted signs saying "Keep out." But, unfortunately, you couldn't have read them."
Seton: "You learned me to read figures pretty good, though, Cantrell. Something don't quite add up."
Cantrell: "What's that?"
Seton: "General Beauregard and the 5th Army are a long ways from here. Yet that do-hiccus on your collar says 5th Army."
Cantrell: "What kind of do-hiccus would you like on the collar of your firing squad."
Tagged with:
Claire Trevor
•
Dark Command (1940)
•
Gabby Hayes
•
Helen MacKellar
•
J. Farrell MacDonald
•
Joe Sawyer
•
John Wayne
•
Marjorie Main
•
Porter Hall
•
Raoul Walsh
•
Raymond Walburn
•
Roy Rogers
•
Trevor Bardette
•
Walter Pigeon