Day of Anger (1967)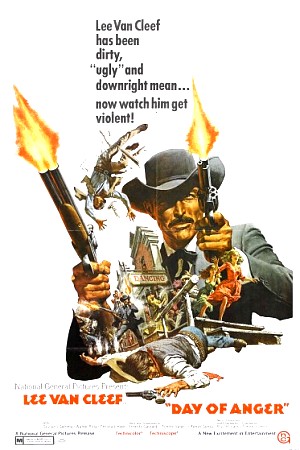 Frank Talby (Lee Van Cleef) rides into the town of Clifton looking for a former outlaw who owes him $50,000.
He also befriends the town bastard, young Scott Mary (Giuliano Gemma), who is shunned by nearly everyone in town.
Talby finds the man he's looking for. In the process, he discovers the leading citizens of Clifton are the people who wound up with the stolen loot he should have gotten. That includes the judge, the banker and the saloon owner.
He takes Scott Mary under his wing, teaches him the tricks of becoming a gunfighter, then sets about taking control of Clifton.
He succeeds, but the next lawful obstacle in his way is aging sheriff Murph Allan Short, Scott Mary's longtime friend.
Which way will Scott Mary go if he's forced to chose between allegiance to Talby and allegiance to Murph Allen Short?

Review:
Excellent score. Fine film. One of the better non-Leone Spaghetti Westerns. You actually reach the point where you care about the characters.
Of course, that's not all too surprising seeing as how the director is Tonino Valerii, who also helmed "Price of Power" and "My Name is Nobody."
This one features some truly memorable scenes, including one in which Talby and a hired killer named Owen White have a horseback showdown with breech-loading rifles.
Directed by:
Tonino Valerii
Cast:
Giuliano Gemma … Scott Mary
Lee Van Cleef … Frank Talby
Walter Rilla … Murph Allan Scott
Christa Linder … Gwen
Ennio Balbo … Tutner
Lukas Ammann .. Judge Cutcher
Andrea Bosic … Abel Murray
Jose Calvo … Blind Bill
Giorgio Gargiullo … Sheriff Nigel
Anna Orso … Eileen Cutcher
Karl-Otto Alberty … Deputy
Nino Nini … Doc Cullen
Virgilio azzolo … Mr. Barton
Eleonora Morana … Mrs. Barton
Benito Stefanelli … Owen White
Franco Balducci … Slim
Ferruccio Viotti … Sam Corbitt
Paolo Magalotti … Deputy Cross
Yvonne Sanson … Vivien Skill
Al Murlock … Wild Jack
Runtime: 114 min.
aka:
Gunlaw
Days of Wrath
Memorable lines:
Scott Mary: "I'll buy myself a colt and I'm gonna wear it. I wanna see if anyone will still have the courage to call me a bastard."
Frank Talby, after gunning down a man who insults Scott in the saloon: "Drink up, Scott Mary. I don't like to hang around a dead man."
Frank Talby: "First lesson, never bed another man."
Frank Talby: "Do you have any money?"
Scott Mary: "Eight dollars."
Talby: "Give it to me. It will be helpful for your second lesson."
Mary hands over the money. Talby knocks him to the ground.
Talby: "Second lesson: Never trust anyone."
Talby: "Third lesson: Never get between a gun and its target."
Talby: "Fourth lesson: Punches are like bullets. If you don't make the first one count, you might just be finished."
Talby: "Fifth lesson: You wound a man, you better kill him. Or sooner or later, he's going to kill you."
Talby: "Sixth lesson: The right bullet at the right time, well aimed."
Talby: "Okay, Scott, you can come with me. But don't get your hopes up too high, because it's a dirty life."
Talby to Abel Murray: "These scales of justice will be leaning the way I tell them to. And you just watch the way I tell them to."
Doctor: "What did you do to him (Scott Mary)? He's acting like some rabid wolf."
Talby: "He was born a wolf. You (residents of Clifton) made him rabid, not me."
Talby: "Nigel, the weapon that's going to kill me hasn't been invented yet."
Talby, when Owen White proposes a mounted duel with front-loading rifles: "Okay, I'll kill you anyway you want — tomorrow morning, at sunrise."
Talby: "You're last lesson, Scotty: When you start killing, you can't stop it."
Trivia:
The mule Scott Mary rides in his attempt to catch up with Frank Talby is named Sartana. One year later, the first Sartana Spaghetti Western was released.
Blonde beauty Crista Linder plays a saloon gal here. Miss Austria 1962, one of her first film roles was in the mystery "Kiss Kiss, Kill Kill" opposite future Spaghetti star Brad Harris. She appeared in one other Spaghetti Western, Sidney Pink's 1966 film "The Tall Women."
Tagged with:
Al Murlock
•
Andrea Bosic
•
Anna Orso
•
Benito Stefanelli
•
Christa Linder
•
Day of Anger (1967)
•
Days of Wrath (1967)
•
Eleonora Morana
•
Ennio Balbo
•
Ferruccio Viotti
•
Franco Balducci
•
Giorgio Gargiullo
•
Giuliano Gemma
•
Gunlaw
•
Gunplay (1967)
•
Jose Calvo
•
Karl-Otto Alberty
•
Lee Van Cleef
•
Lukas Ammann
•
Nino Nini
•
Paolo Magalotti
•
Tonino Valerii
•
Virgilio Assolo
•
Walter Rilla
•
Yvonne Sanson