Dead Men Don't Count (1968)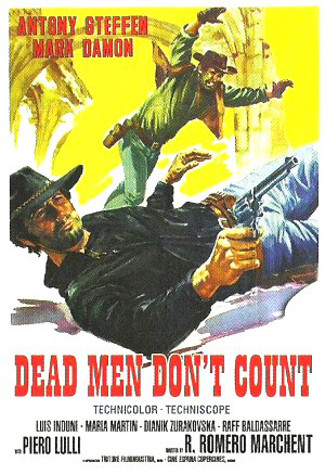 Anthony Steffen and Mark Damon star as bounty killers Fred and Johnny Dalton. They head to the town of Blackstone to pull off a scam. Johnny tries to pass Fred off as the killer of the Clayton family, collect a $15,000 reward, then break him out of jail.
Only three men are already hanging from the gallows for committing the same crime. The Dalton brothers are thrown in jail, until the town's leading citizen, Steve Rogers, recognizes the gun Johnny is toting and has them set free.
But Fred and Johnny can't help noticing that innocent settlers keep dying, It seems someone wants their land. And they suspect something is rotten in Blackstone when the sheriff rides off to warn a gang leader they're trying to collect a bounty on.
Turns out the railroad is coming to Blackstone. And that the six-gun Johnny has will earn the brothers an unlikely ally.

Review:
Not bad, not great Spaghetti. Maria Martini plays Ellen Reed, a woman who has her husband killed so she can be with her lover, Steve Rogers, then comes to regret that decision when she thinks the son she rebuked years earlier has returned to avenge his father's death. Dyanik Zurakowska is Elisabeth Forrest, the pretty young woman Johnny falls for.
The demise of the sheriff, forced to wear the clothing of one of the bounty killers so he'll be shot by his own men, is well done. But Johnny seems to recover from Elisabeth's death far too quickly.
Directed by:
Rafael Romero Marchant
Cast:
Anthony Steffen … Fred Dalton
Mark Damon … Johnny
Maria Martini … Ellen Reed
Luis Indui … Steve Rogers
Piero Lulli … Sheriff Bob Watson
Barta Barri … Forrest
Dyanik Zurakowska … Elisabeth Forrest
Raf Baldassarre … Gregory Lassiter
Jose Marco … Jack Logan
Luis Barboo … Anderson
Jesus Guzman … Jonathan Alegria
Miguel del Castillo … Judge Wright
Carlos Romero Marchent … Forrest's son
Alfonso de la Vega… Deputy Jim
aka:
Quien grita vengaza?
Cry for Revenge
I morti non si contano
Score: Riz Ortolani
Runtime: 88 min.
Memorable lines:
Johnny: "I was just wondering. You've had a lot more experience than me. What happens when you're in love, anyhow?"
Fred: "Insomnia. And idiocy."
Sheriff Watson to Steve Rogers: "I've got to say, your respectability sure comes in handy."
Fred, locked in a jail cell with Johnny: "Sheriff, it was just a joke, really."
Sheriff, pointing to the gallows: "Tell that to those three outside. If they laugh, you're free."
Other tidbits:
Congo-born blonde Dianik Zurakowska also had a starring role in one of the campiest Spaghetti Westerns ever, "Bang-Bang Kid," starring Guy Madison and Tom Bosley.
After his film career ended, Mark Damon became a film producer. Among his greatest success as a producer was 2003's "Monster," starring Charlize Theron.
Tagged with:
Alfonso de la Vega
•
Anthony Steffen
•
Barta Barri
•
Carlos Romero Marchent
•
Cry for Revenge (1968)
•
Dead Men Don't Count (1968)
•
Dianik Zurakowska
•
I morti non si contano (1968)
•
Jesus Guzman
•
Jose Maro
•
Luis Barboo
•
Luis Indui
•
Maria Martini
•
Mark Damon
•
Miguel Del Castillo
•
Piero Lulli
•
Quien grita vengaza? (1968)
•
Raf Baldassarre
•
Rafael Romero Marchant