Death at Owell Rock (1967)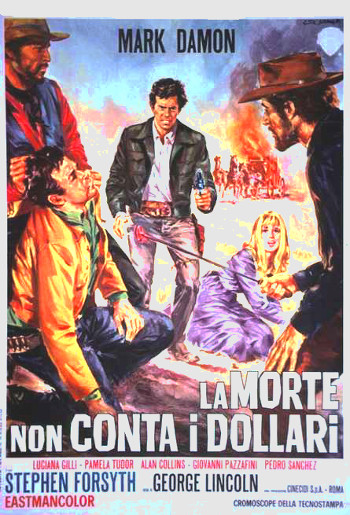 Lawrence Watkins (Stephen Forsythe) is traveling home to Owell Rock for the first time in 15 years when a stranger named Harry Boyd (Mark Damon) hitches a ride on the stagecoach.
The stage is attacked, of course. Only Boyd's bravery saves the day. Watkins, you see, has become an Easterner, one who says he's far more adept with fiddle than a six-gun.
Nevertheless, he has a death to avenge — his father's. And the sister he's just been reunited with — Luciani Gilli as Jane — has no faith the law will handle the situation. The Lester family was put on trial once; the judge found them not guilty.
Of course, the wealthy Lester family owns the judge and the sheriff in Owell Rock. They now own a mine that once belonged to the Whites as well; that was one of the motives for killing Lawrence's dad. That and access to the plentiful water on the Whites' ranch.
Still, Lawrence is reluctant to take the law into his own hands. Meanwhile, Harry Boyd starts working for the Lester family. And when the sheriff suddenly dies — a knife to the heart will do that — he becomes sheriff, knowing he'll be taking orders from the Lesters.
He figures that's the ideal job if he wants to get dirt on the Lester family. Because — you see — he's really Lawrence Watkins! And the man who's posing as Lawrence is really Harry Boyd, an undercover federal agent who's engaged to Jane White!

Review:
Director Riccardo Freda sure serves up the action. In the film's first 16 minutes, there's a killing at the White ranch, a witness who has his tongue cut out, bandits disguised as soldiers attacking the stage and a brawl in a general store over the price of chewing tobacco.
But this revenge-for-a-murdered-father story seems more convulted than it needs to be. A mysterious figure quizzes the sheriff and the doc who cut out the tongue about White's death. Both wind up dead. That's fine.
Then comes questions for drunken Judge Warren, who's under Old Man Lester's thumb. That leads Lawrence White to search out an old friend, who points the way south of the border for a meeting with Mexican bandit Pablo Rodriguez, who in turn points to the importance to talking with a woman named Helen.
Surprise! She's the daughter of the judge, who was traded to Rodriguez for one good rifle and is now making her living bedding men in a hotel room, all to protect her father's reputation!
Pamela Tudor plays Elisabeth Pearson, the daughter of another murdered rancher who's quite taken with Damon's character, until he pins on a badge that requires allegiance to the Lester family.
Directed by:
Riccardo Freda
as George Lincoln
Cast:
Mark Damon … Harry Boyd / Lawrence White
Stephen Forsyth … Lawrence White / Harry Boyd
Luciana Gilli … Jane White
Pamela Tudor … Elisabeth Pearson
Spartaco Conversi … Old Man Lester
Giovanni Pazzafini … Doc Lester
Luciano Pigozzi … Judge Warren
as Alan Collins
Ignazio Spalla … Pablo Rodriguez
as Pedro Sanchez
Hardy Reichelt … Owell Rocks sheriff
Lidia Biondi … Mrs. Gilbert
Aldo Cecconi … Bernie Nolan
Mariella Palmich … Helen Warren
Dino Strano … Mike Lester
Alessandro Gottlieb … The doctor
Runtime: 90 min.
aka:
La morte non conta i dollari
Death Does Not Count the Dollars
No Killing Without Dollars
Memorable lines:
Doc Lester: "Seems he'd rather be a live rabbit than a dead lion."
Jane White, of the Lesters: "By now, their tracks are covered. A new trial is no good. You have to kill Doc Lester."
Lawrence White: "I can't do that. Nobody can take the law into his own hands, no matter what happens. The law is fair, and I believe I can get justice through it."
Lawrence White: "Tell me sheriff, what about you? What's your opinion about the death of my father?"
Sheriff: "I'm not allowed an opinion. I just follow instructions."
Old Man Lester: "Well, there's no need worrying over a dead sheriff. Besides, I never did trust him much."
Pablo Rodriguez, commenting on his own cleanliness: "I make a point to capture this town once every year because here is the biggest bathtub in Mexico."
Trivia:
This marked the only Western from Riccardo Freda, who was better known for his sword and sandal films and is considered a pioneer in Italian horror-fantasy films, having directed "Lust of the Vampire" in 1957 and "The Horrible Dr. Hitchcock" in 1962. He was married to Italian actress Gianna Maria Canale.
One of just 10 films and two Spaghetti films for second-billed Stephen Forsyth, who also starred in 1965's "In a Colt's Shadow." He left acting to become a music composer.
Tagged with:
Alan Collins
•
Aldo Cecconi
•
Aleesandro Gottlieb
•
Death at Owell Rock (1967)
•
Death Does Not Count the Dollars (1967)
•
Dino Strano
•
Giovanni Pazzafini
•
Hardy Reichelt
•
Ignazio Spalla
•
La morte non conta i dollari (1967)
•
Lidia Biodi
•
Luciana Gilli
•
Luciano Pigozzi
•
Mariella Palmich
•
Mark Damon
•
No Killing Without Dollars (1967)
•
Pamela Tudor
•
Pedro Sanchez
•
Spartaco Conversi
•
Stephen Forsyth