Death Walks in Laredo (1966)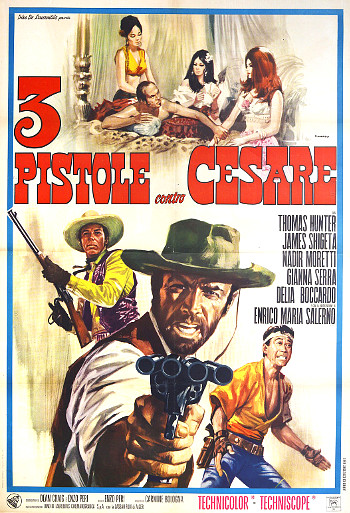 Ten years after their father's death, three half-brothers who don't know one another receive letters indicating that he's left them a gold mine in Laredo, Texas.
The three include Whitaker Selby (Thomas Hunter), a fast gun with a four-barrelled pistol; Lester Koto (James Shigeta), a karate expert; and Etienne Devereaux (Nadir Moretti), who has the uncanny ability to freeze individuals in place with his magnetism.
Their problem: The gold mine has been seized by Julius Ceasar Fuller (Enrico Maria Salerno), who rules everything around Laredo, lives in a palace on a hilltop accessible only by an old-fashioned elevator and surrounds himself with scantily clad beauties.
Oh, he also has an all-in-white lieutenant named Bronson to do his bidding, not to mention an army of black-clad gunmen. This mission: Eliminate the strangers.
When that proves more difficult than expected, Ceasar decides to lure the half-brothers into a trap with the help of a red-headed beauty. A fiesty saloon singer named Mady foils that plan, freeing the half-brothers to try to reach Ceasar in his lair.

Review:
A delightfully bizarre Spaghetti that's a must-see for fans of the genre. Not everyone will love it, but it sure is different.
Our one-eyed villain barks orders to his subjects while enjoying steam baths with his harem of beauties, all the while listening to The Professor read aloud the story of the real Julius Ceasar.
Wisely, director Peri doesn't overdo the use of karate or "magnetism" to bail our heros out of jams. As for Whitaker's pistols, they're also capable of firing bullets from the gun butts.
There's a long-lost adopted daughter of the half-brothers to help complicate the plot. There's even a spirited catfight between two lovely ladies who manage to tear most of one another's clothes off in the process.
Ah, and I shouldn't forget the delightful score and theme song ("Laredo" performed by Don Powell), courtesy of composer Marcello Giombini.
Directed by:
Enzo Peri
Cast:
Thomas Hunter … Whitaker "Whitty" Selby
Enrico Maria Salerno … Julius Ceasar Fuller
James Shigeta … Lester Koto
Nadir Moretti … Etienne Devereaux
Delia Boccardo … Mady
Gianna Serra … Debra Smith
Femi Benussi … Tula
Umberto D'Orsi … Bronson
Vittorio Bonos … Stanford
Ferrucio De Ceresa … Professor
Runtime: 83 min.
aka:
Tre pistole contro Cesare
The Pistol, the Karate and the Eye
Three Golden Boys
Score: Marcello Giombini
Theme song: "Laredo" performed by Don Powell
Memorable lines:
Whitaker Selby, after gunning down four angry card players with his four-barrelled pistol: "A royal flush!"
Traveling showman, offering Koto a job: "Ill get you out of that contract. Who holds it?"
Lester Koto: "His name is Destiny. And he lives in Laredo, Texas."
Whitaker Selby: "This place is getting monotonous. That's the third time today someone has told me to put my hands up."
Bronson, who can tell his boss is up to something: "For the Langdons?"
Julius Ceasar Fuller: "You've got to have a Ceasar brain. Like mine."
Whitaker Selby, about Debra Smith's real identity and her cooking skills: "I don't have time to explain. I've got to get word to Etienne and Lester before they're too full of stew."
Trivia:
One of only two films — and the only Spaghetti — attributed to Enzo Peri. In "Spaghetti Westerns: The Good, the Bad and the Violent," author Thomas Weisser raises the possibility that is could be an alias for well-known Italian director Elio Petri, who was active during the period.
This film marked the Spaghetti Western debut for Italian beauty Femi Benussi. She plays a young beauty imported from the orient to help entertain Julius Ceasar Fuller. As Tula, she has just a couple of lines, but spends two minutes in the middle of the film doing an enticing dance for "Ceasar."
Tagged with:
Death Walks in Laredo (1966)
•
Delia Boccardo
•
Enrico Maria Salerno
•
Enzo Peri
•
Femi Benussi
•
Ferrucio De Ceresa
•
Gianna Serra
•
James Shigeta
•
Nadir Moretti
•
The Pistol the Karate and the Eye (1966)
•
Thomas Hunter
•
Three Golden Boys (1966)
•
Tre pistole contro Cesare (1966)
•
Umberto D'Orsi
•
Vittorio Bonos