Don't Wait, Django … Shoot! (1967)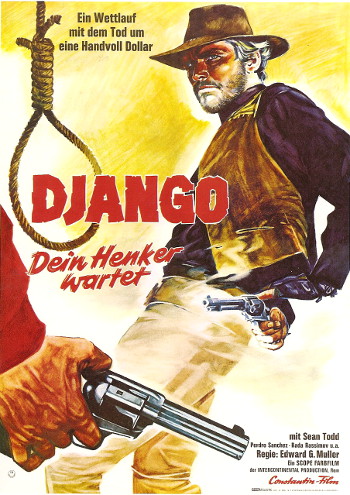 Don Alvarado buys a herd of horses from a neighboring rancher named Foster for $10,000.
Then he has the Mexican bandit Navarro track down Foster, claim the horses were never delivered and take back the $10,000 payment.
Things get complicated when Navarro's son steals the $10,000 in the middle of the night and heads off to a nearby village.
Then Foster's son, Django (Ivan Rassimov) shows up, intent on revenge.
Avenging the death of his father … well, at least Django knows where to find Navarro and his henchmen. They're in the village, searching for the gold after finding Navarro's son dead.
Recovering the $10,000 might be more problematic. Because like Navarro, Django has no clue as to who wound up with the payment. But he has a new friend named Baricca (Ignazio Spalla) with a 10 percent stake in finding out.

Review:
Standard Spaghetti revenge film in which little is required of Django other than standing around, looking tough and waiting for the bad guys to show up to try to gun him down.
After Navarro's men are dealt with, Don Alvaro sends out his own henchmen (led by Dino Strano as Johnny), then a band of hired killers (led by Vincenzo Musolino as Hondo) to deal with Django.
There's also a stranger in town acting mighty suspicious by the name of Fred Grey. Not to mention a drunk who keeps stumbling into scenes for what I suppose was designed as comic relief. And an undertaker complaining about all the bodies piling up and not getting paid to bury them.
It take a long time for anyone to figure out that the best way to get to Django is to kidnap his sister Mary (real-life sister Rada Rassimov).
Director Eduardo Mulargia serves up a spirited ending, but little else rises above the norm. Oh, and check out that big leather patch on Django's pants, a truly odd bit of costuming.
Directed by:
Edoardo Mulargia
as Edward G. Muller
Cast:
Ivan Rassimov … Django Foster
as Sean Todd
Ignazio Spalla … Barrica
as Pedro Sanchez
Rada Rassimov … Mary Foster
Vincenzo Musolino … Hondo
as Bill Jackson
Gino Buzzanca … Don Alvaro
Franco Pesce … undertaker
Celso Faria … Fred Grey
Marisa Traversi … Judy
Alfredo Rizzo … drunk
Giovanni Sabbatini … Uncle Dan
Armando Guarnieri … Foster
Cesar Ojinaga … Navarro
Dino Strano … Johnny
Runtime: 87 min.
aka
Non aspettare Django, spara
Score: Felice Di Stefano
Memorable lines:
Don Alvero, ordering his men to bring in Django: "I can hardly wait to see Django. Just make sure he's still breathing a little."
Barrica to Django, as Fred Grey emerges: "Here's the mouse crawling out of his hole. A very big mouse, amigo."
Mexican in bar: "We've come here to advise you to go. Leave this town, hombre, before morning."
Django: "I'll leave this town when I've found my gold."
Hondo: "I've told you more than once Alvero: The men you hire are good at everything — except shooting."
Tagged with:
Alfredo Rizzo
•
Armando Guarneiri
•
Bill Jackson
•
Celso Faria
•
Cesar Ojinaga
•
Dino Strano
•
Don't Wait Django ... Shoot! (1967)
•
Edoardo Mulargia
•
EdwardG. Muller
•
Franco Pesce
•
Gina Buzzanca
•
Giovanni Sabbatini
•
Ivan Rassimov
•
Marisa Traversi
•
Non aspettare Django ... spara (1967)
•
Pedro Sanchez
•
Rada Rassimov
•
Vincenzo Musolino