Dream West (1986)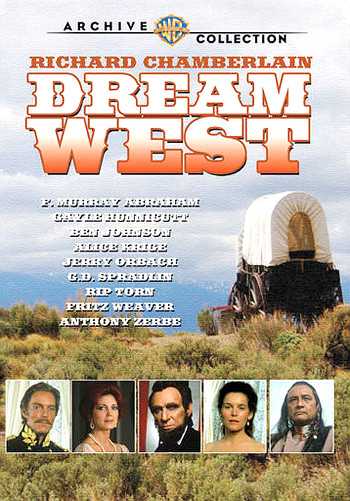 Richard Chamberlain plays John Charles Fremont in this TV miniseries based on the life of the soldier, pathfinder and, later, politician.
Fremont comes to fame for his expeditions mapping routes through the West.
But his career as a military leader falters as part of a power struggle within the U.S. Army after the capture of California during the Mexican War of the 1840s.
Court-martialed, Fremont re-establishes his reputation as a Western explorer, earns great wealth when gold is found on his new ranch in California, and runs for president as a representative for the new Republican party.
Alice Krige plays Jessie Benton Fremont, the wife who stands by him through it all.

Review:
Made during the time when miniseries were all the rage on TV, and when Chamberlain was king of the genre.
Unfortunately, this isn't one of the better ones. Krige plays the female lead as though she's afflicted half the time.
And I'm still trying to figure out one part of the film. Fremont's expedition is trapped in the mountains during the winter. A rescue party is sent out, but trapped in an avalanche.
Chamberlain goes out to rescue a member of his party and stumbles upon the scout he's sent for help. The scout is licking his chops. He's resorted to cannibalism. Yet the supplies Chamberlain's men were awaiting — the supplies that save their lives — are just a few feet away?
And any suspense about whether Fremont will survive is eliminated by commercial cutaways that show him meeting with Lincoln, in a scene still to come. Not worth five-plus hours of your time.
Cast:
Richard Chamberlain … John Charles Fremont
Alice Krige … Jessie Benton Fremont
G.D. Spradlin … Gen. Steven Kearney
Fritz Weaver … Sen. Thomas Hart Benton
Rip Torn … Kit Carson
Anthony Zerbe … Bill Williams
F. Murray Abraham … Abraham Lincoln
Noble Willingham … James Polk
Rene Enriquez … Gen. Castro
Ben Johnson … Jim Bridger
Jerry Orbach … Capt. John Sutter
John Anderson … Brig. Gen. Brooke
Claude Akins … Tom Fitzpatrick
Cameron Mitchell … Robert Stockton
Buck Taylor … Egloffstein
Runtime: 320 min.
Tagged with:
Alice Krige
•
Anthony Zerbe
•
Ben Johnson
•
Buck Taylor
•
Cameron Mitchell
•
Claude Akins
•
Dick Lowry
•
Dream West (1986)
•
F. Murray Abraham
•
Fritz Weaver
•
G.D. Spradlin
•
Jerry Orbach
•
John Anderson
•
Nobel Willingham
•
Rene Enriguez
•
Richard Chamberlain
•
Rip Torn