Escape from Fort Bravo (1953)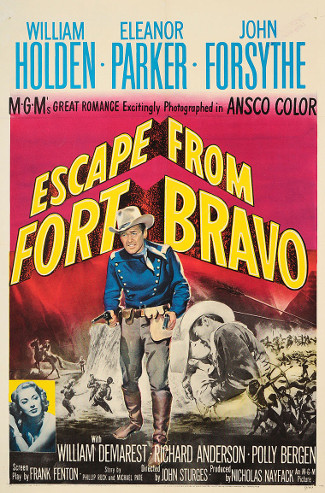 William Holden plays Capt. Roper, a no-nonsense Union cavalry commander stationed at a Western outpost in Arizona during the Civil War.
The fort doubles as a Confederate prisoner of war camp, and Roper's the man responsible for tracking down those who try to escape.
Then lovely Carla Forester (Eleanor Parker) arrives at Bravo to take part in her best friend's wedding.
She has an ulterior motive as well, helping her love — Confederate officer John Marsh (John Forsythe) — and three of his men escape.
To do that, she charms Roper to the point where he proposes marriage, only to wake up one morning and find his lady love and four prisoners missing.
Notorious for being heartless before Carla's arrival, he sets out on their trail and catches up with them. But so do the Apaches.

Review:
A well-done Western that would have been much better had Sturges and company kept the focus on action and cut some of the purple-prose filled romantic scenes between Holden and Parker.
In one ridiculous scene, Capt. Roper takes Carla sight-seeing in Death Valley — and this film isn't short on breath-taking scenery — for the purpose of seducing her. He grabs her. He says he's imagined her resisting. He's imagined her not resisting. Bottom line: He's taking her either way. Ugh!
The good news is that the action scenes are very well done. William Campbell and William Demarest add a touch of humor as bickering Rebel soldiers, one young and full of bluster, the other experienced and as crusty as they come.
And it all leads up to a rousing, memorable climax in which Roper, another Union officer, Carla, Marsh and the three other Confederate prisoners have to take cover in a dry river bed, surrounded by Apache.
Oh, and for a touch of trivia, you'll notice weapons flying at the screen 3D-style in some scenes. This was not released as a 3D film, but was initially intended to be, which explains those camera angles.
Cast:
William Holden … Capt. Roper
Eleanor Parker .. Carla Forester
John Forsythe … Capt. John Marsh
William Demarest … Campbell
William Campbell … Cabot Young
John Lupton … Bailey
Polly Berger … Alice Owens
Richard Anderson … Lt. Beecher
Carl Benton Reid … Col. Owens
Runtime: 99 min.
Memorable lines:
Carla Forrester: "The women always look beautiful at their weddings. The men always look scared."
Capt. Roper: "They both get over it."
Doc: "Roper, there are two big businesses in this world. One is to keep men alive. The other seems to be yours."
Capt. Roper: "It's not a world I made."
Cabot Young: "How's a decrepit old man like you ever get in the war?"
Campbell: "Because all the smart young me like you was losing it."
Capt. Roper: "You're a good officer, Marsh. Only you're unlucky. You got in the wrong army."
Capt. Marsh: "But the right cause."
Roper: "They say that's the one that wins."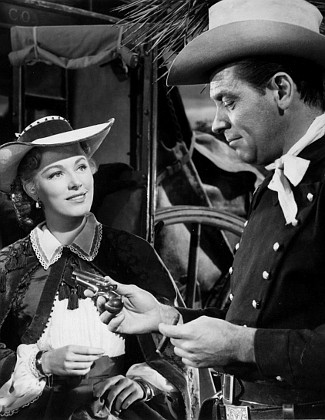 Capt. Roper: "Symore, I'm pulling out. Take care of those flowers."
Symore: "Yes, sir."
Roper: "If you don't, I'll dig them up and plant you."
Symore: "I know you will."
Roper: "Now, if I don't come back …
Symore: "You'll be back. Only the good die young.
Roper: "In that case, I'd say I've got a long time."
Symore: "I'd say forever."
Capt. Roper, when Beecher complains about the Apache torturing men to death: "When you're in the grave, Beecher, it doesn't matter too much how you got there."
Lt. Beecher: "Well, I think it matters. I think it does."
Capt. Roper: "Write the War Department."
Campbell to Cabot Young, when the small patrol is pinned down by Indians: "Why don't you just take a nice nap? And I'll wake you when you're dead."
Tagged with:
Carl Benton Reid
•
Eleanor Parker
•
Escape from Fort Bravo (1953)
•
John Forsythe
•
John Lupton
•
John Sturges
•
Polly Berger
•
Richard Anderson
•
William Campbell
•
William Demarest
•
William Holden