Escort West (1959)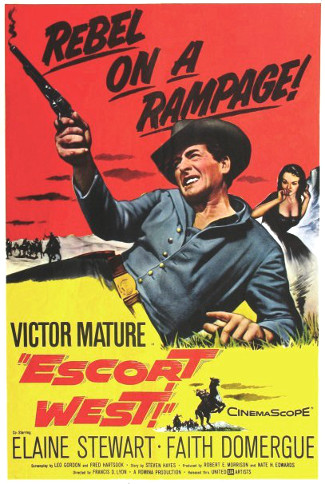 Victor Mature plays Ben Lassiter, a former Confederate officer traveling to Oregon with his daughter, Abbey (Reba Waters) in hopes of starting a new life.
En route, they stumble across a U.S. Cavalry patrol and a paymaster's wagon. The soldiers are also escorting two sisters — Beth Drury (Elaine Stewart) and Martha (Faith Domergue) — to a nearby fort where Beth is to be married to one of the commanding officers.
Unbeknownst to everyone, some Modoc Indians have fled their reservation and gone on a rampage. They've already pinned down the troopers led by Beth's fiance. When they hit the paymaster's wagon, the sisters hide in a cellar while most of the soldiers are massacred.
Lassister and Abbey come to their rescue, though the war-embittered Martha isn't fond of being rescued by anyone wearing Confederate gray.

Review:
Better than average, with one of the more unusual final showdowns you'll see and a fine performance by Victor Mature.
The supporting cast — mainly the troopers — include plenty of familiar faces, including Ken Curtis, Noah Beery Jr., Harry Carey Jr., Slim Pickens and Leo Gordon.
Gordon, in fact, co-wrote the script and has one of the most villianous parts, as a soldier who sneaks off in the middle of an attack, then tries to steal the payroll from Lassiter and the women, leaving them on foot to face a slow death.
This marked a rare film role for young Reba Waters, who did most of her acting on TV shows, including "Leave It to Beaver," "Rawhide" and "The Donna Reed Show."
Ken Curtis appeared in his first "Gunsmoke" episode the same year this film was released, but wouldn't take over the role that made him famous — Festus — until 1964.
Cast:
Victor Mature … Ben Lassiter
Elaine Stewart … Beth Drury
Faith Domergue … Martha Drury
Reba Waters … Abbey Lassiter
Noah Beery Jr. … Jamison
Leo Gordon … Vogel
Rex Ingram … Nelson
John Hubbard … Lt. Weeks
Harry Carey Jr. … Travis
Slim Pickens … Wheeler
Roy Barcroft .. Sgt. Doyle
William Ching … Capt. Howard Poole
Ken Curtis … Trooper Burch
Claire Du Brey … Mrs. Kate Fenniman
Syd Saylor … Elwood Fenniman
X Brands … Tago
Runtime: 75 min.
Memorable lines:
Martha Drury, after an Indian attack: "Look at this — my best dress — (now a) filthy rag."
Beth Drury: "You should be glad you're albe to see it again."
Ben Lassiter to Martha Drury: "Look, let's get one thing straight. We've got a lot of country to go over. And I'm in no mood for a nasty disposition."
Daughter Abbey: "You sure told her. Why don't you paddle her behind?"
Jamison: "Sometimes it's safer to chase those Modocs and not catch them."
Martha Drury: "Saddle pig!"
Vogel: "You don't learn easy, do ya? I'd like to see you wind up in some Modoc cave, duchess. You'd be glad to see this pig then. Real glad."
Tagged with:
Claire Du Brey
•
Elaine Stewart
•
Escort West (1959)
•
Faith Domergue
•
Francis Lyon
•
Harry Carey Jr.
•
John Hubbard
•
Ken Curtis
•
Leo Gordon
•
Noah Beery Jr.
•
Reba Waters
•
Rex Ingram
•
Roy Barcroft
•
Slim Pickens
•
Syd Saylor
•
Victor Mature
•
William Ching
•
X. Brands