For the Taste of Killing (1966)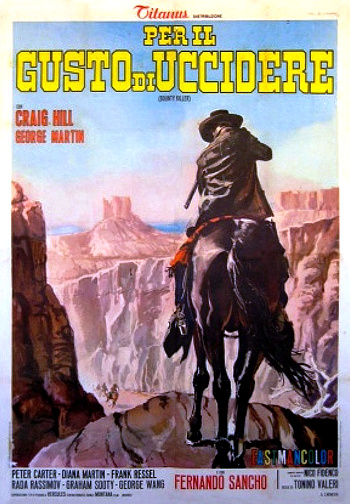 Craig Hill is Hank "Lanky" Fellows, a bounty killer with an old score to settle and a plan to get a lot richer in the process.
First, he allows an outlaw gang led by Sanchez (Fernando Sancho) to steal $100,000 from an Army escort.
Then he'll help recover the money, earning a $10,000 reward in the process.
When a miner named Collins offers him another $10,000 to ensure that his money stays safe until turned over to the next army escort, "Lanky" gladly accepts the offer.
After all, the outlaw Gus Kennebeck is operating in the area. There's a $10,000 reward on his head as well.
He's also the man who killed Lanky's brother, the man Lanky's been tracking for three years.
And with $100,000 in the bank … well, he figures that just might lure the Gus Kennebeck gang to Omaha City.
Turns out, he isn't wrong.

Review:
This marked the first film directed by Tonino Valerii — he'd later bring up "Day of Anger" and "Price of Power" — and it's a well done Spaghetti, full of colorful characters and clever touches.
Among those characters we get an old timer named Peterson, who uses his "telescope" — really a mirror on a stick that he pokes out holes in his roof — to keep track of what's going on in Omaha City and lend "Lanky" a helping hand when he needs it.
The clever touches begin right at the start of the film, as "Lanky" aims his telescoped rifle at the Army escort. It he an outlaw? Nope, he lets the escort pass by.
Then he aims his rifle at bandits in hiding, just waiting for the escort. Is he part of the detail, guarding the escort? Nope, he allows the bandits to attack and, in fact, wipe out the detail.
"Lanky" eventually dispatches justice, the bounty killer way, when it will pay.
Rada Rassimov plays Isabelle, Kennebeck's lover. In fact, they have a son. Diana Martin is the daughter of Kennebeck's more law-abiding brother. She's kidnapped at one point.
Also among the colorful characters is George Wang as Mingo, Kennebeck's machete hurling sidekick.
Directed by:
Tonino Valerii
Cast:
Craig Hill … Hank "Lanky" Fellows
George Martin … Gus Kennebeck
Piero Lulli … Collins
as Peter Carter
Fernando Sancho … Sanchez
Rada Rassimov … Isabelle
George Wang … Mingo
Diana Martin … Molly Kennebeck
Franco Ressel … Aarons
Eugenio Galadini … Jefferson
as Graham Sooty
Jose Marco … John Kennebeck
Lorenzo Robledo … Sheriff
Sancho Gracia … Steve
Jose Manuel Martin … Rodrigo
Jose Canalejas … Peter
Runtime: 87 min.
aka
Per il gusto di uccidere
Taste of Killing (1966)
Lanky Fellow
Score: Nico Fidenco
Title tune: "Lanky Gunman"
Memorable lines:
Sanchez: "The only time a soldier is our friend is when he's lying dead by our feet. I want lots of friends like that."
Sanchez: "We're not leaving no witnesses. Just food for vultures."
Gus Kennebeck, after kicking his brother in the face: "That's to show you I ain't just talking for the fun of it."
Gus Kennebeck, when he learns the fate of his gang: "There's a rat too many in Texas!"
Tagged with:
Craig Hill
•
Diana Martin
•
Eugenio Galadini
•
Fernando Sanchez
•
For the Taste of Killing (1966)
•
Franco Ressel
•
George Martin
•
George Wang
•
Graham Sooty
•
Jose Canalejes
•
Jose Manuel Martin
•
Jose Marco
•
Lanky Fellow (1966)
•
Lorenzo Robledo
•
Per il gusto di uccidere (1966)
•
Peter Carter
•
Piero Lulli
•
Rada Rassimov
•
Sancho Gracia
•
Taste of Killing (1966)
•
Tonino Valerii