Gold Raiders (1951)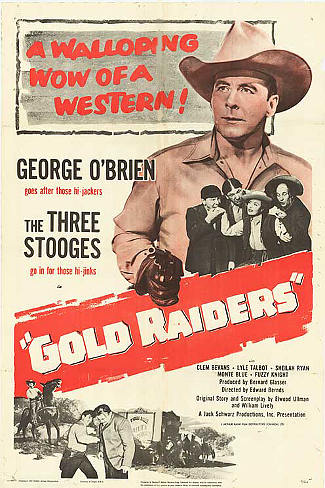 Moe, Shemp and Larry are The Three Stooges this time around and they've headed West as traveling salesmen when they scare off a band of bad guys chasing a man on horseback.
That man happens to be insurance salesman George O'Brien, who's heading to the town of Red Mesa, where miners have been plagued by a series of thefts of their gold ore.
O'Brien convinces a miner to trust him with the next shipment, promising to pay off on his new insurance if it's stolen. Then he devises a decoy to throw off the thieves. He'll carry a heavily guarded shipment of sand from the mines to Red Mesa. The sacks of gold will be in the back of the wagon driven by his three new friends, the traveling salesman (aka Stooges).
Problem is, an elderly doctor who's become the town drunk allows the map outlining that plan to fall into the hands of the wrong man. That would Taggert, owner of the local saloon and the mastermind behind the holdups.
But while his men might have made off with that shipment, O'Brien proves a formidable foe. So much so that Taggert kidnaps the doc's daughter Laura in hopes of luring O'Brien into a trap.

Review:
If you're a fan of The Three Stooges, you'll likely enjoy this romp through the Wild West, with series stars O'Brien and Fuzzy Knight in prominent roles.
Not a fan? Then this is a Western you'd better skip because much of the running time is spent on typical Stooges high jinks, including a medical exam gone wrong and an attempt to sell eyeglasses unlikely to help anyone see.
There is a neat twist at the end, but one would have expected the climatic showdown in a barroom filled with good guys and bad guys to be a bit more fun.
The Stooges would be back in the West to make a guest appearance in the 1963 Dean Martin-Frank Sinatra vehicle "Four for Texas," then would star in another Western called "The Outlaws is Coming" (1965) with future Batman Adam West.
Cast:
George O'Brien … George O'Brien
Moe Howard … Moe
Shemp Howard … Shemp
Larry Fine … Larry
Clem Bevans … Doc Mason
Sheila Ryan … Laura Mason
Lyle Talbot … Taggart
Monte Blue .. John Sawyer
Fuzzy Knight … Sheriff
Hugh Hooker … Sandy Evans
Al Baffert … Utah
John Merton … Clete
Roy Canada … Slim
Dick Crockett … Henchman
Bill Ward … Henchman
aka:
The Three Stooges Go West
Runtime: 56 min.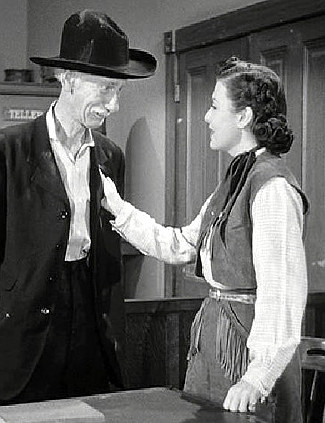 Memorable lines:
George O'Brien: "Tomorrow morning, I'm bringing a shipment of gold ore into Red Mesa. I expect a bunch of hijackers to try to take it away from me."
Larry: "They're crazy. They'll never get it away from you."
O'Brien: "That's right. Cause I won't have it."
Larry: "Won't have it. Clever."
O'Brien: "No, but you will."
The Stooges: "What!?!?"
O'Brien: "Well, of course. No bandits would ever expect three irresponsible peddlers."
Moe: "You hear that? We're irresponsible. He likes us."
Larry, as the Stooges try to sign up a passed out drunk for life insurance: "Hold it, the first step is a medical examination. Get the doc."
Moe: "Where does it say that?"
Larry, looking at his instructions: "On paga nin-i."
Moe: "Paga nin-i?" He grabs the instruction sheet. "Page nine!"
Moe, lighting an exploding cigar: "Fire at will."
Larry: "Which one's Will?"
Tagged with:
Al Baffert
•
Bill Ward
•
Clem Bevans
•
Dick Crockett
•
Edward Bernds
•
Fuzzy Knight
•
George O'Brien
•
Gold Raiders (1951)
•
Hugh Hooker
•
John Merton
•
Larry Fine
•
Lyle Talbot
•
Moe Howard
•
Monte Blue
•
Roy Canada
•
Sheila Ryan
•
Shemp Howard
•
The Three Stooges Go West (1951)