Great Sioux Uprising (1953)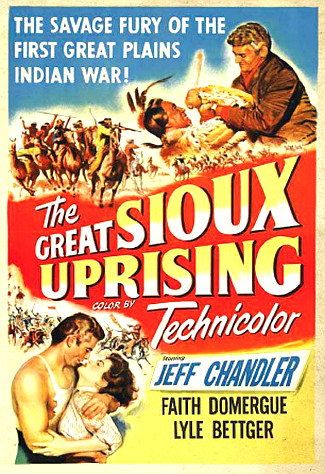 Jeff Chandler plays Dr. Jonathan Westgate, a surgeon who tires of watching his patients die during the Civil War and heads West.
Having suffered a wound he believes ended his medical career, Westgate settles down as a veterinarian in a community where the primary livelihood is providing horses for the nearby fort.
He falls for one horse trader (Faith Domergue as Joan Britton) and clashes with another (Lyle Bettget as Steve Cook). That's because Cook is eager to get rich off a horse-hungry army, even if it means stealing those horses from the Indians.
And this isn't the best time to be stirring up trouble with Red Cloud and his Sioux. Stand Watie is in the area, trying to convince the Indian tribes they'd be wise to help the Confederate Army and promising to drive all bluecoats from the land if they do so.
Westgate finds himself trying to keep that from happening while Cook is trying to do his best to frame him for horse stealing and murder.

Review:
Some B Westerns suffer from unimaginative plots. This one suffers from too much plot and too many coincidences until finally, all one can do is shake your head at the silliness of it all.
Let's see, our hero has lost confidence in his ability to operate, until he saves his arch enemy's life by performing an emergency apendectomy. In the process, he's gifted a horse that once belonged to Red Cloud, a horse that he once healed and a horse that can clear his name. Until his arch enemy has the horse destroyed in a fire.
For subplots, we have small horse traders rebelling against the way Cook controls the market. And Stand Watie showing up at the Sioux camp. And Faith Domergue trying to buy the horses from Red Cloud that her would-be finance (Cook) eventually steals.
Then there are the clumsy action scenes. Westgate successfully navigates the Sioux version of a gauntlet with relative ease. Then he and his friends are thrown into a bamboo prison the Sioux apparently built in anticipation of their arrival. Try not to laugh too hard at Westgate's ridiculously easy escape from that jam.
The film marked Chandler's first lead role in a Western as a white man; fortunately, he would make better Westerns. He had previously been nominated for an Oscar for his portrayal of Red Cloud in Broken Arrow three years earlier.
Cast:
Jeff Chandler … Dr. Jonathan Westgate
Faith Domergue … Joan Britton
Lyle Bettger … Stephen Cook
Peter Whitney … Ahab Jones
Stacy S. Harris … Uriah
Walter Sande … Joe Baird
Stephen Chase … Maj. McKay
Johnny War Eagle … Red Cloud
Glenn Strange … Stand Watie
Charles Arnt … Gist
Julia Montoya … Heyoka
Ray Bennett … Sgt. Manners
Dewey Drapeau … Teo-Ka-Ha
Boyd "Red" Morgan … Ray
Lane Bradford … Lee
Jack Ingram … Sam
Clem Fuller .. Jake
Runtime: 80 min.
Memorable lines:
Joan Britton, as Steve Cook quizzes her on why she keeps rounding up mustangs instead of marrying him: "It's my job too. As a matter of fact, it's the only one I know how to do."
Cook: "I can think of another."
Joan: "Is a man born yet who doesn't?"
Cook: "I guess not. It's the nature of the critter."
Red Cloud, responding to Joan Britton's plea to sell his horses to help end the Civil War: "Red Cloud understands words that do not touch his heart. White man always speaks with two tongues."
Joan: "You must believe me, Red Cloud. You must sell us your horses."
Red Cloud: "Sioux people not sorry white man kills their brothers. Once they called us brothers. They killed us too."
Dr. Westgate to Joan Britton: "You know, I'm kind of glad I found this town. Some of the people are even nicer than the horses."
Tagged with:
Boyd "Red" Morgan
•
Charles Arnt
•
Clem Fuller
•
Dewey Drapeau
•
Faith Domergue
•
Glenn Strange
•
Jack Ingram
•
Jeff Chandler
•
Johnny War Eagle
•
Julia Montoya
•
Lane Bradford
•
Lloyd Bacon
•
Lyle Bettger
•
Peter Whitney
•
Ray Bennett
•
Stacy S. Harris
•
Stephen Chase
•
The Great Sioux Uprising (1953)
•
Walter Sande