Gunfight at Dodge City (1959)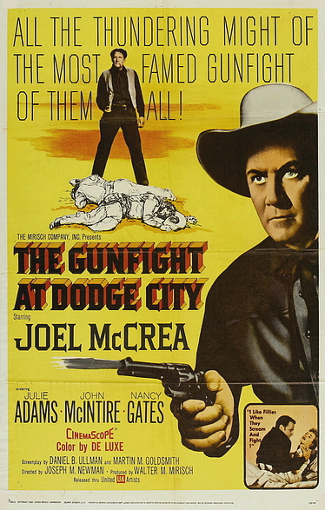 Having worn out his welcome in Hayes City, Bat Masterson (Joel McCrea) heads to Dodge City, where his brother Ed is already marshal and intends to run for county sheriff against the crooked Jim Regan (Don Haggerty).
Bat finds a willing business partner in saloon owner Lilly (Nancy Gates). But then Ed is killed and he finds himself running for sheriff at the urging of a Dodge City electorate. They're skeptical of his past, but desperate for someone who can stand up against Regan.
Masterson succeeds on that count, until the simple-minded brother of good friend Ben Townsend (Walter Coy) finds himself facing a hangman's noose.
Masterson rescues Billy, though it means breaking the law. He's stripped of his badge, but heads back to Dodge City anyway to face the inevitable showdown with Regan.
Julie Adams plays Pauline Howard, the aloof minister's daughter who was engaged to Ed Masterson and finds herself being romanced by Bat, though Lilly clearly has more tha a business interest in him as well.

Review:
Efficient, decently done, but completely forgetable version of the Bat Masterson story. The only really unique touch is the presence of a character like the simple-minded Billy Townsend, but he disappears for much of the flm.
John McIntire plays the sometimes-doctor, sometimes-gambler who befriends Bat when he arrives in Dodge. Richard Anderson plays Dave Rudabaugh, an old acquaintance of Bat's, though that doesn't keep him from selling his gun to the highest bidder, which happens to be Regan.
This marked the last of 22 films McCrea made in the 1950s; 18 of them were Westerns. He starred in the short-lived TV series "Wichita" before returning to the big screen for one of his best films, "Ride the High Country" (1962).
Cast:
Joel McCrea … Bat Masterson
John McIntire … Doc Sam Tremaine
Julie Adams … Pauline Howard
James Westerfield … Rev. Howard
Nancy Gates … Lilly
Richard Anderson … Dave Rudabaugh
Walter Coy … Ben Townsend
Wright King … Billy Townsend
Don Haggerty … Sheriff Regan
Harry Lauter … Ed Masterson
Charles Horvath … Sgt. Ernie King
Kasey Rogers .. Molly Day
Timothy Carey … Forbes
Runtime: 81 min.
Memorable lines:
Young Billy Townsend, admiring Bat's pistol: "Can't I just shoot it once …you let me fire the rifle."
Bat: "The rifle's for shooting buffalo. And your brother Ben will be proud you're getting so good at it. What you bring down with a .45, the skins aren't worth a cent."
Ed Masterson: "It's you I'm worried about."
Bat Masterson: "Me? I manage to do alright."
Ed: "You've never settled down. You're like a ball in a roulette wheel, jumping from one place to another. One of these days, if you keep getting into scrapes, you're going to land on number 13, black."
Lilly: "He's a very clever man, our sheriff. He's got two hats he keeps taking off and putting on. The white one is for making speeches, kissing babies and attending rodeos. The black one is for funerals and collecting his percentage of every business in town."
Lilly, urging Bat not to get into a gunfight with Regan: "Bat, don't go out there."
Bat: "I don't want to Lilly. But the distance between here and that street is the difference between a rabbit and a man."
Bat to Regan: "If you'd come in here five minutes ago, Regan, I'd have killed you. Now I'm only gonna half kill ya."
Tagged with:
Charles Horvath
•
Don Haggerty
•
Harry Lauter
•
James Westerfield
•
Joel McCrea
•
John McIntire
•
Joseph Newman
•
Julie Adams
•
Kasey Rogers
•
Nancy Gates
•
Richard Anderson
•
The Gunfight at Dodge City (1959)
•
Timothy Carey
•
Walter coy
•
Wright King