Gunfighters (1947)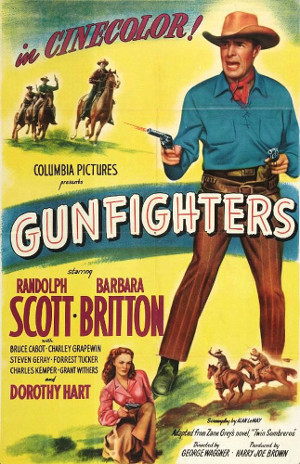 Randolph Scott is notorious gunman Brazos Kane. After being forced to shoot his best friend in self-defense — the friend couldn't resist the temptation to test his gun skills — Bravos decides to bid farewell to his six-shooters and live a peaceful life punching cows with another good friend.
Well, Bravos arrives at the ranch where that friend works to find that he's been gunned down. And before long, Bravos is accused of the crime. A rancher named Inskip rescues him from a lynching at the hands of a crooked deputy (Grant Withers), prompting Bravos to decide to hang around Banner Town. After all, he has a murder to solve and a bullet and footprint from the scene as key clues.
During his stay in these here parts, he falls for a pretty rancher's daughter (Dorothy Hart as Jane Banner) and gets an assist from a young cattleman named Johnny O'Neil, who's in love with Jane's sister (Barbara Britton as Bess Banner).
But Bess only has eyes for Bard Mackey (Bruce Cabot), foreman on her father's ranch. Though she'll cozy up to Bravos if he helps keep him from identifying Mackey as the killer of his friend.
Small ranchers are beginning to encroach on land cattleman Banner thinks should be his. Mackey and hired gun Ben Orcutt (Forrest Tucker) intend to run them off that land.

Review:
You won't find a truly bad Randolph Scott Western, but this isn't one of his best.
The opening scenes don't set a very high standard. Bravos' best friend prods him into a potentially fatal gunfight? Some friend. And Bravos is going to put down his guns for good? Hmm, the viewer just knows that isn't going to happen. Wouldn't make for a very entertaining Western, would it?
The film is unique for having two leading ladies who look enough alike that Bravos has trouble keeping them straight. And there's a very well filmed fight between Deputy Yount and Bravos. At first, the deputy tries to have his horse stomp Bravos to death; both men wind up being dragged, still fighting, underneath a wagon. Much of the horse stomping footage is shot from directly overhead.
This marked the film debut for Dorothy Hart, who would go on to star in two other Westerns — "Raton Pass" and the brutally bad "Calamity Jane and Sam Bass" — before leaving movies for TV work in 1952.
Cast:
Randolph Scott … Brazos Kane
Barbara Britton … Bess Banner
Dorothy Hart … Jane Banner
Bruce Cabot … Bard Mackey
Forrest Tucker … Ben Orcutt
Griff Barnett … Mr. Banner
Charley Grapewin … Rancher Inskip
John Miles … Johnny O'Neil
Steve Geray … Jose
Charles Kemper … Sheriff Kiscaden
Grant Withers … Deputy Bill Yount
Runtime: 87 min.
Memorable lines:
Brazos Kane, as he rides off vowing to put down his six guns for good: "Goodbye to the guns and may you rest in the peace you never had."
Sheriff Kiscaden: "I gotta apologize for our town — dead, stagnant, gone to sleep with a fly on its nose. I'm sorry we can't expect a man like you to settle here. But I realize you're used to the action."
Brazos Kane: "Sounds like the kind of place I'm looking for."
Brazos Kane to Johnny O'Neil, a young man practicing with his gun: "You know, you can't just kill one man and forget it. Every man you beat has friends. The more you win, the more come against you. You've got your choice between getting famous and getting rigor mortis."
Johnny O'Neil to Bess Banner: "Gosh, you know something? You're prettier than a bucket of lemon pies in a flower bed today."
Sheriff Kiscaden to Bravos, knowing he's at odds with Deputy Bill Yount: "Remember that badge of his don't die. It just gets up and comes after you again — in the shirt pocket of another man."
Bess Banner: "Can't you understand? If you love a man, you can do everything wrong."
Jane Banner: "It's as if some terrible fence was built up between us. Bravos, there must be some way to tear it down."
Brazos Kane: "There are too many empty saddles on it, Jane."
Tagged with:
Barbara Britton
•
Bruce Cabot
•
Charles Kemper
•
Charley Grapewin
•
Dorothy Hart
•
Forrest Tucker
•
George Waggner
•
Grant Withers
•
Griff Barnett
•
Gunfighters (1947)
•
John Miles
•
Randolph Scott
•
Steve Geray