Gunman Sent by God (1968)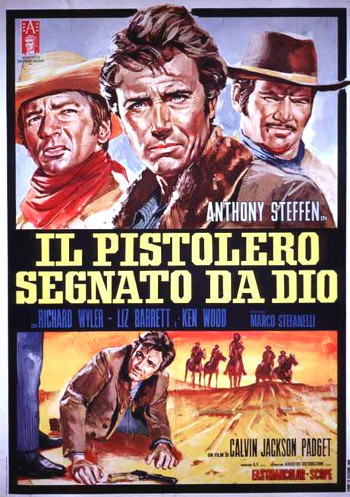 Anthony Steffan plays Gary McGuire, a renown carnival show trick-shot artist nicknamed Hurricane West with a secret past.
As a boy, he fired a shot that caused a stampede. Three men were killed, including his brother. He was whipped as punishment, leaving a scar on his neck.
Gary perceives that scar as a sign that he should never resort to violence against another man and that there will be severe repurcussions if he does.
So while his quick draw and markmanship make him the star of a traveling circus, Gary cowers in fear when confronted with a real-life need for violence.
Among Gary's adoring fans is an orphaned boy named Tony Murphy, who's hoping Hurricane West might help him reclaim the family farm stolen years earlier on a night bandits raided the property, killing his father.
Turns out that was part of a land grab scheme devised by a Lewistown saloon owner named Coleman and his lead gunman Roy Elroy (Giovanni Ciafriglia). What they don't know is that Tony's dad hid $30,000 on the farm they stole, and only Tony knows the money's location.
What Tony doesn't know is that Elroy is the man who shamed Gary in front of a circus crowd, prompting him to leave the show and bury his troubles in booze.

Review:
A decent Spaghetti Western in which the hero turns out to be a coward, but needs to redeem himself if he's going to save the life of a young friend — not to mention his own dignity.
In a neat twist early in the film, Elroy and his gang rob a sheepman heading West. When they stop to split the money, he guns down the other five gang members so he can keep it all to himself.
Gary has joined the posse trailing the bandits and watches all of this go down. He can't muster the courage to draw on Elroy as he rides off with the loot. But when the other members of the posse return and assume he's responsible for the five dead bandits, he takes credit for single-handedly wiping them out.
That's a decision that will come back to haunt him.
Luisa Baratto plays Maggie, the circus performer in love with Gary. Gia Sandri is Dora, the saloon girl who learns about the hidden $30,000 and makes sure the word gets back to Coleman. Nello Pazzafini is leader of the circus in which Gary stars and Tom Felleghy is Brody, Tony's guardian who's nevertheless in cahoots with Coleman.
Directed by:
Giorgio Ferroni
as Calvin Jackson Padget
Cast:
Anthony Steffen … Gary McGuire, aka Hurricane West
Richard Wyler … Coleman
Luisa Baratto … Maggie
as Liz Barrett
Giovanni Cianfriglia … Roy Elroy
as Ken Wood
Gia Sandri … Dora
Andrea Bosic … Jonathan Murphy
Nello Pazzafini … Eustis Brown (circus leader)
Massimo Righi … Grant
Tom Felleghy … Brody
Marco Stefanelli … Tony Murphy
Benito Stefanelli … New City Sheriff
Furio Meniconi … Norton
Fedele Gentile … Sheriff Corbitt
Ennio Baldo … Thomas Clerigen
Rina Franchetti … Mrs. Clerigen
Runtime: 93 min.
aka:
Il pistolero segnato da Dio
Two Pistols and a Coward
Memorable lines:
Coleman: "One's a child and one's a coward. They'll spill the beans (about where $30,000 is hidden) tomorrow."
Dora: "They'd better. There's a lot of icing at stake. And you know how much I love icing."
Gary to Elroy: "Stop there, Elroy. Or I'll shoot you, like the rattlesnake you are!"
Trivia:
Another film where translation of the title from Italian to English isn't precise and makes less sense as a result. The precise translation: "The Gunman Marked by God."
One of four Spaghetti Westerns directed by Giorgio Ferroni as Calvin Jackson Padget. The others — "Blood for a Silver Dollar," "Fort Yuma Gold" and "Wanted" — all starred Giuliano Gemma (Montgomery Wood). He'd make just four more films, including 1971's "Long Live Robin Hood," starring Gemma and Spaghetti star Mark Damon.
Andrea Bosic
•
Anthony Steffen
•
Benito Steffanelli
•
Calvin Jackson Padget
•
Ennio Baldi
•
Fedele Gentile
•
Fruio Meniconi
•
Gia Sandri
•
Giorgio Ferroni
•
Giovanni Cianfriglia
•
Gunman Sent by God (1969)
•
Il pistolero segnato da Dio (1968)
•
Ken Wood
•
Liz Barrett
•
Luisa Baratto
•
Marco Steffanelli
•
Massimo Righi
•
Nello Pazzafini
•
Richard Wyler
•
Rina Franchetti
•
Tom Felleghy
•
Two Pistols and a Coward (1968)