Gunman's Walk (1958)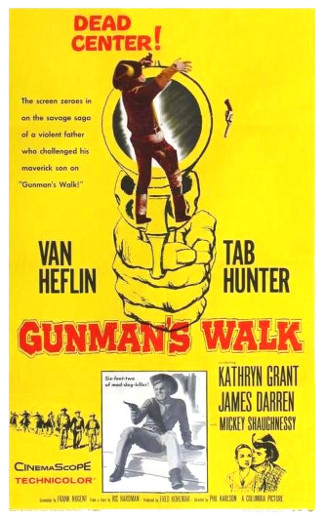 Van Heflin is Lee Hackett, the biggest rancher in the territory. And he has big dreams for his sons — Ed (Tab Hunter) and Davey (James Darren).
Ed takes after his dad. He's quick on the draw, a little wild, rambunctious. Davey's more withdrawn. He kids his brother about practicing his fast draw in a mirror, and would prefer not to wear a six-gun.
But his dad demands it, just as he demands his sons call him "Lee" instead of dad. You see, Lee Hackett helped settle the territory. And he did it with toughness, an iron will and, yes, his guns.
The problem is that Ed resents his father's reputation and is dead set on establishing his own. When someone calls a half-breed the best wrangler around, Ed has to prove he's the best, and winds up running him off a cliff.
He escapes that murder rap with the help of a witness who lies, hoping to cash in on Lee Hackett's gratitude. But then the witness claims Ed's prize stallion as his own. And Ed Hackett's missteps quickly begin to outpace his father's ability to make them go away.

Review:
Simple film, brilliantly done. Tab Hunter, the teenage heartthrob, is superb as the hot-headed youth and the villain of the piece, spiralling out of control as he tries to become a bigger man than his father.
Van Heflin is just as good as the father who would do anything to protect his sons and firmly believes the Hackett family deserves special treatment because of his role in settling the West.
The supporting cast is excellent, too, right down to the characters with minor roles. James Darren, best known for appearing in all three Gidget films, plays the younger, gentler son.
He also falls in love with Clee Chouard, the half-breed sister of the man Ed rides off a cliff. That transgression, falling for a half-breed, is nearly enough to make his father disown him. Clee is played by Kathryn Grant; she became Mrs. Bing Crosby the year before the film was released and would soon retire to focus on family life.
Cast:
Van Heflin … Lee Hackett
Tab Hunter … Ed Hackett
James Darren … Davy Hackett
Kathryn Grant … Clee Chouard
Paul Birch … Bob Selkirk
Edward Platt … Purcell Avery
Mickey Shaughnessy … Deputy Will Motely
Robert Simon … Sheriff Harry Brill
Ray Teal … Jensen Sieverts
Michael Granger … Curly
Will Wright … Judge
Dorothy Adams … Mrs. Stotheby
Everett Glass … Rev. Stotheby
Bert Convy … Paul Chouard
Chief Blue Eagle … Black Horse
Runtime: 97 min.
Title tune: "I'm a Runaway"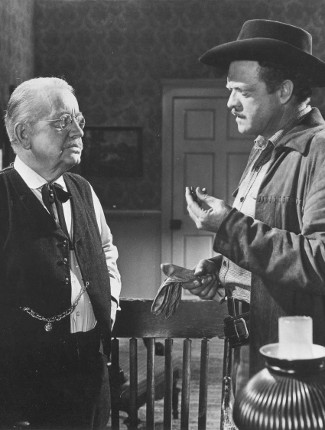 Memorable lines:
Lee Hackett: "One son in jail, the other walking around mooning over a half breed. I don't know which one shames me more."
Davy Hackett to Clee: "Don't pay any attention to that brother of mine. Times he says things just to get you mad. Sometimes, he gets me so mad, I want to hit him."
Clee: "Might be a very good idea if you did."
Davy: "Oh, I have. Trouble is, he hits back, and a lot harder than I do."
Sheriff to Ed Hackett: "Take that bottle out of your mouth while I'm talking to you."
Ed Hackett: "Sheriff, I don't use my mouth to listen with. I use my ears."
Sheriff to Ed Hackett: "Come on, boy, I'm taking you in."
Lee Hackett: "No. No you're not, Harry. There aren't enough sheriffs in the state to take a son of mine in. You get that through your head right now."
Indian agent: "Don't you realize the importance of questioning Sieverts before he dies?"
Sheriff: "You sure wouldn't get anywhere questioning him afterwards, would you?"
Indian agent: "You know very well what I mean. I'm convinced Sieverts lied in court. But a man on his death bed can generally be counted on to tell the truth."
Sheriff: "I've known some men I wouldn't trust if they were dying on a stack of bibles."
Tagged with:
Bert Convy
•
Chief Blue Eagle
•
Dorothy Adams
•
Edward Platt
•
Everett Glass
•
Gunman's Walk (1958)
•
James Darren
•
Kathryn Grant
•
Michael Granger
•
Mickey Shaughnessy
•
Paul Birch
•
Phil Karlson
•
Ray Teal
•
Robert Simon
•
Tab Hunter
•
Van Heflin
•
Will Wright