Gunsmoke in Tucson (1958)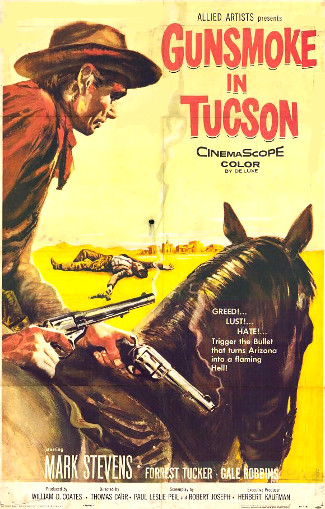 Mark Stevens and Forrest Tucker are brothers who watch their father hang for allegedly stealing a horse in the film's opening scene.
Stevens, the younger brother, takes the name Chip Coburn, vows vengeance and becomes an infamous outlaw known as Blue Chip, for the blue poker chips he wears on his vest.
Tucker adopts the name John Bravos and becomes a lawman. He sends his brother to prison for eight years. When Chip gets out, Bravos offers this warning: If he turns outlaw again, he'll track him down and kill him rather than see him hang like their father did.
Nevertheless, Chip has a scheme that should set him up with a ranch in the Tucson area. Only when he reaches Tucson, he discovers the rancher he was dealing with has died. In his place is Ben Bodeen (Vaughn Taylor), a man who wants control of the entire valley. He also wants Chip's former girl, Lou Crenshaw (Gale Robbins).
And when it looks like Chip might switch sides and hire out his gun to farmers hoping to settle part of the former Chisum range, Bodeen decides to frame the former outlaw. He has his men raid the nearby farms; he makes sure one of his men is always dressed like the infamous Blue Chip.
Naturally, word gets back to Marshal John Bravos. He sets out for Tucson too, ready to fulfill his promise to his brother. Along for the ride is another woman in love with Chip, Katy Porter (Gail Kobe).

Review:
Odd little film with one of the strangest costumes choices you'll find in a 1950s Western. Stevens' outlaw garb includes a vest with blue poker chips across the chest on each side. Blue poker chips also adorn the front and back of his belt buckle, the one possession he inherited from his dad.
And make no doubt, Stevens is the star of this film. Tucker disappears for a large portion of it. Unfortunately, after a promising opening, the script yanks viewers all over the place in the most haphazard fashion.
Take the character of Lou Crenshaw, for instance. First, she's arriving in Tucson as Bodeen's girl. Moments later, she's smooching with Blue Chip, telling him she'd rather settle down on a ranch with him. Before he has time to acquire a ranch or anything else, she's married to Bodeen. But still professing her love for Blue Chip. Then she's getting kicked out by Bodeen — not for cavorting with Blue Chip — but for disrespecting her much older husband.
It all adds up to the least entertaining of the Westerns Stevens made in the 1950s.
Cast:
Mark Stevens … Chip Coburn
Forrest Tucker … John Bravos
Vaughn Taylor … Ben Bodeen
Gale Robbins … Lou Crenshaw
Gail Kobe … Katy Porter
Kevin Hagen … Clem Haney
John Ward … Slick Kirby
William Henry … Sheriff Blane
Richard Reeves … Notches Pole
John Cliff … Sheriff Cass
George Keymas … Hondo
Zon Murray … Bragg
Paul Engle … Young Chip
Anthony Sydes … Young Brazos
Runtime: 79 min.
Songs: "Gotta Have a Man"
performed by Gale Robbins in saloon
Memorable lines:
Father, as he's about to be hanged: "A man has a right to a piece of land. Remember that, boys. Get it. Stay on it. Make it yours."
Young Chip Coburn, after watching his father hang: "I'll be back. I'll be back. I'll never forget."
John Bravos: "I'll kill you before I see you wind up at the end of a rope, Chip."
Ben Bodeen: "Did you have to say that?"
Lou Crenshaw: "No, I didn't have to. I just felt like it."
Bodine: "I'm not being fooled. A man is given only one chance to be big in this life. He can't let it slip through his fingers. I won't share my bed with any saddle tramp."
Tagged with:
Anthony Sydes
•
Forrest Tucker
•
Gail Kobe
•
Gale Robbins
•
George Keymas
•
Gunsmoke in Tucson (1958)
•
John Cliff
•
John Ward
•
Kevin Hagen
•
Mark Stevens
•
Paul Engle
•
Richard Reeves
•
Thomas Carr
•
Vaughn Taylor
•
William Henry
•
Zon Murray