Have a Good Funeral, My Friend … Sartana Will Pay (1970)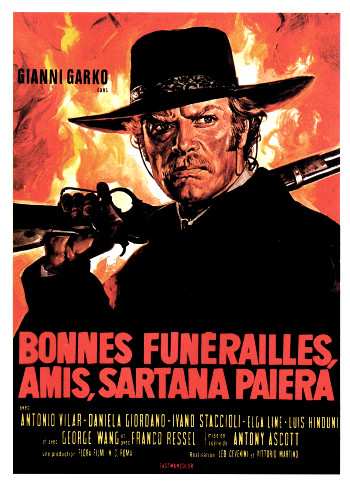 Gianni Garko returns for a third outing as Sartana, the black cloaked avenger who just might wind up more wealthy after doling out a healthy dose of justice.
This time around, he shows up just in time to cut down the thieves who have raided the cabin of a miner named Benson, killing the old man, setting his home ablaze and fleeing with a large gold nugget to show just how much his land is worth.
Those scheming to get that land include Indian Creek banker Ronald Hoffman (Antonio Vilar). But they have a problem: The mine now falls into the lap of Benson's pretty niece Abigail (Daniela Giordano), who's arriving by stage for a reunion with an uncle she thinks is still very much alive.
Hoffman takes it upon himself to break the bad news. Then, he says he'll help Abigail out by taking the land off her hands since he was such of good friend of Benson and since the land borders his own. He offers $10,000, far more than it's worth, he assures her.
But by that time, Sartana has already gotten involved in the negotiations, driving the price up to $20,000. And a Confucius-quoting gambling-house owner named Lee Tse Tung wants the land too.
Pretty soon, it becomes clear to Hoffman and his allies: To get the land, they're going to need to get rid of Sartana.

Review:
Gianni Garko looks older and wiser in this sequel. Also wiser were the filmmakers who deliver a much less convulted plot this time around without sacrificing any of Spaghetti's conventions.
So we still have clever dialogue, lots of gunplay, plenty of scheming and double crosses and Sartana up to his old card tricks — and a new one, flipping a card from his oft used deck not only as a weapon, but to direct an adversary to a key passage in the Bible, to ring Lee Tse Tung's gong or even to snuff out a candle when things get hot and heavy with Abigail.
Ah, yes, then there's Abigail, our damsel in distress, something sorely missing from the second film in the series. I mean, why have a James Bond type Western character if he doesn't have at least one beauty to romance?
Franco Pesce is peddling his coffin-making skills in another town this time around. And this film also benefits from a rousing score courtesy of Bruno Nicolai.
Directed by:
Giuliano Carnimeo
Anthony Ascott
Cast:
Gianni Garko … Sartana
Antonio Vilar … Ronald Hoffman
Daniela Giordano … Abigail Benson
George Wang … Lee Tse Tung
Ivano Staccioli … Blackie
Helga Line … Julie, saloon girl
Luis Induni … Sheriff
Franco Pesce … Undertaker
Frederico Boido … Jim Piggot
as Rick Boyd
Jena-Pierre Clarain … Elmo Piggot
Robert Dell'Acqua … Frank Piggo
Rocco Lerro … Ralph Piggot
Franco Ressel … Samuel Piggot
Runtime: 91 min.
aka
Buon funerale amigos!… paga Sartana
Have a Nice Funeral
Stranger's Gold
A Present for You, Amigo, a Coffin from Sartana
Score: Bruno Nicolai
Memorable lines:
Townsman, reading a note on the undertaker's door: "'Don't be in a hurry to pass on. I'll be back.' — Funny man, our body snatcher!"
Clerk at gambling house, after Sartana has turned over several weapons: "Packing any other guns, mister?"
Sartana: "That's right — a cannon. But I left it on the stoop because it's to wide to come through the door."
Sartana: "In case you're interested, I'm not from here. I only came for the funeral."
Abigail Benson: "My uncle's funeral?"
Sartana: "Not his. His killers. I executed them, and so I had to bury them. I have an old habit of doing that."
Abigail Benson: "Do you always come in through the window?"
Sartana: "Doors are too noisy. You have to knock on them."
Hoffman: "My humble abode, in the words of Lee Tse Tung."
Abigail Benson: "Who?"
Hoffman: "He's a Chinese gambler who's a very bad copy of Budha, meaning he's very round and fat."
Hoffman: "You'd better stop behaving like an hysterical old woman, sheriff."
Trivia:
The title comes from Sartana's habit of covering the funeral costs for those he kills — but only those he kills. And he spares no expense, paying enough for plenty of flowers to cover the coffins. In fact, it's the lack of flowers that tips Sartana off to ambushers hiding in coffins on a wagon that happens to be passing the barbershop where he's getting a shave.
Dark-haired beauty Daniela Giordano appeared in nine Spaghetti Westerns between 1968 and 1972, including Five-Man Army (1969) and Challenge for MacKenna (1970). A former Miss Italy and runner-up for Miss Europe, she'd later appeared in "Trinity and Sartana Are Coming," a film which has no relation to this one other than a character named Sartana.
Tagged with:
A Present for You Amigo a Coffin from Sartana (1970)
•
Anthony Ascott
•
Antonio Vilar
•
Bruno Nicolai
•
Buon funerale amigos!... paga Sartana (1970)
•
Daniela Giordano
•
Franco Pesce
•
Franco Ressel
•
Frederico Boido
•
George Wang
•
Gianni Garrko
•
Giuliano Carnimeo
•
Have a Good Funeral My Friend ... Sartana Will Pay (1970)
•
Have a Nice Funeral (1970)
•
Helga Line
•
Ivano Staccioli
•
Jean-Pierre Clarain
•
Luis Induni
•
Rick Boyd
•
Robert Dell'Acqua
•
Rocco Lerro
•
Stranger's Gold (1970)