In Old Arizona (1928)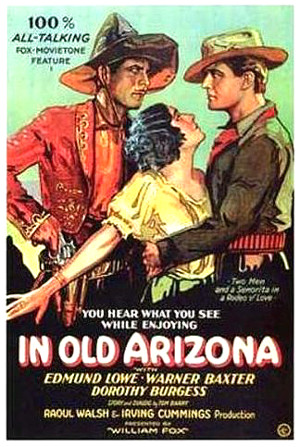 Warner Baxter plays The Cisco Kid, a bandit with a $5,000 price on his head and a heart that belongs to only one girl, Tonia Maria (Dorothy Burgess).
Unfortunately for Cisco, Tonia isn't so particular with her choice of men. And she eventually gets around to flirting with a seducing Sgt. Mickey Dunn, not knowing at the time that he's on a mission to hunt down her other lover.
Of course, once she finds out, there's the lure of the $5,000. And if Tonia loves anything more than men, it's the presents and the money they bring her.

Review:
Short on action, long on purple prose for dialogue, the film is more interesting for its history than its story. It was, after all, the first sound Western. And it introduced music to the Western. ("My Tonia" was a big hit for Nic Lucas).
It also earned Baxter a Best Actor Oscar. And he wasn't even supposed to play the lead. Raoul Walsh was to direct and star in the film. But while scouting locations, a jackrabbit hopped through the windshield of his car, causing an accident that cost him an eye.
The incident ended his acting career. But, of course, not his directing career.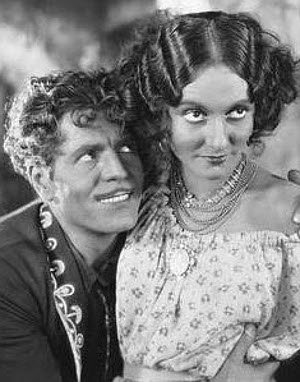 Directed by:
Irving Cummings
Raoul Walsh
Cast:
Warner Baxter … The Cisco Kid
Edmund Lowe … Sgt. Mickey Dunn
Dorothy Burgess … Tonia Maria
Soledad Jimenez … Tonita the cook
Henry Armetta … Barber
James Bradbury Jr. … Soldier
John Dillon … Second soldier
Runtime: 95 min.
Memorable line:
The Cisco Kid: "Her flirting days are over. And she's ready to settle down."
Tagged with:
Dorothy Burgess
•
Edmund Lowe
•
Henry Armetta
•
In Old Arizona (1928)
•
Irving Cummings
•
James Bradbury Jr.
•
John Dillon
•
Raoul Walsh
•
Soledad Jimenez
•
Warner Baxter