It Can Be Done Amigo (1972)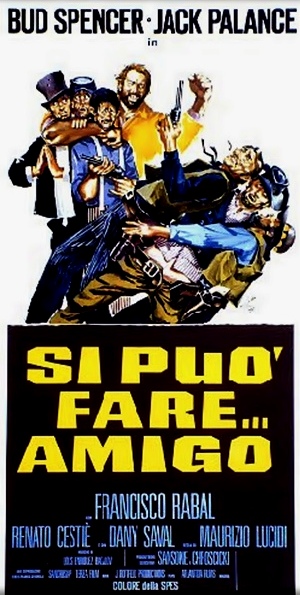 Bud Spencer is Hiram Coburn, a man who suddenly finds himself with a young boy named Chip in his care after promising his dying guardian he'd watch over the youth.
Someone ambushed the old man, but Hiram can't figure out why.
Nor does he understand why people keep offering surprisingly large sums for the ramshackle cabin the boy inherited.
After all, he's checked; there's no gold on the land.
The boy causes another problem for Hiram. It makes it difficult for him to flee Sonny Bronston (Jack Palance) and his sister Mary (Dany Sabal).
Sonny's convinced Hiram has soiled pretty Mary. Now he's decided they must get married.

Review:
As Spaghetti Western comedies go, you could do worse. Bud Spencers deadpan is humorous at times, but this one probably won't have you rollicking with laughter.
Regardless of what you think of the Trinity films, Palance is a poor substitute for Terence Hill as Spencer's sidekick. He can't even remember whether he's supposed to have a Mexican accent over the course of the film.
The character of Mole, who pays people to bring him buckets of dirt he can taste, is a unique touch. By the way, Chip's farm is rich in oil, something our stars discover during one of a couple of overlong fistfights that break out over the course of the film.
Directed by:
Maurizio Lucidi
as Maurice Bright
Cast:
Bud Spencer … Hiram Coburn
Jack Palance … Sonny Bronston
Renato Destie … Chip Anderson
Francisco Rabal … Sheriff Franciscus
Dany Saval … Mary Bronston
Luciano Catenacci … Big Jim
Robert Camardiel … Mole
Serena Michelotti … Madame Warren
aka:
Si puo fare … amigo
Bulldozer is Back, Amigo
Can Be Done
The Big and the Bad
Music: Luis Bacalov
Song: "Can Be Done," by Rocky Roberts
Runtime: 97 min.
Memorable lines:
Rancher: "Hang him from the nearest tree."
Hiram surveys the baren landscape: "Looks like you're fresh out."
Rancher: "Well, I'll find one if I have to plant it myself."
Banker, surveying the damage after a brawl in his bank, won by Hiram: "That's enough. This started out to be a simple robbery and you've turned it into a major disaster."
Hiram: "Can be done, amigo."
Mary, upon entering the church to be married: "But why have they got you tied up?"
Hiram: "To restrain my enthusiasm."
Chip, after being told Hiram has perfect vision: "Why do you use glasses?"
Hiram: "They help me think."
Trivia:
One of nearly a dozen Westerns Bud Spencer starred in. He most frequently partnered with Terence Hill.
At 6-foot-5, Spencer was the first Italian to swim the 100-meter freestyle in less than a minute and participated on Italy's national team in the 1952 and 1956 Olympics.
A trained attorney, Spencer began his acting career under his birth name Carlo Pedersoli. He selected the name Bud Spencer
in honor of his favorite American beer, Budweiser, and in homage to American actor Spencer Tracy.
Bud Spencer
•
Bulldozer is Back Amigo (1972)
•
Can Be Done (1972)
•
Danny Saval
•
Francisco Rabal
•
It Can Be Done Amigo (1972)
•
Jack Palance
•
Luciaino Catenacci
•
Maurizio Lucidi
•
Renato Destie
•
Roberto Carmardiel
•
Serena Michelotti
•
The Big and the Bad (1972)