Kansas Raiders (1950)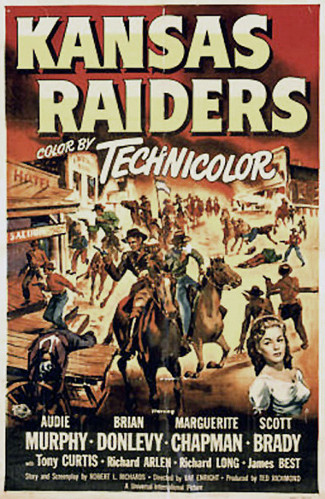 Audie Murphy is Jesse James, who heads West from Missouri to Kansas looking for revenge after Union troops have burned his home, hung his father and left her mother a cripple.
Riding along with him are a host of young guns, including brother Frank (Richard Long), the Younger brothers and Kit Dalton (Tony Curtis).
They escape a lynch mob of red legs in Lawrence thanks to the kindess of a Union captain, but ride off to join the "army" of Col. William Clarke Quantrill (Brian Donlevy) just the same.
Quantrill is unconcerned by Confederate defeats in the East. He's convinced Lee will move his troops west of the Mississippi, link up with Quantrill's raiders and that together they'll defeat the Union army.
But one raid is all it takes for Jesse to become disillusioned and realize Quantrill is doing that same as the raiders back in Missouri, looting and killing innocent civilians, all in the name of war.
He's considering leaving the guerillas, partly because of a growing affection for and the pleas of Kate Clark (Marguerite Chapman), whom Quantrill wants to make his lover.
Then Quantrill convinces Jesse he's planning a true military raid, back in the town of Kansas.

Review:
An impressive early performance by Audie Murphy and the presence of lots of future Western film noteables makes this a more interesting view than the film deserves on its own merits.
Oh, it starts well enough, with plenty of action and an intense knife battle between Jesse and one of Quantrill's lieutenants.
But if becomes downright improbable as the film moves along and Jesse becomes Quantrill's protector of sorts, despite his supposed disgust with the way his commander wages war.
And, big surprise, it's not historically accurate either.
This marked just the fifth film for Audie. Marguerite Chapman, five years his senior, was starring in her third Western, following "Coroner Creek" and "Relentless," both released in 1948.
The film features very early roles for Tony Curtis, Richard Long, Richard Egan, Scott Brady and James Best. In fact, this film marked the first time Curtis' name was shortened to Tony in its credits.
Cast:
Audie Murphy … Jesse James
Brian Donlevy … Col. William Clarke Quantrill
Marguerite Chapman … Kate Clark
Scott Brady … Bill Anderson
Tony Curtis … Kit Dalton
Richard Arlen … Union captain
Richard Long … Frank James
James Best … Cole Younger
Dewey Martin … James Younger
John Kellogg … Red Leg leader
George Chandler … Willie
Charles Delany … Pell
Richard Egan … First Lieutenant
David Wolfe … Rudolph Tate
Runtime: 99 min.
Memorable lines:
Red Leg: "If they ain't Quantrill's men, I'm a horse thief."
Jesse James, before joining Quantrill: "Then you're a horse thief."
Kit Dalton: "To hear the Yankees tell it, Quantrill's got two horns, two hoofs and a long tail."
Kate Clark, taking one look at Jesse and his companions: "More recruits for the butcher brigade."
Jesse James, watching her ride off in her buggy: "That's a funny way to talk."
Kit Dalton: "Don't you know about women. They can't talk any other way."
William Quantrill: "What's the matter, Kate?"
Kate Clark: "I'll tell you what's the matter. Every day, you're becoming more and more a blood-thirsty murderer."
Kit Dalton: "I'm thinkin' this may not be the sweetest smellin' way to live, but it's a darn sight better than walkin' behind a plow."
Kate Clark, to Jesse: "Bloodshed and murder don't mean anything to Quantrill. It's all part of a dream — a dream of playing war. But the people he kills are real people."
Tagged with:
Audie Murphy
•
Brian Donlevy
•
Charles Delany
•
David Wolfe
•
Dewey Martin
•
George Chandler
•
James Best
•
John Kellogg
•
Kansas Raiders (1950)
•
Marguerite Chapman
•
Ray Enright
•
Richard Arlen
•
Richard Egan
•
Richard Long
•
Scott Brady
•
Tony Curtis