Kill or Be Killed (1966)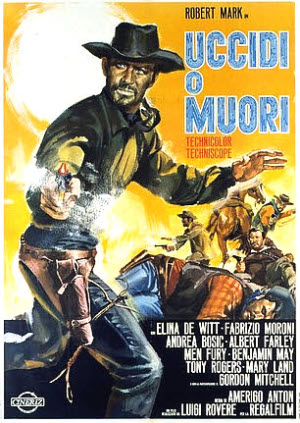 The Griffiths are cattle barons in these here parts, and they want the Drumonts driven out.
All that is, except pretty Lisa Drumont (Elina De Witt), who Chester Griffith is determined to marry, even if it means killing every other suitor who comes around.
Into the valley rides a stranger named Jerry (Robert Mark), wearing a gun and a pancho and carrying a violin. He plays the violin for drinks, but he shoots pretty mean six-shooter as well.
Pretty soon, he has five new notches on that six-shooter, including that of Spott Griffith.
Patriarch Jonathan Griffith vows vengeance. Son Chester takes a keen interest, too, especially after the violin playing stranger hires on as a hand at Lisa's ranch. Jonathan hires a fast gun to do away with Jerry; Chester tries burying Jerry to his neck in the desert.
But an old-timer named Petrack and his dog named Crook come to the rescue, setting the stage for a final showdown, just as Lisa relents and decides she has no option but to marry the man she hates.
Meanwhile, the local sheriff has been snooping around, figuring their must be a story behind that fast gun. Sure enough, he's learns he's none other than the notorious gunfighter named Ringo!

Review:
Well, you're not going to find too many Ringo films in which he carries around a violin as well as a six-shooter. And for a man running from his past as a fast gun, this Ringo doesn't exactly sidestep trouble.
But the biggest problem with the film is the wooden performance by Elina De Witt as Lisa. Of course, she's saddled with a pretty ridiculous role to sell. In the opening scene, Griffith and his men riddle her father's coffins with bullets. Yet she's to marry into that family?
Far from the worst Spaghetti you'll find, but far from classic too.
Directed by:
Tanio Boccia
Rod Dana … Jerry / Ringo
as Robert Mark
Elina De Witt … Lisa Drumont
Fabrizio Moroni … Spott Griffith
Andrea Bosic … The sheriff
Alberto Farnese … Chester Griffith
as Albert Farley
Gordon Mitchell … Hired Gun
Furio Meniconi … Jonathan Griffth
as Men Fury
Beniamino Maggio … Petrack
as Benjamin May
aka:
Kill or Die
Ringo Against Johnny Colt
God Holds the Bullet
Uccidi o muori
Music: Carlo Rustichelli
Song:"I Must Go,"
sung by Cifiello
Runtime: 94 min.
Memorable lines:
Lisa to Jerry: "Do you believe in God?"
Jerry: "Of course I do. He's the only one who never took a shot at me."
Jonathan Griffith: "Even if you do get her to marry you, you've gotta realize, she'll always hate you."
Chester Griffith: "The steers I kill so's I can eat steak hate me too. But I sure love the taste of steak."
Trivia:
Alberto Farnese plays the love-stricken but blood thirsty Chester Griffith in this film. One of his final films came 20 years later, as the demented Col. Connor in Bruno Mattei's violent "Scalps."
Another attempt to capitalize on the Ringo character. Robert Mark (Rod Dana) is the violin-playing Jerry. The sheriff later reveals his true identity — the gunman Johnny Ringo.
Alberto Farnese
•
Andrea Bosic
•
Benjamino Maggio
•
Elina De Witt
•
Fabrizio Moroni
•
Furio Meniconi
•
God Holds the Bullet
•
Gordon Mitchell
•
Kill Or Die
•
Killer or Be Killed
•
Ringo Against Johnny Colt
•
Robert Mark
•
Rod Dana
•
Tanio Boccia