Kill the Poker Player (1972)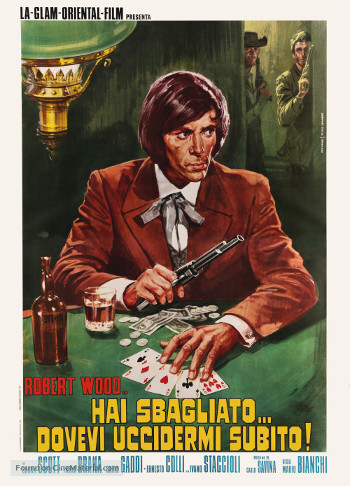 Two men pull off a bank heist, making sure to leave no witnesses behind.
But when they meet up with a third partner to split the loot, they wind up staked out and bitten to death by poisonous snakes.
Flash forward two years and Lloyd's of London agent Jonathan Pinkerton (Robert Woods) shows up in Red Stone, determined to find that third partner, convinced a bank employee was involved.
And he makes it known around town that a $200,000 reward awaits the individual who helps him crack the case. That, naturally, attracts lots of interest.
Pinkerton also winds up with a growing list of suspects, including a sheriff (Frank Brana) who never seems to be around when he's needed, a rancher on the brink of financial ruin (Ivano Staccioli), a hotel owner with a questionable past (Carlo Gaddi) and a doctor (Ernesto Colli) with a strange fascination for snakes.
Then, just when Pinkerton — known as Mr. London around town — starts to unravel the mystery, dead bodies start showing up.
And he winds up in jail, accused of being responsible for some of those deaths.

Review:
Surprisingly effective little film considering Robert Woods had starred in the dreadful "His Name is Sam Walbash but They Call Him Amen" jus a year earlier.
The opening will draw you in. A cowboy walks into a saloon, exchanges glances with a cavalry officer, then walks back out and head to the bank. He robs it, shooting everyone inside. So no one can interfere, the man dressed like a cavalry officer kills everyone in the bar. And when the bank manager emerges wounded, but preparing to fire a shot at the fleeing bandit, he's gunned down from a second-story window.
Soon, the cowboy and the cavalry officer are dead, and that mysterious man from the second-story window is riding off with the loot. And nine minutes into the film, not a word has been spoken.
After that, it plays out like a mystery as much as a Western, with Woods getting himself out of just as many jams with his quick thinking and his fists as with his guns.
Oh, and Nieves Navarro is up to her old gold-digging trips again. The Italian beauty is married to the saloon owner, but having an affair with the rancher and seemingly quite intrigued by the reward Pinkerton is offering.
Directed by:
Mario Bianchi
as Alan W. Cools
Cast:
Robert Woods … Jonathan Pinkerton / Alan Fields
Frank Brana … Sheriff Lewis Burton
Ivano Staccioli … Clinton, rancher
Nieves Navarro …. Kate
as Susan Scott
Ernesto Colli … Norton
Carlo Gaddi … Karl, saloon owner
Rafael Albaicin … Indio
Omerro Capanna … Fred
Runtime: 103 min.
Hai sbagliato … dovevi uccidermi subito!
Creeping Death
Memorable lines:
Clinton: "I assure you, I'm not one to rob banks."
Pinkerton: "If you don't mind, I'll come back to see you. However, I must mention to you that I didn't say a word about a bank."
Pinkerton, after shooting a snake from the rafters of the saloon owner's office: "It appears to me there are more snakes flying through the airs than flies or mosquitos around here."
Saloon girl to bartender: "I need something to wake me up."
Bartender: "You're supposed to wake everybody else up."
Sheriff: "Who are you? And what do you want around here?"
Pinkerton: "Who am I? You just said my name. What I want, I've already told you. It's that simple."
Sheriff: "Your credentials tell me one thing. What you say tells me another. What you've been doing, still another."
Pinkerton: "So what?"
Sheriff: "Since you're a church-going man, you can just pray they all mean the same thing."
Trivia:
The English title seems ill-fitting, though the four suspects do play a game of poker together at one point. The alternate title — "The Creeping Death" — would have been more fitting considering the role snakes play in the film. The direct translation of the Italian title is "You Were Wrong … You Had to Kill Me Right Away."
This marked the final Spaghetti Western for Nieves Navarro, perhaps best remembered for her roles in the Ringo films and "The Big Gundown." She went on to appear in a number of other movies, including two Emmanuel films in the 1970s.
Tagged with:
Alan W Cools
•
Carlo Gaddi
•
Ernesto Colli
•
Frank Brana
•
Hai sbagliato ... dovevi uccidermi subito! (1972)
•
Ivano Staccioli
•
Kill the Poker Player (1972)
•
Mario Bianchi
•
Nieves Navarro
•
Omerro Capanna
•
Rafael Albaicin
•
Robert Woods
•
Susan Scott
•
The Creeping Death (1972)