Kill the Wicked (1968)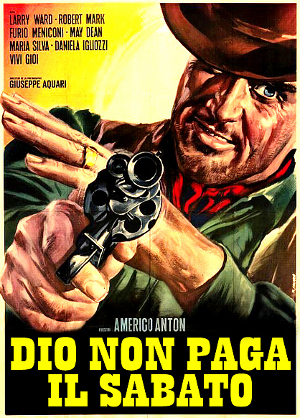 A bandit named Braddock is rescued from the hangman's noose, then plots a stage robbery with two partners — Randall and the sadistic Lester — and a lovely redhead named Shelley.
Randall is wounded in the holdup and left for dead. The rest of the gang head for a ghost town with a chest full of loot, waiting for the right time to cross the border into Mexico.
Then the complications start arising and arriving. The ghost town is inhabited by an elderly woman who's been waiting for years for a bounty like that chest of gold to drop in her lap.
And two strangers arrive in town, a man named Hudson who doesn't carry a gun but is mighty good with one and a settler named Judy he rescued along the way. Braddock is immediately suspicious of their intentions.
And, finally, there's Randall, who didn't die. Nope, he's heading for the ghost town, with a chest of loot, a redhead and revenge on his mind.

Review:
Neat little low-budget Spaghetti, though one scene stands out as pure silliness. Hudson is being brutally beaten by Lester. He whistles. His horse prances down the street and stomps on Lester's gun-hand, crippling it. Hmm.
The aforementioned brutal beating isn't the only moment of extreme violence in the film. The reunion between Randall and Braddock isn't exactly cordial. Toss in a cat fight between Shelley and Judy, and director Amerigo Anton offers up a nice mix or story and action.
Directed by:
Amerigo Anton
Cast:
Rod Dana … Randall
as Robert Mark
Furio Meniconi … Braddock
as Men Fury
Massimo Righi … Lester
as Max Dean
Larry Ward … Benny Hudson
Maria Silva … Shelley
Vivi Gioi … Molly Warner
Daniela Igliozzi … Judy Masterson
aka
Kill the Wicked
God Doesn't Pay on Saturday
Dio non paga il Sabato
Score:
Angelo Francesco Lavagnino
Song:
"The Price of Gold," sung by Eduardo Manzanos
Runtime: 92 min.
Memorable lines:
Braddock: "C'mon, I know you liked that hombre (Randall). I could tell by the way you looked at him. Didn't you like him?"
Shelley: "Well, Braddock, you know I like all men. Even Lester's not so bad." Pause. "No, not him. I don't like him because he isn't normal. He's crazy."
Molly: "I knew sooner or later, the good days would come back. Those bandits have hidden here in this house a chest full of money. And I knew where. And this time, no one's going to take that money from me. I can tell you that, stranger. Not if everyone of them has to die."
Stranger: "Too bad I gave up using guns."
Molly: "Tell me, stranger. What part of the world are you from?"
Shelley: "Where you taking us?"
Braddock: "Don't ask dumb questions."
Braddock to Randall: "I thought you were a dead man. You sure picked a bad time to come back to life again."
Trivia:
The same script was later used for the psychedelic western, "Matalo!"
Larry Ward played Marshal Frank Ragan in all 20 episodes of a 1963 TV series "The Dakotas," a spin-off from a 1962 episode of Cheyenne. He spent most of his time acting on the small screen, also appearing in MASH, Cannon and the Mod Squad.
Maria Silva appeared in 10 Spaghetti Westerns, but spent most of her acting career in foreign TV shows. She retired in 1991 to become an agent for actors.
Daniela Igliozzi
•
Furio Meniconi
•
God Doesn't Pay on Saturday
•
Kill the Wicked
•
Larry Ward
•
Maria Silva
•
Massimo Righi
•
Robert Mark
•
Rod Dana
•
Vivi Gioi