Last of the Badmen (1967)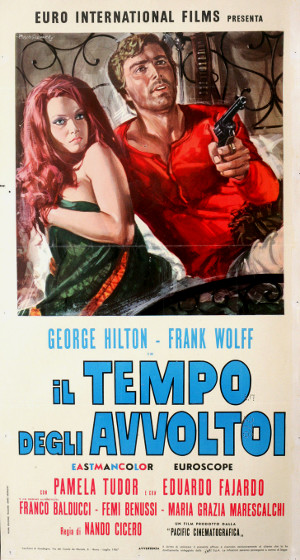 George Hilton is Kitosch, a rascal who can't keep his hands off other men's women. When he takes his foreman's wife into the haystacks, he willingly endures four lashes from ranch owner Don Jaime Mendoza (Eduardo Fajardo) and jokes that the incident might have been worth more.
But there's no joking when Don Jamie's wife Steffy lures Kitosch to her bedroom. Or when Mendoza finds him there while his wife is in a bathtub, with nothing but bubbles covering her body. The punishment this time: Branding.
Forbidden from leaving the Mendoza ranch, Kitosch nevertheless tries. He's thrown in jail for his troubles, but rescued by a mysterious gunman clad in black. Later, the same gunman – Joshua "Black" Tracy (Frank Wolff) – saves Kitosch from hanging.
Kitosch latches onto his savior. Tracy, reluctantly at first, accepts him as a sidekick. He has a score to settle with an ex-wife and an ex-friend. And the two men get involved in a couple of get-rich-quick schemes before their path leads back to the Mendoza ranch.
By that time, Kitosch has learned a few things about his new "friend." He suffers from epilepsy. And his evil streak doesn't end with his enemies.

Review:
The light-hearted tone in the film's opening gives way to a pupil-teacher Spaghetti that's different enough from the others of its breed to make it worth watching.
Wolf's "Black" Tracy is a sadistic shell of a man, one who doesn't hesitate to burn his partly blind ex-lover alive or literally screw his ex-friend to his front door between epileptic fits.
Not that everything in the film works. There's a bizarre scene in which the ex-friend and a Mexican bandit are attacking a wagon filled with gold.
Kitosch and Tracy intervene, at which point Tracy somehow turns his shotgun into a grenade launcher. And these grenades are truly magical. Each manages to take out precisely four of the Mexican bandits – without scratching their horses!
The cast includes Pamela Tudor as the rancher's wife, Femi Benussi as a lovely and tempting cantina girl and Cristina Iosani as the woman who loves Kitosch. You might remember her as the bar maiden in distress in "My Name is Pecos."
Directed by:
Nando Cicero
Cast:
George Hilton … Kitosch
Frank Wolff … Joshua "Black" Tracy
Pamela Tudor … Steffy Mendoza
Eduardo Fajardo … Don Jaime Mendoza
Franco Balducci … Big John
Femi Benussi … Cantina girl
Cristina Iosani … Rubia
John Bartha … Sheriff
Maria Grazia Marescalchi … Traps
Guglielmo Spoletini … Camaro
Runtime: 95 min.
aka:
Il tempo degli avvoltoi
Time of Vultures
No Tears for a Killer
Memorable lines:
Don Jaime Mendoza to Kitosch: "You've got my brand burned into your hide. Now remember that, Kitosch, and don't ever try to get away from here again or I give you my word, you'll dance the flamenco at the end of a rope."
Steffy Mendoza to Kitosch, after he's climbed a pole to reach her second-story bedroom: "You sure are athletic, aren't you?"
Kitosch: "I think we should travel together now that we're friends."
"Black: Tracy: "Don't think. It'll damage your brain."
"Black" Tracy to Kitosch: "A pistol's like a woman. If you hold it too tight, it'll rebel. If you're not firm with it, it'll fly away. And if you master it, it'll never betray you."
Traps: "Joshua Tracy is a monster. He's a fiend out of hell. He's just a rabid dog. Look at this (she reveals a scar). My whole body is like this because I had the misfortune to love him."
Trivia:
This marked the second outing for Hilton's Kitosch character, though Hilton and the character are the only connection between this film and 1966's "Kitosch, the Man Who Came from the North." That film is set in Canada and was directed by José Luis Merino.
When Kitosch and "Black" Tracy meet up in a cantina to split the gold, Femi Benussi first steals the scene, then winds up with her face in a plate of beans. This marked an early film appearance for the Italian beauty and her third in a Spaghetti Western. Most posters for the film feature her in bed with Kitosch, surprised when Tracy barges in.
Tagged with:
Cristina Iosani
•
Eduardo Fajardo
•
Femi Benussi
•
Franco Balducci
•
Frank Wolff
•
George HIlton
•
Guglielmo Spoletini
•
Il tempo degli avvoltoi (1967)
•
John Bartha
•
Last of the Badmen (1967)
•
Maria Grazia Merrescalchi
•
No Tears for a Killer (1967)
•
Pamela Tudor
•
Time of Vultures (1967)