Law and Order (1932)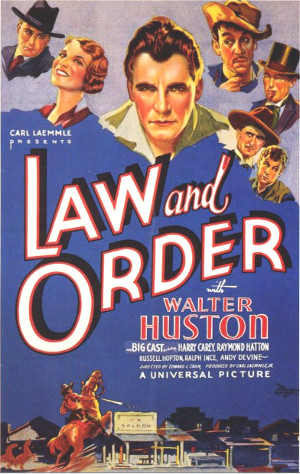 Walter Huston is famed lawman Frame Johnson. On a draw of a card, he and sidekicks Ed Brandt (Harry Carey), Luther Johnson and Deadwood decide to go to Tombstone instead of the quieter town of Alkali.
Once there, Judge R.W. Williams convinces Frame to pin on a lawman's badge one more time. After all, the town is run by a lawless element, headed by crooked Sheriff Fin Elder and including the trio of Northrup brothers.
In order to keep the peace, Frame outlaws the carrying of sidearms in town. But that merely fuels speculation that he and his partners are trying to take over control of Tombstone.
The inevitable showdown comes after Brandt is ambushed and fatally wounded by gunmen lurking in the shadows of Tombstone. But Frame knows who's behind the murder. And he vows not to leave town until he's gunned down every one of them.

Review:
An early version of the gunfight at the O.K. Corral story, though no one is named Earp, Doc Holliday or Clanton.
The film takes a more somber tone than most Westerns of the period. Gun play is inevitable; death is likely and Walter Huston's Frame Johnson isn't even certain most of the people in Tombstone want law and order.
Among the supporting cast is a very young Andy Devine as a half-wit cowboy who becomes the first person legally hanged in Tombstone and seems to relish his role in history, munching candy and reading a newspaper story about his fate just before it's carried out.
Cast:
Walter Huston … Frame Johnson
Harry Carey … Ed Brandt
Russell Hopton … Luther Johnson
Raymond Hatton … Deadwood
Ralph Ince … Poe Northrup
Harry Woods … Walt Northrup
Richard Alexander … Kurt Northrup
Russell Simpson … Judge R.W. Williams
Andy Devine … Johnny Kinsman
Walter Brennan … Landy Smith
Alphonse Ethier … Sheriff Fin Elder
Runtime: 75 min.
Memorable lines:
Frame Johnson: "Ain't Indians that caused all the trouble in the West. It's the six-gun. Made a mistake when they passed that out. Even made the skunks brave."
Frame Johnson: "Johnny, do you realize you'll be the first man to be hung legal in Tombstone? … Everybody will be watching."
Johnny Kinsman: "Will you hang me, Mr. Johnson?"
Walt Northrup, upon learning of Tombstone's new firearms policy: "I suppose the next thing will be a law putting men in skirts."
Frame Johnson, after Brandt's death: "This is our last night in town. I ain't keepin' the peace no longer. I'm givin' up the star and we're strikin' out for good. Load your guns. Celebrate. but there's some reckoning to be done before we're quits. As God is my judge, I'll get even with you down to the last drop of blood. I swear it!"
Tagged with:
Alphonse Ethier
•
Andy Devine
•
Harry Carey
•
Harry Woods
•
Law and Order (1932)
•
Ralph Ince
•
Raymond Hatton
•
Richard Alexandeer
•
Russell Hopton
•
Russell Simpson
•
Walter Brennan
•
Walter Huston