Life is Tough, Eh Providence? (1972)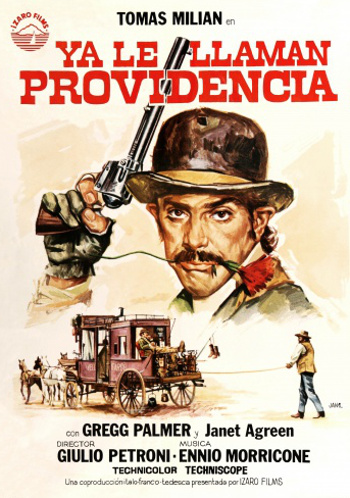 Tomas Milian plays Provvidenza, an unconventional bounty hunter who travels in a horse-drawn wagon with all the comforts of home. As the film opens, an outlaw named Hurricane Kid (Gregg Palmer) is attached to the back of that wagon.
Hurricane is worth $5,000 delivered alive, and there's a bounty on his head in other states as well. So Provvidenza figures to cash in, by turning him in, collecting the bounty, helping set him free, then repeating the pattern over and over.
His scheme goes slightly awry when he enlists the help of a pretty saloon girl named Stella (Janet Agren), who figures she deserves part of the loot … and perhaps all of it … for helping out.
Before you know it, Provvidenza finds hmself mixed up with a renegage Confederate officer and a counterfeiting sheriff as well.
So he forms an uneasy alliance with Hurricane, at least until they get their money back.

Review:
Now here's a rarity, a Spaghetti Western comedy that works, that in fact is so funny, it seems to have jokes to spare. Among some of the gags: Hurricane takes his first bath in three years; all the fish in the pond float to the surface dead from all the pollution. Hurricane tries to jump atop his horse from a balcony, the horse sinks belly deep in the mud because Hurricane is so heavy.
There's one of the most memorable pool games you'll ever see. The chase near the end rivals Bob Hope's getaway in "Son of Paleface" (1952). Even the barroom brawls are wonderfully choreographed, especially one in which Provvidenza and Hurricane are chained together because neither trusts the other with the satchel of cash.
Oh, and check out Milian's attire … he might just remind you a little of Charlie Chaplin. Regardless, he turns in an excellent performance in a film that's a major departure from the Spaghetti Westerns we're used to seeing him in.
Directed by:
Giulio Petroni
Cast:
Tomas Milian … Provvidenza
Gregg Palmer … Hurricane Kid
Janet Agren .. Stella
Mike Bongiorno … Mike Goodmorning
Giovanni Cianfriglia … Pool player
(as Ken Wood)
Stelio Candlli … Col. Arthur James
Maurice Poli … Sheriff Keensburg
Horst Janson … Shriff Villaggio
Dieter Eppler … Sheriff Pendleton
Renzo Marignanon … Pastor
aka
La via, a volte, e molto dura, vero Provvidenza
They Call Me Providence
Sometimes Life is Hard, Right, Providence?
Life's Tough, Isn't it, Ah Well, That's Providence
Score: Ennio Morricone
Memorable lines:
Sheriff: "Lock him up. Then have Joe the Vulture come and measure him."
Hurricane Kid: "Who's he? The tailor?"
Sheriff: "Nah, that town carpenter. He's going to make you a nice, wooden overcoat."
Providence, after smelling the Hurricane Kid: "They'd better hang him quick. If they
keep him in jail, he's a one-man gas chamber."
Hurricane Kid: "You know what you are? You're a dirty cross between a bad smelling skunk and a stinkin' son of a …"
Providence: "Listen, my mother may not have been all that she should, but I pay my taxes. And, speaking of smells, thou stinketh."
Trivia:
Director Giulio Petroni was also responsible for one of the better Lee Van Cleef Spaghetti Westerns, "Death Rides a Horse." His other genre efforts included "Tepepa (alo starring Milian) and "A Sky Full of Stars for a Roof."
American-born Gregg Palmer was a familiar face in TV series Westerns and had roles in a number of John Wayne Westerns, including "The Shootist," "Big Jack," "Chisum" and the "Undefeated."
This film was followed by a sequel, "Here We Go Again, Eh Providence," in 1973.
Tagged with:
Dieter Epper
•
Giovanni Cianfriglia
•
Giulio Petroni
•
Gregg Palmer
•
Horst Janson
•
Janet Agren
•
Ken Wood
•
La via a volte e molto dura vero Provvidenza (1972)
•
Life is Tough ... Eh Providence (1972)
•
Life's Tough Isn't It Ah Well That's Providence (1972)
•
Maurice Poli
•
Renzo Marignanon
•
Sometimes Life is Hard Right Providence?
•
Stelio Candli
•
They Call Me Providence (1972)
•
Tomas Milian