Mallory Must Not Die (1971)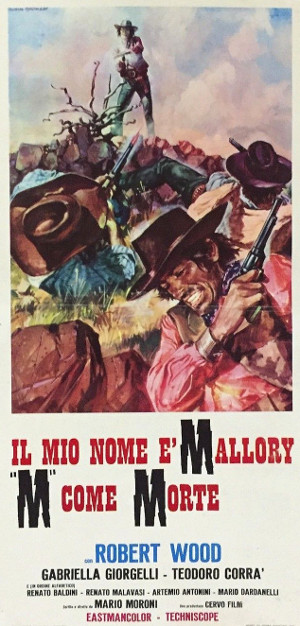 Robert Woods – he's Robert Wood in the credits here – is Larry Mallory, a half-breed heading West to Texas with partner Col. Todd Harper (Renato Baldini), a former Confederate officer.
Harper wants to get even with a man named Bart Ambler (Teodoro Corra), who was somehow responsible for his sister's death during the war. He plans to do that by buying a prized ranch out from under Ambler.
It's a ranch that was once in possession of the Ambler family. It's a ranch destined to grow in value with the arrival of the railroad. Harper completes the purchase with a wagon laden with gold via an agent named Ferguson.
Enraged when learning about the deal, Bart and Block Stone kill Ferguson, steal the gold and try to buy back the ranch through legitimate means. When that doesn't work … well, gun play ensues. But Bart has trouble finding a gun that will be a match for Mallory, a half-breed Harper has taken on as his partner because he once saved his life.
Complicating matters, Mallory finds himself falling for Ambler's pretty sister Cora (Gabriella Giorgelli), who hates violence.

Review:
A mediocre and mundane Spaghetti offering that isn't helped by a muddled plot. Why on earth, for instance, would Ambler think an old enemy like Harper would sell him back the ranch both covet?
Then there's the character of Block Stone. Before this film begins, Ambler ran him off because he was attracted to Cora. He winds up working for Harper as a cook, but gets fired because Mallory doesn't trust him. Then he and Ambler form an alliance to get back the ranch?
The pacing of the film seems odd as well. Perhaps the original run time was longer than the 85-minute version currently in print. Not that an extra 10 minutes or so could have made this much better.
Just check out that barroom fight. Or how quickly the doctor departs after Harper shows signs of chest pain. Or the climatic final showdown.
Directed by:
Mario Moroni
Cast:
Robert Woods … Larry Mallory
Gabriella Giorgelli … Cora Ambler
Teodoro Corra … Bart Ambler
Renato Baldini … Col. Todd Harper
Artemio Antonini … Block Stone
Mario Dardanelli … Jefferson
Renato Malavasi … Doctor
Attilio Marra
Fulvio Mingozzi
Carla Mancini … Maria
Alessandro Perrella …
Nino Muco …
Renato Mazzieri
Runtime: 85 min.
aka:
My Name Is Mallory… M Means Death
My Name is Mallory
Il mio nome è Mallory… M come morte
Memorable lines:
Larry Mallory to Cora Ambler: "There's nothing prettier than an angry woman. Especially is she's kind of pretty when she's calm."
Bart Ambler to saloon patron: "Boy, I could kill you easy. But I won't. You want to know why? Bullets cost too much."
Bar patron #1: "Hey, you went to school. You want to tell me what a half-breed is?"
Bar patron #2: "A cross between a bastard and big jackass."
Larry Mallory: "I don't want to fight you. But if you make one little move, I'll blow your legs out from under you. Have you ever seen an invalid, Block? Take a step, and you'll be one for the rest of your life."
Trivia:
This marked the directorial debut for Mario Moroni, not that he was destined for big things. He wound up at the helm of just one other film. He also directed a couple of TV mini-series in Italy.
Renato Baldini had a larger role here than in most of his European Westerns. Active in films from 1950 to the early 1980s, he appeared in three Winnetou Weterns, two Sartana Spaghetti films and made his last Euro Western appearance as a sheriff in 1975's "A Genius, Two Friends and an Idiot."
Tagged with:
Alessandro Perrella
•
Artemio Antonini
•
Attilio Marra
•
Carla Mancini
•
Fulvio Mingozzi
•
Gabriella Giorgelli
•
Mallory Must Not Die (1971)
•
Mario Dardanelli
•
My Name is Mallory (1971)
•
My Name is Mallory ... M Means Death (1971)
•
Nino Muco
•
Renato Baldini
•
Renato Malavasi
•
Renato Mazzieri
•
Robert Wood
•
Robert Woods
•
Teodoro Corra