Man Called Gringo (1965)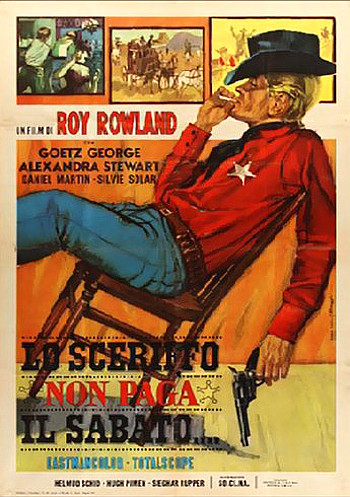 Someone is trying to shut down rancher Sam Martin's mine by robbing his gold shipments, and they're threatening the business of freighter Dave Walton in the process.
Turns out that someone is lawyer Ken Denton (Helmut Schmid), who's been hired by Martin as his lawyer with specific instructions to help track down a son who went missing 20 years earlier.
But what Martin doesn't know is that Denton holds a years-old grudge against him for an injustice done to Denton's dad.
Wheelchair bound, Martin can't even get around his own ranch anymore. That means Denton winds up controlling his business affairs.
He hires ruffians as ranch hands. Three in particular — Gringo (Daniel Martin), Reno and Tinnie — do Denton's bidding when it comes to stealing gold and rustling Martin's cattle.
Meanwhile, back in the town of Silver Springs, freighter Walton has tried to summon help in the form of a district marshal. When he gets no response, he decides to make a personal appeal, only to be gunned down in a stage holdup.
The day he's being buried, help arrives in the form of Mace Carson. He's just riding through, he says. But it isn't long before he's wearing a sheriff's badge.

Review:
So-so Spaghetti that probably reveals too much too soon and isn't helped by having the ever-smiling Gotz George as the hero or by his tepid romance with Walton's daugther Lucy (Alexandra Stewart).
American Roy Rowland directs and the identity of Martin's long-lost son is revealed at the film's climax.
Rounding out the cast are Hilario Flores as Dave Walton and Silvia Solar as a girl who runs a saloon Denton bought for her.
Directed by:
Roy Rowland
Cast:
Gotz George … Mace Carson
Alexandra Stewart … Lucy Walton
Helmut Schmid … Ken Denton
Sieghardt Rupp … Reno
Daniel Martin … Gringo
Silvia Solar … Kate Rowland
as Sylvia Solar
Pietro Tordi … Sam Martin
as Peter Tordy
Hugo Pimentel … Mac
Franco Lantieri … Tinnie
Valentino Macchi … Tim Walton
Hilario Flores .. Dave Walton
Runtime: 86 min.
aka:
Sie nannten ihn Gringo
Memorable lines:
Dave Martin to stage driver: "Hope we get there soon, before I'm bounced to death."
Within moments, bandits attack.
Mace, upon learning of Dave Walton's death: "Too bad. Was he sick very long?"
Tim Walton, Dave's son: "Yeah, he was plenty sick. One bullet in his heart and two in his head."
Gringo: "Mr. Denton, watch it. You bought my gun, not me. You don't control me."
Trivia:
This mark the only Euro Western for Alexandra Stewart, who made her film debut in 1956, has more than 140 film and TV credits and was still active in the 2010s. She has a daughter with French director Louis Malle, whose feature films include 1965's "Viva Maria," starring Brigitte Bardot.
This marked the last film credited to American Roy Rowland, though he served as international director on a pair of Italian pirate films the year after this movie was released. Rowland's American Westerns include "Gun Glory," "Many Rivers to Cross," "The Romance of Rosy Ridge" and "Bugles in the Afternoon." He also directed 39 episodes of "The Life and Legend of Wyatt Earp," starring Hugh O'Brian. Better to remember his for that work than his two Euro Westerns. The other was 1964's "Gunfighters of the Casa Grande."
Tagged with:
Alexandra Stewart
•
Daniel Martin
•
Franco Lantieri
•
Gotz George
•
Helmut Schmid
•
Hilario Flores
•
Hugo Pimentel
•
Man Called Gringo (1965)
•
Peter Tordy
•
Pietro Tordi
•
Roy Rowland
•
Sieghardt Rupp
•
Sylvia Solar
•
Valentino Macchi