My Colt is the Law (1965)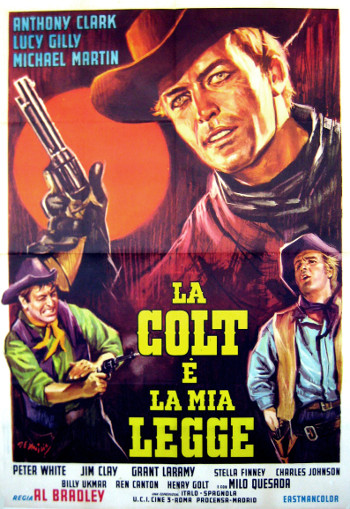 Trouble is afoot in San Felipe, where bandits keep robbing gold shipments intended to finance the South Pacific railroad.
Town leader and rancher Henry O'Brien blames the railroad for offering bandits a tempting target. But when they attempt a holdup in town in broad daylight, they're in for a surprise.
The chest that's supposed to be filled with gold is filled with rocks instead. Railroad owner Davidson had the gold stashed hidden inside a passenger's suitcases.
Then two men arrive in San Felipe — George Benson, a tenderfoot who's engaged to O'Brien's pretty niece Louisa, and Peter Webb, a cowpoke who says he left trouble behind in Duncan City..
Soon after their arrival, a masked gnnman starts showing up to foil the bandits' plans. Webb, who has managed to purchase a mine O'Brien covets, winds up working for him.
It's then that he learns the truth: O'Brien, the supposed town leader and the richest man around, is behind the robberies. And his lovely niece knows nothing about that.

Review:
Director Alfonso Brescia serves up a couple of surprising plot twists at the end of what was his first Spaghetti Western. That's likely to catch most viewers by surprise because they've likely figured out the film's big mystery — who's wearing that mask and cape — in about two minutes.
Otherwise, the plot's simply short on logic, especially where the character of Peter Webb is concerned. He buys a ranch O'Brien wants for $10,000 and turns around and sells it to O'Brien for twice that much. Yet he still goes to work for him as a ranchhand?
And at one point, O'Brien comes to think Webb's the masked avenger. So he has his men try to beat the truth out of the stranger. Then the real masked avenger shows up. Just like that, Webb is back in the gang's good graces and all is forgotten and forgiven.
As a subplot, we have pretty Luciana Gilli preparing to marry a man she's known for only a month, a man who frets he'll get caught in the bandits' crossfire. Meanwhile, the far braver masked avenger is whispering words of love in her ears.
Directed by:
Alfonso Brescia
as Al Bradley
Cast:
Angel del Pozo … George Benson
as Anthony Clark
Luciana Gilli … Louise O'Brien
as Lucy Gilly
Miguel de la Riva … Ringo / Peter Webb
as Michael Martin
Franco Cobianci … Henry O'Brien
as Peter White
Jose Riesgo … Davidson
Aldo Cecconi … Sheriff Jack
as Jim Clay
Enrico Glori … Sam, bartender
as Henry Colt
Milo Quesada … Dave
as Raul Alonso
Nino Nini … Don Esteban
as Grant Laramy
Germano Longo … Mark, O'Brien's man
Pietro Tordi … Doc
as Dan Silver
Renato Chiantoni … Don Louis
Runtime: 84 min.
aka:
La Colt è la mia legge
My Colt is My Law
Memorable lines:
George Benson: "Darling, if those robbers had found the gold in my luggage … I would have … I would have probably …"
Louise O'Brien: "Probably would have had to behave like a man."
Louise O'Brien to her uncle Henry: "Why should you so suddenly care about the happiness of anyone else? You're the greediest and most selfish man in the world."
Louise O'Brien, during her engagement party: "Mr. Davidson, have you by any chance seen my fiance. It may sound incredible, but I've lost him."
Davidson: "Don't you think it's a bit too soon to lose your man, Louise. Wait until you're married to him, at least."
Trivia:
Alfonso Brescia would go on to direct four more Spaghetti Westerns — "Killer Caliber .32," "Days of Violence," "If One is Born a Swine" and "Cry of Death." He'd "graduate" to sexploitation films like "The Labyrinth of Sex" (1969) and Z-grade adventure movies like "Super Stooges vs. the Wonder Woman" (1974).
Tagged with:
Aldo Cecconi
•
Angel del Pozo
•
Anthony Clark
•
Enrico Glori
•
Franco Cobianci
•
Jose Riesgo
•
La Colt è la mia legge (1965)
•
Luciana Gilli
•
Lucy Gilly
•
Michael Martin
•
Miguel de la Riva
•
Milo Quesada
•
My Colt is the Law (1965)
•
My Gun is the Law (1965)
•
Nino Nini
•
Peter White
•
Pietro Tordi
•
Renato Chiantoni