My Name is Pecos (1966)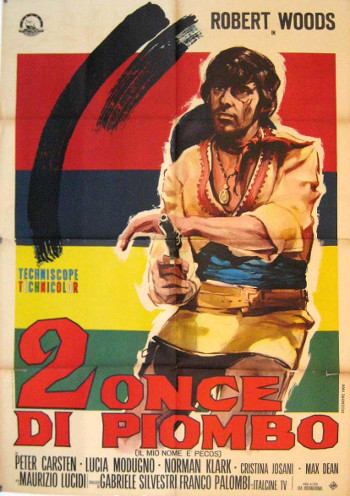 A bandit named Joe Clane (Pier Paolo Capponi) is looking for $80,000 his gang stole from a bank in Laredo, only to have a gang member steal it from them. Now his henchmen have killed the thief and the money is hidden somewhere in the town of Houston, a town Clane has under his thumb.
But Clane also has a second problem. A Mexican peon named Pecos (Robert Woods) has arrived in Houston, and he only gives out that name to enemies after his guns have done their damage. He's mowing down Clane's men at an alarming rate, and might just have an old score to settle with the gang leader.
Pecos finds allies in a shapely saloon gal named Nina (Corinne Fontaine), in a town doctor whose hands have been crippled by Clane, and in the doctor's daughter Mary. They're all hoping Pecos is the savior they've been waiting for, someone brave enough to stand up to Clane.
But the odds are still long, and once Clane realizes Pecos and Nina are in cahoots, anyone who knows them is in danger.

Review:
Robert Woods is convincing as the Mexican peon Pecos, and he's given some tougher-than-nails lines in one of his better Western outings.
Among the neater devices: The stolen loot is hidden in a barrell of booze; and Nina slips Pecos a knife with the help of her weaving wheel in one scene to help him escape from his captors.
Director Maurizio Lucidi serves up the violence in heavy doses, makes us feel like the female leads are truly damsels in distress. It all adds up to a film that won't be remembered as one of the better Spaghettis, but isn't a waste of your time either.
The next year, Lucidi and Woods would team up again for "Pecos Cleans Up," a sequel considerably less serious in tone.
Directed by:
Maurizio Lucidi
Cast:
Robert Woods … Pecos
Pier Paolo Capponi … Joe Clane
as Norman Clark
Cristina Iosani ,,, Nina
as Christina Josani
Luigi Casellato … Eddie
as Louis Cassel
Maurizio Boni … Ned
as Morris Boone
Giuliano Raffaelli … Dr. Burton
Lucia Modugno … Mary Burton
Peter Carsten … Steve
Massimo Righi … Jack
as Max Deane
Umberto Raho … Morton
as Umi Raho
Corinne Fontaine … Lola
aka:
Il Mio Nome E Pecos
Due once di piombo
Score: Lallo Gori
Theme song: "The Ballad of Pecos"
sung by Bob Smart
Runtime: 84 min.
Memorable lines:
Kline: "There are too many Mexicans, even in Mexico."
Townsman: "Say, what do we do with all that money?"
Pecos: "Build a bigger cemetery."
Pecos to the undertake: "I've made more work for you."
Undertaker: "I wouldn't touch anyone belong to Joe Clane. They're much more dangerous dead than they are alive."
Kline gang member: "I can't believe it. Those two boys could do anything with their pistols except eat 'em. And they were outdrawn by a two-bit Mexican."
Kling gang member: "State your name, Mexicano."
Pecos: "Uh-uh. Dead men can't hear. And you, my friend, are dead."
Trivia:
Starting in 1964, Robert Wood starred in more than a dozen Spaghetti Westerns. One of his few U.S. films — a bit role in 1965's The Battle of the Bulge, in which he played Henry Fonda's pilot.
Curvy Corinne Fontaine made her film debut in 1960's "The Playgirls and the Vampire," about five showgirls and their manager who take refuge in a castle when a storm hits, unaware that it's not a refuge at all considering the intentions of the nobleman who lives there. Here, he carries a fiddle, but we never get to hear him play it.
Tagged with:
Christina Josani
•
Corinne Fontaine
•
Cristina Iosani
•
Due once di piombo
•
Giuliano Raffaelli
•
Il Mio Nome E Pecos (1966)
•
Liugi Casellato
•
Louis Cassell
•
Lucia Modugno
•
Massimo Righi
•
Maurizio Bioni
•
Maurizio Lucidi
•
Morris Boone
•
My Name is Pecos (1966)
•
Norman Clark
•
Peter Carsten
•
Pier Paolo Capponi
•
Robert Woods
•
Umberto Raho