Oklahoma Annie (1951)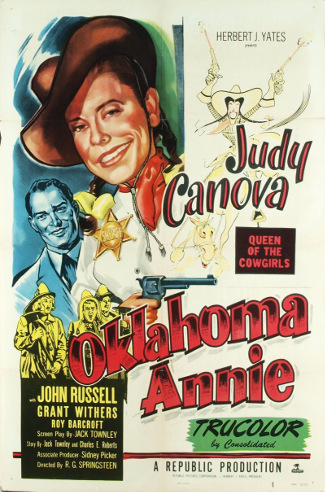 Judy Canova is the owner of a general store where few customers pay with cash and, as a result, she's falling behind on the mortgage.
She trusts two old-timers — Paydirt (Emmett Lynn) and Blinky (Houseley Stevenson) — to deliver a $300 payment on her debt.
Instead, they wind up being swindled, losing everything they own and her money at the saloon in Cabin Creek.
Something's afoul in that town, Judy decides, and she wants the new sheriff, Dan Fraser (John Russell), to investigate.
One look at the handsome sheriff, and she's willing to help him any way she can. And that includes trying to track down bank robber Curt Walker. In fact, she earns a deputy badge for helping put him behind bars.
But she also manages to let him escape. That puts her badge and Fraser's on the line. After all, there are some people in power in Coffin Creek who are more interested in lining their own pockets than bringing law and order to the town.

Review:
If you're interested in a comedy Western, this might fit the bill. If not — well, look away, because you're in for 90 minutes of silliness with three Judy Canova songs thrown in for good measure.
Some bits are truly funny. They include a female customer who buys an iron, then tests it out by hurling it at the head of a male mannequin. And Judy's reaction to her first chase in a police car rather than on a horse. And Judy's tangle — there's no better word for it — in her general store with the notorious Curt Walker.
Judy Canova made a series of comedies through the early to mid-1940s, then stepped away from films for about five years to focus on raising her two daughters and her successful radio show.
This marked her second film after that hiatus, and though she's identified as Queen of the Cowgirls, in the opening credits, this was her only true Western.
Cast:
Judy Canova … Judy Canova
John Russell … Dan Fraser
Grant Withers … Bull McCready
Roy Barcroft … Curt Walker
Emmett Lynn …. Paydirt
Houseley Stevenson … Blinky
Frank Ferguson … Eldridge Haskell
Minerva Urecal … Mrs. Lottie Fling
Almira Sessions .. Mrs. Carrie Fudge
Allen Jenkins … Lou
Maxine Gates … Tillie
Emory Parnell … Judge Byrnes
Denver Pyle … Skip
House Peters Jr. … Jim Tullett
Andrew Tombes .. Mayor of Eureka
Runtime: 90 min.
Memorable lines:
Skip: "How much for this gunbelt and holster?"
Judy: "Oh, that ain't for sale. That belonged to my grandma. If I sold that, she'd haunt me."
Skip, looking at a photo of a homely, stern looking elderly woman: "She's sure got the face for it."
Judy, talking about her grandma: "Listen, mister, my grandma could do anything a man sheriff could do, only better. Why the bad men in these parts were so scared of her that they either plum reformed or hung theirselves by way of cooperatin'."
Judy: "Well, if you're all so scared to death, I'll go after him (bank robber Curt Walker)."
Banker: "No you don't. Now Miss Judy, you know you owe me money. And I can't take any chances on you getting killed."
Tagged with:
Allen Jenkins
•
Almira Sessions
•
Andrew Thombes
•
Denver Pyle
•
Emmett Lynn
•
Emory Parnell
•
Frank Ferguson
•
Grant Withers
•
House Peters Jr.
•
Houseley Stevenson
•
John Russell
•
Judy Canova
•
Maxine Gates
•
Minerva Urecal
•
Oklahoma Annie (1951)
•
R.G. Springsteen
•
Roy Barcroft