Pecos Cleans Up (1967)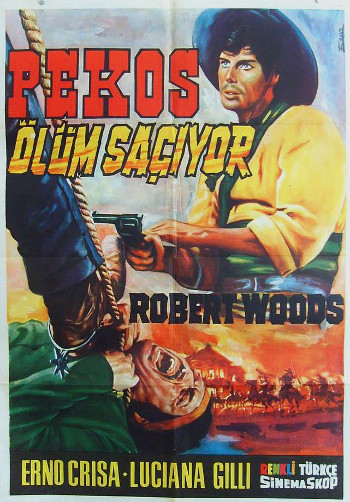 Three mariachi performers stumble upon a ranch being raided by El Supremo's henchmen. They watch as every man and woman is killed.
The raiders are looking for a map to the lost treasure of Montezuma. They don't find it, but after they've left the scene of the crime, the mariachi performers do — hidden in a pigeons' pen.
Ah, but there's a problem. The temple that El Supremo has turned into a hideout is precisely where the treasure is hidden. And they have no chance of penetrating a temple guarded by El Supremo's small army of henchmen.
Then they meet a seemingly indestructable fast gun named Pecos Martinez (Robert Woods). He's willing to take on the challenge. After all, there are 30 pounds of hidden gold buried in the caverns beneath the temple.

Review:
A sequel to 1966's "My Name is Pecos," this film has a lighter tone. In fact, it's only connection to the earlier film is the presence of Robert Woods as Pecos Martinez.
It's not as good either, as Pecos almost effortlessly eliminates El Supremo's band of ruffians, frees two women — Dona Ramona and Eliza — who are being held captive and discovers the lost gold with amazing ease.
If you're looking for clever, Pecos does use the weak spots of El Supremo's lieutenants to eliminate them and his men. So Dago dies partly as a result of his gluttony, "Frenchie" because of his lust and El Rayo (Lighting) because of his greed.
Of course, it all leads up to a showdown between the rope/whip wielding El Supremo, who dreams of controlling all of Mexico, and Pecos, who only wants to get rich. He's even willing to share with his mariachi friends.
Directed by:
Mauirzio Lucidi
as Maurice A. Bright
Cast:
Robert Woods … Pecos Martinez
Enrico Crisa … El Supremo
Ignazio Spall … Dago
as Pedro Sanchez
Carlo Gaddi … Tom "Frenchie" Villa
as Charles Gates
Gino Barbacane … El Rayo, aka Lightning
Luciana Gilli … Dona Ramona
Brigitte Wentzel … Eliza
as Brigitte Winter
Luigi Casellato … Pepe (horn)
Piero Vida … Paco (guitar)
Umberto Raho … Pinto (violin)
Runtime: 87 min.
aka:
Pecos è qui: prega e muori
Memorable lines:
Pecos: "If the devil was living in Mexico and needed a partner, his first choice would be El Supremo. El Supremo is a blood sucking animal, eating at the heart of Mexico. A foul weed choking the life from our country."
Pecos: "With this moonlight, we can be easily seen. We'll wait until tomorrow."
Frenchie, expressing the wonders of women: "You can't spend your life thinking about gold. There's only one thing that makes life worth living, and it's equally amazing duirng the day or at night."
Frenchie, when Pecos rides up with Dago's body thrown over a saddle: "They must have given Dago something very difficult to digest and he choked on it."
Pecos: "Uh-huh. Two ounches of lead, under his heart."
Pecos: "Money is the devil's pasttime. That's why he made the coins round, so they would roll and people would have to run after them."
Frenchie: "Eliza's not bad, but she can't be compared to a thoroughbred like Dona Ramona."
Precos: "I have two good eyes."
Dago: "That's right. What's more, I could oepn another one in the middle of your forehead, amigo."
Pecos to Frenchie: ""We all have to go sometime … You know, there is always a bright side. Think of how lucky you are. You have a chance to die at the feet of a beautiful woman, and with background music instead of in prison."
Trivia:
Wild East Productions released a Blu-ray version of this film packaged with "My Name is Pecos" that includes an interview with Robert Woods. In it, he describes this film as the only sequel he ever did, adding that he might not have, had he read the script first. That said, he thought the film turned out pretty well.
This was one of four Spaghetti Westerns starring Luciana Gilli. She also played the female lead in "Coffin for a Sheriff," "My Gun is Law" (as Lucy Gilly) and "Death at Orwell Rock." She appeared in about 20 films, with her final outing in a 1971 Italian crime film with an English translation of "Will Our Hero Find the Biggest Diamond in the World?"
Tagged with:
Brigitte Wentzel
•
Brigitte Winter
•
Carlo Gaddi
•
Charles Gates
•
Enrico Crisa
•
Gino Barbacane
•
Ignazio Spall
•
Luciana Gilli
•
Luigi Casellato
•
Mauirzio Ludici
•
Maurice A. Bright
•
Pecos Cleans Up (1967)
•
Pecos è qui: prega e muori (1967)
•
Pedro Sanchez
•
Piero Vida
•
Robert Woods
•
Umberto Raho