Pistol Packin' Preacher (1972)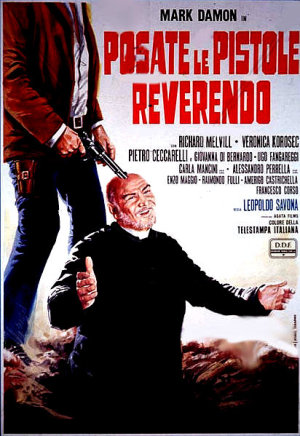 Pietro Ceccarelli plays Geremia, a widower heading West with his two young daughters, hoping his pizza catches on in a land where no one even knows what it is. Those daughters encourage him to find another occupation.
Then they stumble upon Slim Stinky (Mark Damon), who's been busy shooting the flies that land on his toes. He hitches a ride on Geremia's wagon, then comes up with a get-rich-quick scheme he thinks will make all four of them wealthy.
An astronomer has told him the precise date and time of the next eclipse. Slim's idea: Geremia will pose as a priest, predict a miracle and then it will occur in the form of the eclipse.
Geremia will rake in contributions from his parishioners, but the real target is a wealthy saloon owner named Solvey. He has a hidden treasure, and Slim thinks Geremia can use his priestly status to find out where it's hidden.
Veronika Korosec plays Geremia's red-headed daughter Lucy, who winds up with the job of seducing Solvey into revealing all his secrets. Giovanni De Bernado plays the dark-haired daughter Mary, who has an eye for Slim.

Review:
A scene in which Lucy seduces Solvey, then switches places with a Slim Stiny in drag once it's time for bed, is funnier than it should be. And the squabbling between Slim and Geremia, who would rather sell pizza then pretend to be a priest, is occasionally worth a chuckle.
Otherwise, the laughs are few and far between and the elaborately staged fistfights far too frequent in this Mark Damon misfire.
The version I watched is clearly missing some scenes, causing some continuity problems. Just how did Solvey get his treasure from someone named Old Sam? And how would Damon's character know that treasure existed?
But add the missing scenes and you'd still have a second-rate Spaghetti comedy.
Directed by:
Leopoldo Savona
Cast:
Mark Damon … Slim
Pietro Ceccarelli — Geremia
Rosario Borelli … Barney Solvey
as Richard Melville
Veronika Korosec … Lucy
Giovanni Di Bernardo … Mary
Amerigo Castrighella … Albert
Ugo Fangareggi … Sacristan
Enzo Maggio … Doctor
aka:
Posate le pistole, reverendo
Music: Lallo Gori
Memorable lines:
Geremia: "This church will be our throne. Or else our tomb."
Geremia, trying to muddle his way through his first sermon: "The pretty will be saved. The ugly also."
Slim, as Geremia drinks from a gunshot riddled keg of whiskey: "Hey, watch out. You'll get drunk."
Geremia: "God helps fools and drunkards. We got to get his attention the best we can."
Slim: "What are you doing?"
Astronomer with telescope: "I'm an astronomer."
Slim: "Oh, I understand, completely. What are you doing with that tube?"
Astronomer: "I use it to look at the stars. That is, when your head's not in the way."
Trivia:
With nearly 100 film credits on his resume, Pietro Ceccarelli appeared as a bit player in many Spaghetti Westerns, including "One Silver Dollar" (1965), "The Hills Run Red" (1966) and "The Big Gundown" (also 1966). This was probably his biggest Spaghetti role, though he also appeared in another Western comedy with Mark Damon, "They Call Him Veritas" (1972).
Tagged with:
Amerigo Castrighella
•
Enzo Maggio
•
Giovanni DiBernardo
•
Leopoldo Savona
•
Mark Damon
•
Pietro Ceccarelli
•
Pistol Packin' Preacher (1972)
•
Posate le pistole
•
reverendo (1972)
•
Rosario Borelli
•
Ugo Fangareggi
•
Veronika Korosec