Raintree County (1957)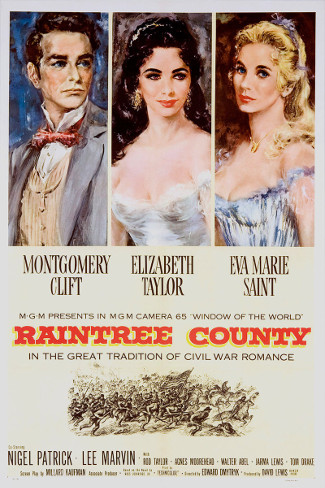 Montgomery Clift plays John Shawnessy, a graduating student who dreams of making his mark on Raintree County, perhaps as the next great American writer. Eva Marie Saint is Nell Gaither, the woman who believes in and loves him.
But one summer day, John catches a glimpse of a raven-haired beauty named Susanna Drake (Elizabeth Taylor). After John is triumphant in a July 4 foot race with Orville "Flash" Perkins, he and Susanna enjoy a romantic interlude, then bid one another farewell. She's heading back home to Georgia.
Then she reappears with startling news: She's pregnant with John's baby. They marry; she later confesses to making up the pregnancy. John professes to love her just the same.
What John doesn't know is that this southern belle is haunted by a hushed scandal and a fatal fire from her youth. The fire claimed the life of her parents and a slave named Henrietta, who virtually raised Susanna.
Rumors persist that two of the them were shot dead prior to the fire. Susanna knows Henrietta and her father were lovers.She fears she might have had something to do with their deaths. And, worse yet in her mind, that she might be tainted with more than a drop of "negro" blood.
The result: Susanna's slow descent into madness will rule John's life for years. It will even force him to join the Union Army in search of his wife and their son after she flees back home.

Review:
Clearly, MGM intended this to be another "Gone With the Wind" style classic. Unfortunately, the film is mostly a three-hour bore, with a backstory much more interesting than the movie itself.
Elizabeth Taylor does turn in a sterling performance as Susanna. Eva Marie Saint does a fine job as Nell, a woman cheated out of the love of her life and the future she dreamed of with him. But Montgomery Clift is absolutely wooden in the film's most important role — that of John Shawnessy.
Of course, his performance was likely affected from a near fatal car accident he was involved in part way through filming, following a party at Elizabeth Taylor's home. His face was smashed, one side left partly paralyzed and he reportedly became addicted to painkillers in its aftermath.
He would die 10 years later, in 1966, at age 45. Marilyn Monroe, one of his co-stars in "The Misfits" (1960), described him as "the only person I know who is in worse shape than I am."
The film also features early peformances by Rod Taylor and Lee Marvin. And, yep, that Agnes Moorehead as John's mother. Most TV fans likely remember her from her role as Elizabeth Montgomery's mother in "Bewitched."
"Raintree County" was based on a best-selling first novel by Ross Lockridge Jr. Ironically, he fell into a deep depression and committed suicide just two months after the book was released. In the film's credits, his name is misspelled as Ross Rockridge Jr.
At the time it was made, it had the distinction of being the most expensive movie ever. Danville, Kentucky, held a festival in the summer of 2007, on the 50th anniversary of the film being filmed there.
Cast:
Montgomery Clift … John Shawnessy
Elizabeth Taylor … Susanna Drake
Eva Marie Saint … Nell Gaither
Nigel Patrick … Prof. Jerusalem Stiles
Lee Marvin … Orville "Flash"Perkins
Rod Taylor … Garwood Jones
Agnes Moorehead … Ellen Shawnessy
Walter Abel … T.D. Shawnnessy
DeForest Kelley … Southern officer
Jarma Lewis … Barbara Drake
Tom Drake … Bobby Dake
Rhys Williams … Ezra Gray
Myrna Hansen … Lydia Gray
Russell Collins … Niles Foster
Isabel Cooley … Soona
Runtime: 188 min.
Memorable lines:
Garwood: "I've tried awful hard to creep into your heart."
Nell: "Garwood, you don't creep. You blast."
Prof. Jerusalem Stiles: "Remember me as a man who loved Raintree County, but just happened to loathe most of the people in it."
John Shawnessy, visting the South with his new wife: "You were right, Mrs. Shawnessy, I like your river. I really do. It even smells good.
Susanna: "I knew that you'd understand it. Which is more than most Yankees do. Now, that's something I don't understand. 'Cause all you have to do is go South once and you love it."
John: "Well, to us Yankees, the South is not too easy to understand… You ever read 'Uncle Tom's Cabin'?"
Susanna: "'Uncle Tom's Cabin'? Phoo… I haven't married an abolitionist, have I?"
John: "That is the skeleton in my closet."
Susanna: "Now, you mustn't joke about it. Anyway, there's worse things than being an abolitionist."
John: "Like what?"
Susanna: "Like having Negro blood in you. Isn't it funny? Just one little teeny drop and a person's all Negro. A person can't always tell, either."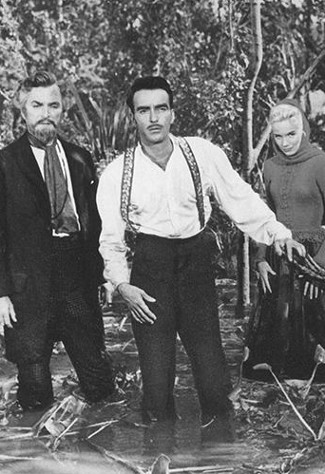 Susanna: "Why, Miss Nell Gaither, shame on you. Here my husband and I have been home, settled and receiving all this time and you have yet to call on us. Where's you're breeding, Miss Gaither?"
Nell: "I'll leave the breeding to you. How do you like it here in the busom of Raintree County?"
Susanna: "Well, I hardly knew they built towns this small anymore."
Susanna: "She tricked you into marriage, Johnny. She wasn't pregnant. If there's one thing people can do around here, they can add up to nine."
T.D. Shawnessy: "War is the most montrous of man's illusions. Any idea worth anything is worth not fighting for."
Susanna, after giving birth to a son: "Where's the other, Johnny?"
Johnny: "What other?"
Susanna: "There was another. One that wasn't right. "
Johnny: "Dear, it's your imagination."
Susanna: "There was another. One that was …. dark. Did they throw it away, Johnny?"
Johnny: "No, dear."
Susanna: "Are you absolutely sure?"
Tagged with:
Agnes Moorehead
•
DeForest Kelley
•
Edward Dmytryk
•
Elizabeth Taylor
•
Eva Marie Saint
•
Isabel Cooley
•
Jarma Lewis
•
Lee Marvin
•
Montgomery Clift
•
Myrna Hansen
•
Nigel Patrick
•
Raintree County (1957)
•
Rhys Williams
•
Rod Taylor
•
Russell Collins
•
Tom Drake
•
Walter Abel