Rancho Notorious (1952)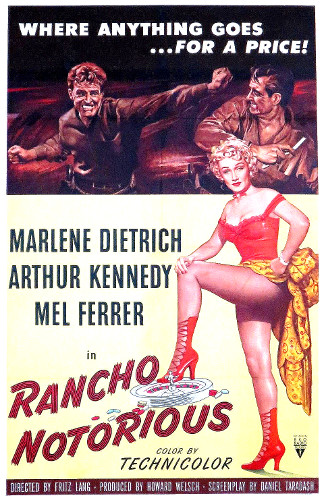 Arthur Kennedy plays Vern Haskell, a cowpoke who's set to marry the storekeeper's daughter (Gloria Henry as Beth Forbes) and settle down.
Then the store is held up; Beth raped and killed. And so Haskell sets out to find the killer.
His journey winds up in the pursuit of a notorious dance hall girl named Altar Keane (Marlene Dietrich) and a mysterious place called Chuck-a-Luck.
Turns out Chuck-a-Luck is the nickname for her ranch, a hideaway for outlaws, rogues and theives.
Haskell makes friends with Frenchie Fairmont (Mel Ferrer), Altar's lover, and uses that friendship to gain access to Chuck-a-Luck.
Once there, he feins affection for Altar. After all, he's seen her wearing a special broach — one he gave his fiancee just before she was murdered.
And he wants to know who gave Altar that broach. After all, she gets 10 percent of all the take when one of the bandits she's hiding pulls a hold-up.

Review:
Marlene Dietrich was 51 when the film was released, 13 years removed from playing Frenchy in the glorious "Destry Rides Again" and 29 years removed from her film debut.
Still, she turns in a fine performance as a former dance hall queen oh-so aware of what the years have done to her, but not so old that she can't be flattered by the advances of a handsome young man like Vern.
And the film feature Kennedy in one of his better Western roles. The scene in which he finally reveals why he's at Chuck-a-Luck is one of the film's highlights.
Another of the scenes you're likely to remember — dance hall queen Altar riding the back of one of her admiriers in a "horsie" race with other dance hall girls, grinning ear to ear, downing a shot and cheating her way to victory.
This was also one the first Westerns to use a ballad to help move the story along. It also provides an ending to the saga.
Cast:
Arthur Kennedy … Vern Haskell
Marlene Dietrich … Altar Keane
Mel Ferrer … Frenchie Fairmount
Gloria Henry … Beth Forbes
Lloyd Gough … Kinch
William Frawley … Baldy Gunder
Lisa Ferraday … Maxine
John Raven … Chuck-a-Luke dealer
Jack Elam … Mort Geary
George Reeves … Wilson
Francis McDonald … Harbin
Frank Ferguson … Preacher
Dan Seymour … Comanche Paul
John Kellogg … Jeff Factor
Rodd Redwing … Rio
Runtime: 89 min.
Title tune: "Chuck-a-Luck" a tale of hate, murder and revenge.
Memorable lines:
A doctor, commenting on a man with whom Vern has brawled: "He suffered lacerations and contusions. His jugular vein was severed in three places. I counted four broken ribs and a compound fracture of his skull. To put it briefly, he's real dead."
Altar Keane: "You're wanted, aren't you?"
Frenchie Fairmount: "Well, let's say I'm in public demand."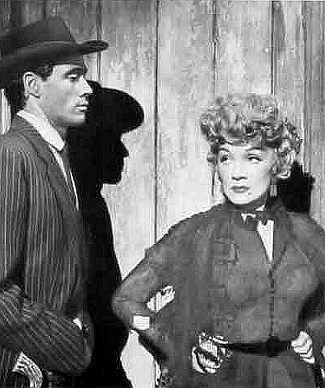 Frenchie Fairmount: "If not for him (Vern Haskell), I might be at the end of a rope at this very minute. Little trouble up in Gunsight. (He) used his head and used his guts."
Altar Keane, watching Vern's eyes run up and down her body: "Uses his eyes too, doesn't he? What are you staring at? Should I turn around?"
Vern Haskell: "It's hard for a man to look at you and keep any rules?"
Altar Keane: "Did you just think of that?"
Vern: "No, I thought of that the first minute I saw you — grease and all."
Altar: "Like heat lightning, I suppose."
Vern: "How'd you guess?"
Altar: "And every time you see me, you feel a little weak in the head?"
Vern: "No, I feel sorry for myself. Sorry I never met you before. Sorry I never had a chance to give you a broach like that."
Altar: "You're as smooth on the ground as you are on the back of a horse."
Vern: "Only when somebody irons me out, like you do."
Altar: "Vern, when you come to a fenced range, do you always try to climb over?"
Vern: "I always see if the gates open first."
Vern to Altar: "Strikes me you're real unfair, ma'am."
Altar Keane: "Why?"
Vern: "I got two slaps. And only one kiss."
An age-conscious Altar Keane to the younger Vern Haskell: "I wish you'd go away and come back 10 years ago."
Altar Keane: "Sometime I like a man who doesn't believe what a woman tells him."
Sheriff, handcuffing Kinch: "I have a special fondness for rats who kill women."
Tagged with:
Arthur Kennedy
•
Dan Seymour
•
Francis McDonald
•
Frank Ferguson
•
George Reeves
•
Gloria Henry
•
Jack Elam
•
John Kellogg
•
John Raven
•
Lisa Ferraday
•
Lloyd Gough
•
Marlene Dietrich
•
Mel Ferrer
•
Rancho Notorious (1952)
•
Rodd Redwing
•
William Frawley