Red Mountain (1951)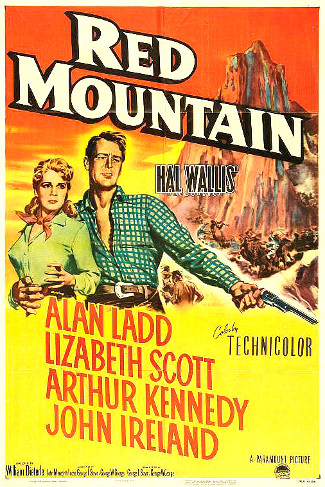 Alan Ladd is Capt. Brett Sherwood, a Rebel officer sent to help Gen. John Quantrell (John Ireland) fight the war in the West.
En route to his destination, he stops by Broken Bow and confronts a land agent who stole his mining claim before the war. He ends up killing the man.
But the good folk of Broken Bow blame Lane Waldron (Arthur Kennedy), another ex-Rebel. They track him down and are about to hang him when Sherwood comes to the rescue.
Soon, they're joined by lovely Chris (Lizabeth Scott), who heard her fiance was on the run and heads to the place she knew he'd hide. One look at Chris, and Sherwood is smitten.
The trio are hiding out together — Chris and Lane as Sherwood's prisoners — when Quantrell arrives on the scene with a band of Ute warriors in tow.
Sherwood soon learns, to his dismay, that Quantrell has given up on the South. He envisions creating a new empire in the West. And he isn't bashful about recruiting warriors from as many Indian tribes as possible to kill as many bluecoats as possible to create that empire.
But the breaking point comes when Sherwood learns of Quantrell's plans for the prisoners. If he has his way, neither Lane nor Chris will leave Red Mountain alive.

Review:
Action-packed Ladd vehicle that marked his third Western and came two years before his landmark performance in "Shane" (1953).
Poor Arthur Kennedy is the punching bag of the piece. He breaks his leg in a tussle with Ladd. He's tortured by Ireland's men in an attempt to learn the locations of his gold mine. And he's shot as he and Chris try to hold off the Utes and Quantrell's men until Sherwood can return with help.
Unfortunately, all of it leads to a rather hookey ending. A staunch Southern supporter throughout the film, Sherwood is told by Chris that Lee has surrendered and the Civil War is over. "A House divided cannot stand. Your president said that," Ladd says with a smile. "Our president."
Jay Silverheels plays the Ute chief. He had started his run on The Lone Ranger two years earlier. Lizabeth Scott appeared in just one other Western, "Silver Lode" (1954) opposite John Payne.
Cast:
Alan Ladd … Capt. Brett Sherwood
Lizabeth Scott … Chris
Arthur Kennedy … Lane Waldron
John Ireland … Gen. John Quantrell
Neville Brand … Lt. Dixon
Jay Silverheels … Little Crow
Jeff Corey … Sgt. Skee
James Bell … Dr. Terry
Bert Freed … Sgt. Randall
Walter Sande … Benjie
Charleton Young … Lt. Morgan
Whit Bissell … Miles
Francis McDonald … Marshal Roberts
Herbert Belles … Indian guard
Iron Eyes Cody … Ute Indian
Ralph Moody … George Meredyth
Dan White … Jim Braden
Runtime: 84 min.
Memorable lines:
Marshal, as a lynch mob rides off: "Why do you boys even bother to get yourselves a peace officer."
Member of mob: "We need you to make sure he gets hung good and legal."
Chris to Lane Waldron: "If anything happens to you, I want it to happen to me at the same time."
Quantrell: "We have a whole Western empire in our grasp if we have the vision to see it. Do you read your Caesar, captain?
Sherwood: "No more than was necessary to get through school."
Quantrell: "Handled properly, these redskins will get into a blood rage at the sight of a blue uniform."
Sherwood: "I'm afraid, sir, if you get them too stirred up, they won't care whose scalp they're taking."
Sherwood: "The South is dead. And I'm not going to help a vulture like Quantrell feed on its corpse."
Tagged with:
Alan Ladd
•
Arthur Kennedy
•
Bert Freed
•
Charleton Young
•
Dan White
•
Francis McDonald
•
Herbert Belles
•
Iron Eyes Cody
•
James Bell
•
Jay Silverheels
•
Jeff Corey
•
John Ireland
•
Lizabeth Scott
•
Neville Brand
•
Ralph Moody
•
Red Mountain (1951)
•
Walter Sande
•
Whit Bissell
•
William Dieterle