Rio Grande (1950)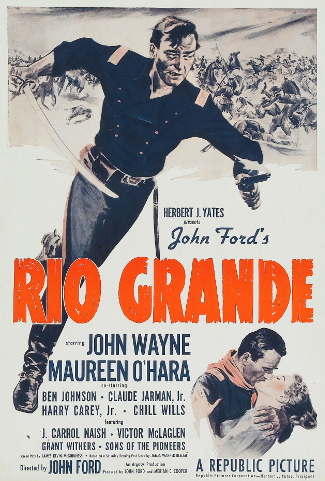 John Wayne is Lt. Col. Kirby Yorke, in command of a cavalry garrison in the southwest and dealing with warring Apache when his base turns into a reunion site of sorts.
No sooner has he gotten word that his son flunked out of West Point than that son — Claude Jarman Jr. as Jefferson Yorke — shows up on the base as a raw cavalry recruit.
He'll get no special treatment, Kirby warns him. No problem, says the son he hasn't seen in 15 years. He isn't looking for special treatment or someone to call dad.
Next to arrive is Kirby's estranged wife Kathleen. During the Civil War, his troops burned down her family mansion in the Shenandoah Valley. She rebuilt the home. The relationship between Mr. and Mrs. Kirby Yorke, however, is still very much in disrepair.
She's come to fetch her son, eager to pay the $100 fee to get him out of the service. Problem is, Kirby won't sign the release papers. And her son doesn't want to be released from his duty.
But Kirby does try to keep Jeff out of harm's way when he gets orders to cross the Rio Grande, find the Apache and burn them out. He assigns him to help escort a wagon train carrying the women and children to the safety of Fort Bliss.
Then the Indians attack that wagon train, taking a wagon load of children hostage.

Review:
The third film in John Ford's cavalry trilogy, this followed "Fort Apache" (1948) and "She Wore a Yellow Ribbon" (1949). Published reports say Ford agreed to make the film in return for permission to make the movie he really wanted to film — "The Quiet Man," which also starred Wayne and O'Hara.
And for the first hour, this is a slow-moving affair, focusing on the strained relationship between Kirby and Kathleen and the training of the new recruits.
But once the action starts, Ford serves up a pair of exciting large-scale battle scenes — the Indian attack on the wagon train trying to take the women and children to safety and the subsequent attack on the south-of-the-border Indian village in an attempt to free them.
Ben Johnson has an interesting role as one of the new recruits, a Texan wanted for manslaughter from an incident in which he was trying to protect his sister's reputation. He's so respected as a trooper that Yorke and company are constantly helping him escape the law.
Harry Carey Jr. plays another of new recruits. You might notice Ken Curtis, later of "Gunsmoke" fame as Festus, as the lead singer for the Sons of the Pioneers. And here's another interesting casting note: Wayne's real-life son, Patrick, plays one of the children in the film. It marked Patrick's film debut.
This was also the first of five films in which Wayne and O'Hara would appear together. The others inclued the Westerns "McLintock" (1963) and "Big Jake" (1971).
Cast:
John Wayne … Lt. Col. Kirby Yorke
Maureen O'Hara … Kathleen Yorke
Ben Johnosn … Travis Tyree
Claude Jarman Jr. … Jefferson Yorke
Harry Carey Jr. … Daniel "Sandy" Boone
Chill Wills … Dr. Wilkins
J. Carrol Naish … Lt. Gen. Sheridan
Victor McLaglen … Sgt. Maj. Timothy Quincannon
Grant Withers … U.S. deputy marshal
Peter Ortiz … Capt. St. Jacques
Steve Pendleton … Capt. Prescott
Karolyn Grimes … Margaret Mary
Alberto Morin … Lieutenant
Stan Jones … Sergeant
Fred Kennedy … Trooper Heinze
Ken Curtis … Donnelly (regimental singer)
Patrick Wayne … Young boy
Runtime: 105 min.
Memorable lines:
Lt. Col. Kirby Yorke, to his new recruits: "I don't want you men to be fooled about what's coming up for you. Torture, at least that. The War Department promised me 180 men. They sent me eighteen. You are the eighteen… so each of you will have to do the work of ten men. If you fail, I'll have you spread-eagled on a wagon wheel. If you desert, you'll be found, tracked down and broken into bits. That is all."
Mrs. Kathleen Yorke: "Ramrod, wreckage and ruin, still the same Kirby Yorke."
Lt. Col. Kirby Yorke: "Special privileges to special born, still the same Kathleen."
Lt. Gen. Sheridan: "I sacrificed the happiness of your home once Kirby to the needs of war. Now I'll probably ruin your army career. I'm going to issue you an order, and give it to you personally. I want you to cross the Rio Grande. Hit the Apache and burn him out."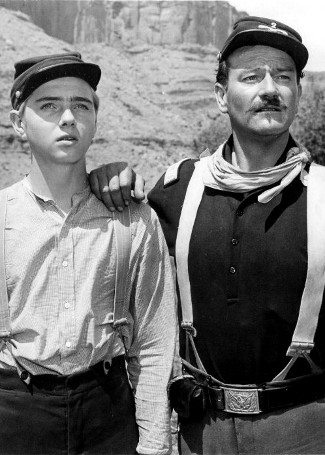 Lt. Col. Kirby Yorke: "What I said about the women and children is true: You're leaving in the morning for Fort Bliss. Jeff is going with you. He'll be one of the escorts."
Kathleen Yorke: "He'll hate it, Kirby. He'll think that …"
Kirby: "He's my son — our son. He's too young too .."
Kathleeen: "He'll still hate it, Kirby. But I love you for it."
Kathleen Yorke: "Aren't you going to kiss me goodbye?"
Kirby Yorke, before doing just that: "I never want to kiss you goodbye, Kathleen?"
Lt. Col. Kirby Yorke: "Any liquor in this (Indian) village?"
Trooper Travis Tyree: "Mucho tequila. They were slugging it down copious like."
Lt. Col. Kirby Yorke: "I know you're an excellent judge of horse flesh, Trooper Tyree. Proved that when you stole my horse. But how are you as a judge of men for a dangerous mission."
Tyree: "I consider myself a good judge of the men I trust, sir."
Tagged with:
Alberto Morin
•
Ben Johnson
•
Chill Wills
•
Claude Jarman Jr.
•
Fred Kennedy
•
Grant Withers
•
Harry Carey Jr.
•
J. Carrol Naish
•
John Ford
•
John Wayne
•
Karolyn Grimes
•
Ken Curtis
•
Maureen O'Hara
•
Patrick Wayne
•
Peter Ortiz
•
Rio Grande (1950)
•
Stan Jones
•
Steve Pendleton
•
Victor McLaglen