Rio Rita (1929)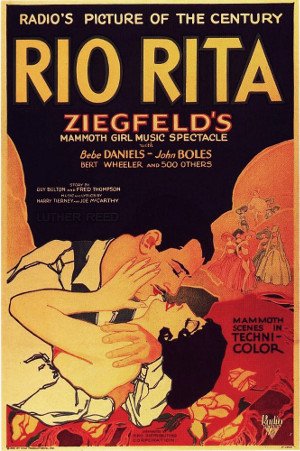 John Boles plays Capt. Jim Stewart, a Texas ranger who heads south of the border to track down a bandit known as Kinkajou — or the Wildcat.
He meets the lovely Rita Ferguson and immediately falls in love with her. She's quite taken with him too.
Problem is, her brother Roberto has gone missing, and both suspect he might be tha bandit.
Complicating matters is Gen Ravinoff, who wants Rita for his own and threatens to turn over Roberto to the authorities if she doesn't comply.
Bert Wheeler and Robert Woolsey provide the comic relief in this Western/comedy/love story/musical.

Wheeler is Chick Bean, who thinks he's gotten divorced and quickly remarries, only to discover from lawyer Ned Lovett (Woolsey) that his first divorce wasn't finalized and, once it is, that his first wife is now worth $3 million.
They provide a couple truly funny moments but, for the most part, this is a film where one viewing will be enough to satisfy your curiousity.
The first part of the film is black and white; the closing scene is in color, however.
Cast:
Bebe Daniels … Rita Ferguson
John Boles … Capt. Jim Stewart
Bert Wheeler … Chick Bean
Robert Woolsey … Ned Lovett
Dorothy Lee .. Dolly Bean
Don Alvarado … Roberto Ferguson
Georges Renavent … Gen. Ravinoff
Helen Kaiser … Mrs. Katie Bean
Runtime: 140 min.
Memorable lines:
Gen. Ravinoff to Rita: "How you would grace my hacienda."
Rita: "I am afraid too many ladies have done that already."
Capt. Jim to Rita: "Kismit. Fate. It was pre-destined."
Rita: "Those are very big words for a small Mexican girl."
Mrs. Katie Bean: "I'm Mrs. Bean."
Lawyer Ned Lovett: "Oh, you're the first Mrs. Bean. In other words, you're the has bean."
Tagged with:
Bebe Daniels
•
Bert Wheeler
•
Don Alvarado
•
Dorothy Lee
•
Georges Renavent
•
Helen Kaiser
•
John Boles
•
Luther Reed
•
Rio Rita (1929)
•
Robert Woolsey