Rooster Cogburn (1975)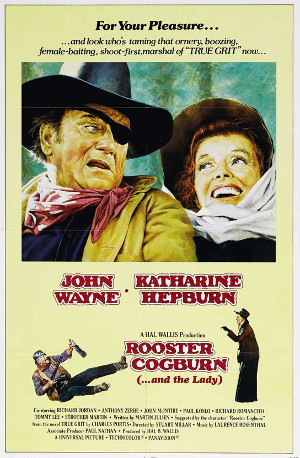 John Wayne takes on the Rooster Cogburn role for a second time and, once again, he's in trouble with the court for using his gun too freely. In fact, he's stripped of his badge, until the law needs someone to go after Hawk (Richard Jordan) and his gang. They've just stolen a gatling gun and a wagon full of nitro from the cavalry.
Charging a premium rate, Rooster agrees to come out of retirement. In the meantime, the gang has visited Fort Ruby, where Eula Goodnight (Katharine Hepburn) teaches the Indian children and her father works as a minister. Tempers flare and several Indians are shot. So is Eula's father.
Cogburn vows to bring those guilty to justice. But when he rides off to do so, he finds Eula and a teenage Indian boy named Wolf by his side. And that's where they plan to stay, apparently. And so the verbal jabbing between Rooster and Eula begins.
When they catch up with Hawk and his gang, Rooster decides to try to fool the outlaws by hiding Eula and Wolf in the hills and having them fire their guns in the air, pretending to be members of the posse. The ploy works. Eula turns out to be a better shot than Rooster expected; they wind up recapturing the gatling gun and nitro, both of which might come in handy as they pursue the rest of the gang.
But finding the outlaws won't be difficult from this point on. Hawk had stolen the nitro in order to steal a gold shipment. He still wants the gold. He also wants the nitro back.

Review:
You can forget the plot, really. The real story here is the teaming of Hepburn and Wayne, who had never appeared together before though their careers paralleled one another. In fact, they were born two weeks apart and were both 68 when this film was made.
The manner in which Wayne overcomes long odds in the final showdown is clever. But the film's focus is the banter between the rough-around-the-edges Rooster and the prim and proper Eula, who has a Bible quote for every occasion. As much as they feud early on, they come to respect one another, of course.
According to IMBd, Hepburn wasn't the first choice for the role of Eula. Wayne wanted Ingrid Bergman or Mary Tyler Moore. It would turn out to be the next to last film for The Duke. Hepburn would appear in four more films and a half dozen or so TV movies before leaving the screen for good in the mid-1990s.
Oh, and you'd be hard pressed to miss the similarities between this film and "The African Queen," which starred Hepburn and Humphrey Bogart nearly 25 years earlier.
Cast:
John Wayne … Rooster Cogburn
Katharine Hepburn … Eula Goodnight
Anthony Zerbe … Breed
Richard Jordan … Hawk
John McIntire … Judge Parker
Paul Koslo … Luke
Jack Colvin … Red
Jon Lormer … Rev. Goodnight
Richard Romancito … Wolf
Lane Smith … Leroy
Warren Vander … Bagby
Jerry Gatlin … Nose
Strother Martin … McCoy
Tommy Lee … Chen Lee
Runtime: 108 min.
Memorable lines:
Judge: "The west is changing, and you haven't changed with it. I want your badge."
Rooster: "Well, judge, out there in the territory, they don't know about all these new-fangled laws. We might, but they don't. They're still shooting in the same direction – at me!"
Hawk: "Any fool can blow nitro."
Breed: "Last fool that thought that blowed himself up provin' it."
Hawk to Eula: "I'm the boldest sinner on the Arkansas River, little lady. I do just as I please, and I make people remember me."
Eula: "You're too late, lawman."
Rooster: "Too late to stop them. But not too late to hang them."
Rooster to Bagby: "Them deputies show up yet?"
Bagby: "Not a sign of 'em."
Rooster: "They ain't comin'. I'd bet my drunken cat on that."
Rooster, as Eula heads off to a creek to clean up: "Hey, sister, better be careful movin' around out therre. Everything that grows in this country will either bite ya, stab ya or stick ya."
Wolf: "Will she be alright?"
Rooster: "Any varmint that crosses that lady's path has met it's match."
Rooster, pulling out a gun to show the Indian boy Wolf: "I got me a .22 pepperbox here. This thing shoots five times, sometimes all at once. It is called a lady's companion, and that is what I intend it be used for when I leave you two off. Back in Fort Smith, there is a sporting lady named Big Faye. She was shot twice with this thing. But she dresses out at about 290, so none of the bullets found there way to any of the vitals. 'gainst ordinary people, this provides good service. Now I want you to protect sister with it."
Rooster to Eula: "Being around you pleases me."
Rooster, during the final showdown: "It's payday, boys. Come and get it!"
Eula: "Reuben, I have to say it. Livin' with you has been an adventure any woman would relish for the rest of time. I look a cha, with your burned out face and your big belly and your bear-like paws and your shining eye, and I have to say you're a credit to the whole male sex, and I'm proud to have ya for my friend."
Rooster: "I'll be damned if she didn't get the last word in again. Well …
Tagged with:
Anthony Zerbe
•
Jack Colvin
•
Jerry Gatlin
•
John McIntire
•
John Wayne
•
Jon Lormer
•
Katharine Hepburn
•
Lane Smith
•
Paul Koslo
•
Richard Jordan
•
Richard Romancito
•
Rooster Cogburn
•
Strother Martin
•
Stuart Miller
•
Tommy Lee
•
Warren Vander