Seminole (1953)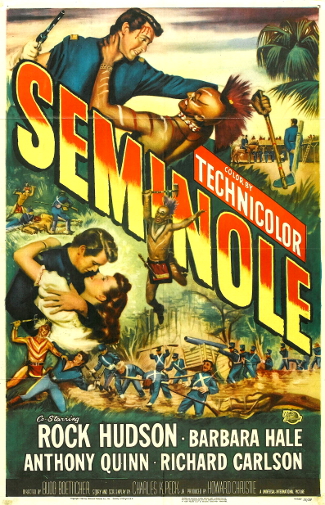 Rock Hudson is Lt. Lance Caldwell, fresh out of West Point and assigned to Fort King in Florida because of his knowledge of the area and the Seminole Indians.
The U.S. government is trying to move the Seminole out of Florida to reservations West of the Mississippi, but tribe leaders are resisting, including Osceala (Anthony Quinn) and the blood-thirsty Kajack (Hugh O'Brian).
Upon arriving at Fort King, Caldwell finds Maj. Harlan Degan (Richard Carlson), a commanding officer eager for war even though he and his troops are unprepared for the swamp fighting it will require.
He also finds Revere Muldoon (Barbara Hale), the lovely young woman he left behind five years earlier when he headed off to West Point. She's now helping operate a trading post.
What he doesn't know is that Osceola is really his best friend from childhood, a half-breed he knew as John. Or that Revere and Osceola / John have fallen in love.
As soon as she learns that the Army is preparing for war with the Seminole, Revere heads off to warn Oseola. He sends her back to the fort in hopes of prompting peace talks.
Alas, by the time she arrives, Degan has already taken his men into the field, hoping to launch a surprise attack that will end Seminole resistance once and for all. Guiding the way is Lt. Lance Caldwell.

Review:
Certainly not the film Rock Hudson or Anthony Quinn would like to be remembered for, this tall tale is told flashback style as Lt. Caldwell is being court-martialed for conspiring with the enemy, though his testimony somehow include encounters in which he isn't even involved.
The Florida swamp setting for the Army's expedition into Seminole territory is a refreshing change of pace. Otherwise, all the Cavalry vs. Indian cliches are firmly in place — the war-mongering commanding officer, the subordinate who pleads for a peaceful resolution, the sympathetic Indian chief and an Indian subchief who can't wait to spill white blood.
Worse, it all leads up to the most implausible of endings.
For the record, there really was a Fort King. Osceola really was captured when lured in for peace talks. And he died in captivity. The rest is pure Hollywood.
And, yep, that's future Wyatt Earp star Hugh O'Brian as Kajack. He also played an Indian in "White Feather" (1955), though his career playing native Americans wasn't as long or colorful as Quinn's. Quinn played Crazy Horse way back in 1941's "They Died with Their Boots On."
Cast:
Rock Hudson … Lt. Lance Caldwell
Anthony Quinn … John/Osceola
Barbara Hale … Revere Muldoon
Richard Carlson … Maj. Harlan Degan
Lee Marvin … Sgt. Magruder
Hugh O'Brian … Kajack
Russell Johnson … Lt. Hamilton
Ralph Moody … Kulak
Fay Roope … Zachary Taylor
James Best … Corp. Gerad
John Daheim … Scott
Runtime: 90 min.
Memorable lines:
Major Degan to Lt. Caldwell: "Realize this. Indians in the swamp are no different than Indians in the woods. And I'm an old hand at killing them."
Maj. Degan, after Lt. Caldwell reports that a Seminole was shot in the back: "I will not have any trooper in my command taken to task for killing hostiles!"
Kulak, Seminole chief, as he heads off on a peace envoy, to Kajack: "To look for peace is unwise when hate blinds the eyes. The rashness of the young is not needed."
Maj. Degan, in frustration: "How do you fight a swamp?"
Osceola of the U.S. Army: "We will again try to clasp their hand in friendship."
Kajack: "Their hands are filled with weapons to deceive us, as they have done before."
Tagged with:
Anthony Quinn
•
Barbara Hale
•
Budd Boetticher
•
Fay Roope
•
Hugh O'Brian
•
James Best
•
John Daheim
•
Lee Marvin
•
Ralph Moody
•
Richard Carlson
•
Rock Hudson
•
Russell Johnson
•
Seminole (1953)