Seminole Uprising (1955)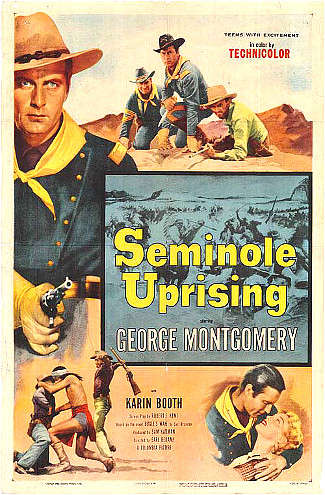 Black Cat and his Seminole braves are terrorizing Texas, so the cavalry sends for Lt. Cam Elliott (George Montgomery) to help quell the uprising.
Elliott is rumored to be Black Cat's half-breed brother, but there are other complications awaiting at Fort Clark. The commander is Col. Hannah; years earlier, Elliott was involved in a romantic scandal of sorts with his pretty daughter Susan.
Susan (Karin Booth) is now at Fort Clark too. So is her debt-ridden fiance, Capt. Philip Dudley (Ed Hinton).
Elliott comes up with a plan to split his cavalry patrol in two. He and his men will lure Black Cat into a fight. Meanwhile, Dudley and his men will splip into Devil Pass and snatch some Seminole prisoners to exchange for the whites Black Cat is holding.
Dudley's command winds up finding Black Cat's wife and son. But Dudley allows them to be murdered by vengeful settlers, ending hopes for a peaceful resolution to the Seminole problem.
Review:
Montgomery was asked to pull off some Z grade scripts during his career, especially in the 1950s, but this is one of the all-time worst. And some of the lines and scenes Karin Booth is asked to salvage … wow.
She winds up being captured by Black Cat; he plans to swap her for guns. Try not to laugh too hard during the scene in which he halts a journey because her legs are tired and orders her to rub them while he's standing there watching.
Want more silliness? Montgomery's command changes from tan hats to black hats between missions. Why? To better fit the stock footage that will serve as the film's large-scale battle scenes. Then there's the march back to the fort. With the command desperate for water, Black Cat's horse stomps in the sand for a couple of minutes. Presto: There's water.
Longtime character actor William Fawcett, with nearly 300 film and TV credits, plays Elliott's sidekick and the narrator of this tale. And his final line proivdes one final laugh in a laughably bad film.
Cast:
George Montgomery … Lt. Cam Elliott / Gray Eagle
Karin Booth … Susan Hannah
William Fawcett … Cubby Crouch
Steven Ritch … Black Cat
Ed Hinton … Capt. Philip Dudley
John Pickard … Sgt. Chris Zanoba
James Maloney … Tony Zanoba
Rory Mallinson … Toby Wilson
Howard Wright … Col. Hannah
Rus Conklin … High Cloud
Jonni Paris … Malawa
Joanne Rio … Tasson Li
Richard H. Cutting … Col. Robert E. Lee
Runtime: 71 min.
Memorable lines:
Ordlery: "Sir, he should be clapped into irons for talking like that to a superior officer."
Col. Robert E. Lee: "Do you want manners, or Black Cat?"
Tony Zanoba: "They sure make more noise than a symphony."
Sgt. Chris Zanoba: "Yeh, and they've got a bigger orchestra than we do, so keep your head down." — Cavalrymen, exchanging comments in the middle of a Seminole attack.
Seminole warrior: "An Indian chief should not make war at night. The Sun God will be angry."
Black Cat: "My father was a white man. Perhaps the Sun God will only be half angry."
Black Cat to Elliott: "It's a brave man who can be stubborn when he is dying."
Tagged with:
Earl Bellamy
•
Ed Hinton
•
George Montgomery
•
Howard Wright
•
James Maloney
•
Joanne Rio
•
John Pickard
•
Jonni Paris
•
Karin Booth
•
Richard H. Cutting
•
Rory Mallinson
•
Rus Conklin
•
Seminole Uprising (1955)
•
Steven Ritch
•
William Fawcett