Showdown at Boot Hill (1958)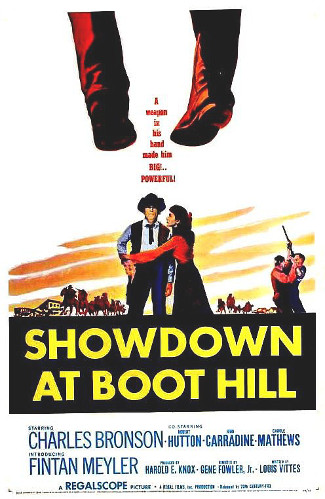 Charles Bronson is Luke Welch, a bounty hunter who rides into Mound City in search of Con Maynor, a man with a $200 bounty on his head. He kills Con, but quickly discovers he's going to have trouble getting anyone to confirm the man's identity.
Seems Con was pretty well liked in town. And the good townsfolk wouldn't mind if Con's brother — or someone else — settled the score with the bounty man.
Luke does find one kindred spirit — waitress Sally Crane (Fintan Meyler) — who's been living a lonely life to make sure she doesn't follow in the footsteps of her mother, Jill, a tramp at the local saloon. Put bluntly, she's afraid of men.
As for Luke, he became a bounty man because everyone's always teased him about being so short. Using a gun is a way to prove he's a big man.

Review:
Effective little film because it focuses on two misfits. Bronson's character doubts his worth because of his size (he was 5-9 in real life), and that's quite different than the macho roles he would play over the next two decades.
This marked his first starring role. It was one of only three films for Fintan Meyler, a pretty brunette who found most of her work on TV shows.
John Carradine has an interesting role as a doctor crippled years earlier by a ricochet bullet; he's the town philosopher, sharing his views as he plies his other trades as barber and undertaker.
Michael Mason plays Les Patton, saloon girl Jill Crane's pretty but slightly dim-witted protector.
Cast:
Charles Bronson … Luke Welch
Robert Hutton … Sloane
Fintan Meyler … Sally Crane
John Carradine … Doc Weber
Carole Mathews … Jill Crane
Paul Maxey … Judge Wallen
Michael Mason … Les Patton
Thomas Henry … Con Maynor
George Pembroke … Sheriff Hinkle
William Stevens … Corky
Argentina Brunetti … Mrs. Bonaventura
George Douglas … Charles Maynard
Memorable lines:
Jill Crane, after lover Les Patton has been insulted: "Let him be. He's stupid, but he's awful pretty."
Luke: "You can't dry girls tears with a gun."
Sally: "You can always kiss her."
Jill Crane: "You're a smart man, marshal. I've always been afraid of smart men."
Les Patton: "She can always put posies on his grave."
Luke: "Now I ain't dead yet."
Les: "That's what's making me sick."
Sloane: "Man don't know how many friends he's got til he dies."
Doc Weber: "Sometimes, he makes more friends by dying than anything else he ever done."
Sloane: "Beautiful day for Con's funeral. Too bad he ain't alive to appreciate it."
Luke, to girlfriend, Sally: "You should see the other guy. Not a mark on him."
Tagged with:
Argentina Brunetti
•
Carole Mathews
•
Charles Bronson
•
Fintan Meyler
•
Gene Fowler Jr.
•
George Douglas
•
George Pembroke
•
John Carradine
•
Michael Mason
•
Paul Maxey
•
Robert Hutton
•
Showdown at Boot Hill (1958)
•
Thomas Henry
•
William Stevens